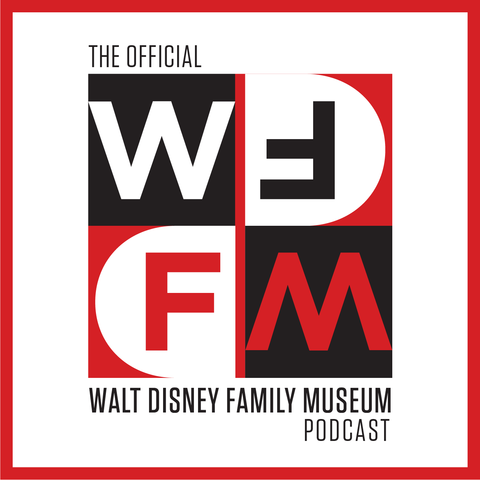 During the first week of the month, we will post our Museum Musings where we chat about our upcoming programs and news about The Walt Disney Family Museum. We will also be inviting employees of the museum to talk about their roles and what they are working on that furthers Walt Disney's legacy.
During the last week of the month, we will post a longer-form Deep Dive into a film, project, or period of Walt's life featuring exclusive audio from Walt Disney and those who worked with him.
As part of the podcast revamp, we will also be releasing each episode as a video podcast, with closed captions available on every video. Visit our YouTube channel @wdfmuseum or visit our website show notes posted to our blog for more content.
Join us for stories and conversations about the remarkable life and legacy of Walt Disney. Subscribe on Apple Podcast, Spotify, Stitcher, Google Play, and TuneIn.
03 Small Beginnings
Greatness comes from small beginnings—and Walt Disney's story is no different. Join hosts Bri and Caroline as they track Walt's ancestors through the pages of Disney family history—from France to Ireland and, finally, to North America. After some fiddling around, our hosts will delve into how Walt's parents' own unique upbringings and endeavors shaped his childhood.
02 Looking back with Diane Disney Miller Part 2
One of the questions we're asked most frequently by guests remains, "Why is the museum here?" Though there are threads of Walt's story that intersect with the Bay Area, The Walt Disney Family Museum isn't here because of Walt—it's here, primarily, because of his daughter, Diane Disney Miller. In this episode, join Bri and Caroline as they delve into the life and vision of our remarkable co-founder, Diane as she talks about her father, Walt Disney.
01 Looking Back with Diane Disney Miller Part 1
Join hosts Bri Bertolaccini and Caroline Quinn as they kick off The Walt Disney Family Museum's 10th Anniversary Celebration in style. In this debut episode, learn more about the origins of our museum, our co-founder, Diane Disney Miller, and our institution's unique mission, which has grown tremendously over the last decade.