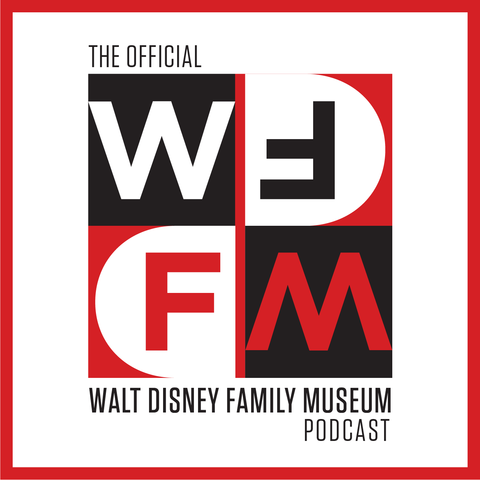 At WD-FM, we're not just any Disney podcast – we're your official connection to the magic! The Walt Disney Family Museum is privileged to house a treasure trove of Walt Disney's most cherished stories and artifacts, giving you an exclusive peek into the heart and soul of the company. 
Our monthly Museum Musings keep you in the loop about all the exciting happenings at The Walt Disney Family Museum, with interviews from our passionate museum team who are dedicated to carrying on Walt Disney's legacy. Each month we host our Collections Clash, where our hosts each pick three objects on view in our galleries and you the audience get to vote on your favorites.
Our Deep Dive episodes are like stepping back in time, with exclusive audio clips from the man himself, Walt Disney, and those who worked alongside him. Plus, we're all about making Disney accessible to everyone, which is why we've turned every episode into a video podcast with closed captions available on YouTube and Facebook. Join us on this incredible journey through Disney's history, and become a true Disney expert!
Where to Subscribe
Join us for stories and conversations about the remarkable life and legacy of Walt Disney. Subscribe on Apple Podcast, Spotify, Stitcher, Google Play, and TuneIn.
D23 Expo Interviews with Bret Iwan and Eric Goldberg
Hear from the voice of Mickey Mouse, Bret Iwan, and legendary animator and director, Eric Goldberg from the 2019 D23 Expo in Anaheim, CA.  
10 Losing Oswald the Lucky Rabbit
Walt's first venture into the all cartoon medium started with Oswald the Lucky Rabbit. From 1927 to 1928 Walt and his team would produce 26 Oswald shorts and by March of 1928 the character and half of Walt's animators would be taken away by distributor, Charles Mintz. Learn about Oswald's early beginnings and his eventual return to The Walt Disney Company. 
09 Walt and Lillian Disney
Humor is best shared with those you love. Walt shared a lifetime of laughter with the world, but more importantly, he shared love and laughter with his family and friends. This week we celebrate the love story between Walt and Lillian Disney. Whether celebrating their anniversary playfully dancing at the Golden Horseshoe Review, or a small puppy popping out of a hat box, Walt and Lilly showed the unique bond forged by love and laughter.
08 The Alice Comedies
Walt went back to the drawing board when he moved to Hollywood. Our hosts explore the beginnings of The Walt Disney Company with the first series the Alice Comedies. 
07 Walt Learns to Fail Forward
Highlights from this episode include odd jobs, dental hygiene, and the kindness of strangers. What do these things have in common? Be prepared to find out! Learn about the people who had a huge impact on Walt's life after Laugh-O-grams went under, and hear how Walt remembered these kindnesses long after he climbed out of the inkwell and into a successful career.
06 Walt Discovers Animation
Join our hosts as they flip through Walt's early beginnings into animation. From early stop motion to hand drawn animation, learn more about how Walt discovered how to bring his drawings to life.
05 Volunteering: Walt Serves His Country
From forgery to an alleged court-martial, this episode has a broad appeal. Follow our hosts overseas as they dispel the myths—and dig deeper into the true stories—that surround Walt's time as a Red Cross volunteer in France.
04 Finding Your Passion: Walt's Early Years
Join our hosts as they journey to Marceline, Missouri, where a young Walt discovered some of his greatest passions—drawing and trains—while growing up on his family's farm. We guarantee you'll go hog-wild for this one!
03 Small Beginnings
Greatness comes from small beginnings—and Walt Disney's story is no different. Join hosts Bri and Caroline as they track Walt's ancestors through the pages of Disney family history—from France to Ireland and, finally, to North America. After some fiddling around, our hosts will delve into how Walt's parents' own unique upbringings and endeavors shaped his childhood.
02 Looking back with Diane Disney Miller Part 2
One of the questions we're asked most frequently by guests remains, "Why is the museum here?" Though there are threads of Walt's story that intersect with the Bay Area, The Walt Disney Family Museum isn't here because of Walt—it's here, primarily, because of his daughter, Diane Disney Miller. In this episode, join Bri and Caroline as they delve into the life and vision of our remarkable co-founder, Diane as she talks about her father, Walt Disney.