Create. Inspire. Cultivate.
Join the Walt Disney Family Museum in creating outstanding educational programs, community events, and exhibitions that will inspire generations of creative thinkers, storytellers, and leaders while cultivating your organization's support of arts access, STEAM-focused education, and diversity.
Corporate Partners Spotlight: Charles Schwab & Co.
"Charles Schwab & Co., Inc. is proud to support The Walt Disney Family Museum. Walt Disney's story is very inspiring—he was an early leader in entrepreneurship, perseverance, and technical skill. We share a similar heritage at Schwab: since day one Schwab has set out to challenge the status quo, looking for ways to offer clients more value and a better experience. We're delighted to support a valuable institution like The Walt Disney Family Museum that shares the legacy of Walt Disney and promotes innovation, courage, and determination."
James Titus
VP Senior Financial Consultant, Charles & Co., San Francisco Branch
Audience
The Walt Disney Family Museum is a 501 (c)(3) non-profit that inspires guests to heed their imaginations and persevere in pursuing their own goals by sharing the life and legacy of Walt Disney.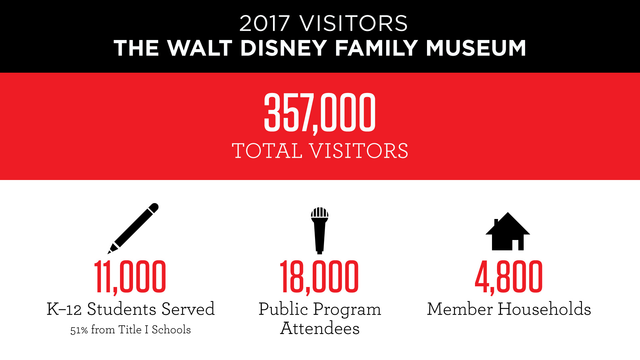 Demographics
Age
27% children (ages 0–12)
7% teens (ages 13–17)
59% adults (ages 18–64)
7% seniors (ages 65+)
Location
55% Bay Area
51% other CA
14% other USA
8% International
88% of guests rated their experience at The Walt Disney Family Museum as being excellent.
Celebrating 10 Years of Magic
Contact
Sarah Rothstein
Head of Sales & Business Development
415.345.6853