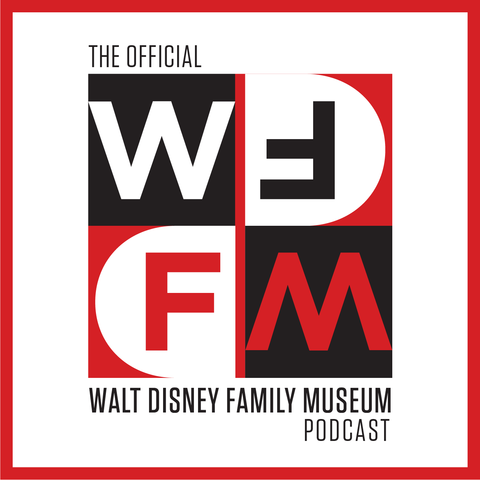 During the first week of the month, we will post our Museum Musings where we chat about our upcoming programs and news about The Walt Disney Family Museum. We will also be inviting employees of the museum to talk about their roles and what they are working on that furthers Walt Disney's legacy.
During the last week of the month, we will post a longer-form Deep Dive into a film, project, or period of Walt's life featuring exclusive audio from Walt Disney and those who worked with him.
As part of the podcast revamp, we will also be releasing each episode as a video podcast, with closed captions available on every video. Visit our YouTube channel @wdfmuseum or visit our website show notes posted to our blog for more content.
Join us for stories and conversations about the remarkable life and legacy of Walt Disney. Subscribe on Apple Podcast, Spotify, Stitcher, Google Play, and TuneIn.
Memories from the Children of the Nine Old Men
Walt Disney's Nine Old Men were some of the most talented artists at The Walt Disney Studios during Walt's lifetime. However, their unique genius was not confined to their animator's desks; the sincerity in their work was often inspired by their own families and the people that surrounded them. Moderated by curator Don Hahn, this special talk—which will close out the Nine Old Men: Masters of Animation exhibition—you will hear from those who knew the legendary animators best: their children. Relive the children's favorite moments with their fathers as they discuss what it was like growing up in artistic households, and how their fathers' legendary work influenced their own lives and careers.
The program was originally presented on January 5, 2019.
Conversation with The Walt Disney Family Museum's Collection Team
The Walt Disney Family Museum is a center for art, animation, and inspiration. Located in the historic Presidio, a national park in San Francisco, California, the museum celebrates the remarkable life of Walt Disney by telling his story, celebrating his legacy, and examining his influence on the world of entertainment. Ten years ago, we were founded in 2009 by Walt Disney's daughter, Diane Disney Miller, who wanted to share the story of her father with the world. Now, we are hosting a year-long celebration to mark the museum's tenth anniversary. In recognition of the museum's history, and in order to honor the man behind the magic, this podcast will be an extension of that celebration. Join us every Wednesday for stories and conversations about the remarkable life and legacy of Walt Disney as we reflect on The Walt Disney Family Museum's first decade as an institution. 
12 The Silly Symphonies
In this episode we explore the Silly Symphonies, Walt's musical series of shorts that changed the landscape of animation as an art form forever. The Silly Symphonies, beginning with The Skeleton Dance, eventually grew to 75 total shorts between 1929 and 1939, produced and released concurrently with Mickey Mouse cartoons. The Silly Symphonies were a platform for Walt to stretch the art of animation while bringing new animators into the fold. 
11 Mickey Mouse
Even after decades of success, Walt Disney always wanted the world to remember that his entertainment empire was "all started by a mouse." This episode chronicles Mickey's influence on art and entertainment over the past nine decades and tells the story of his origin, rise to fame, and enduring world-wide appeal. 
The Walt Disney Family is presenting the special exhibition, Mickey Mouse: From Walt to the World now through January 6, 2020. 
D23 Expo Interviews with Bret Iwan and Eric Goldberg
Hear from the voice of Mickey Mouse, Bret Iwan, and legendary animator and director, Eric Goldberg from the 2019 D23 Expo in Anaheim, CA.  
10 Losing Oswald the Lucky Rabbit
Walt's first venture into the all cartoon medium started with Oswald the Lucky Rabbit. From 1927 to 1928 Walt and his team would produce 26 Oswald shorts and by March of 1928 the character and half of Walt's animators would be taken away by distributor, Charles Mintz. Learn about Oswald's early beginnings and his eventual return to The Walt Disney Company. 
09 Walt and Lillian Disney
Humor is best shared with those you love. Walt shared a lifetime of laughter with the world, but more importantly, he shared love and laughter with his family and friends. This week we celebrate the love story between Walt and Lillian Disney. Whether celebrating their anniversary playfully dancing at the Golden Horseshoe Review, or a small puppy popping out of a hat box, Walt and Lilly showed the unique bond forged by love and laughter.
08 The Alice Comedies
Walt went back to the drawing board when he moved to Hollywood. Our hosts explore the beginnings of The Walt Disney Company with the first series the Alice Comedies. 
07 Walt Learns to Fail Forward
Highlights from this episode include odd jobs, dental hygiene, and the kindness of strangers. What do these things have in common? Be prepared to find out! Learn about the people who had a huge impact on Walt's life after Laugh-O-grams went under, and hear how Walt remembered these kindnesses long after he climbed out of the inkwell and into a successful career.
06 Walt Discovers Animation
Join our hosts as they flip through Walt's early beginnings into animation. From early stop motion to hand drawn animation, learn more about how Walt discovered how to bring his drawings to life.