The Walt Disney Family Museum welcomes groups for guided and self-guided visits. Groups of 10 or more receive discounted rates, additional venue rental options also available. For additional safety measures for your visit, please visit our Welcome Back page.
 
Group Activities in San Francisco at The Walt Disney Family Museum
The Walt Disney Family Museum is a great hub for fun group activities in San Francisco. The museum offers an enchanting experience for all ages, making it an ideal destination for group outings. Immerse yourselves in the captivating journey of Walt Disney's life and legacy, as you explore interactive exhibits, rare artifacts, and engaging multimedia presentations. Whether you're a family, a tour group, or colleagues seeking a team-building adventure, the museum's diverse range of offerings ensures an unforgettable time. Engage in hands-on workshops, relive iconic Disney moments, and ignite your creativity through art activities inspired by beloved characters. With its unique blend of entertainment, education, and imagination, The Walt Disney Family Museum guarantees an unparalleled and joyful group excursion in the heart of San Francisco.
2023 Group Admission
January–April
Self-Guided General Admission: Adults $20 | Seniors and Students $14 | Youth $9
Guided Storyteller Tour Add-on: $10 per person, or $100 flat rate if less than 10 people
May–August
Self-Guided General Admission: Adults $23 | Seniors and Students $18 | Youth $12  
Guided Storyteller Tour Add-on: $15 per person, $150 flat rate if less than 10 people
September–December
Self-Guided General Admission: $21 adults | $16 seniors and students | $11 youth
Guided Storyteller Tour Add-on: $12 per person, $125 flat fee if less than 10 people
Journey through the museum's main galleries and special exhibitions while enjoying an insider's look from one of our friendly certified Storytellers. As they present special stories, facts, and memories within each gallery room, guests will discover more about the life and legacy of Walt Disney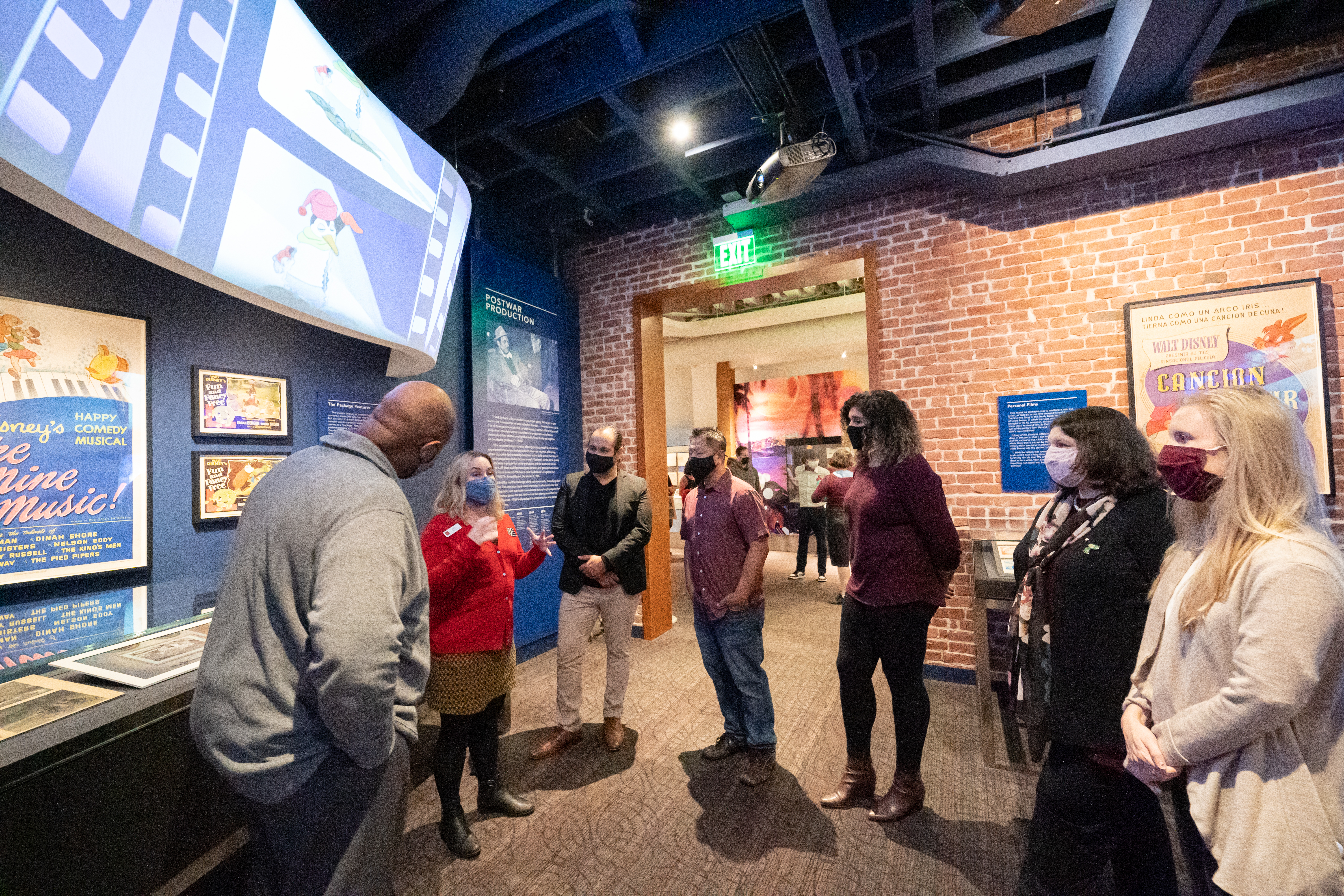 Specialty Tour Add-ons
Wonderful Women of Disney Tour: $12 per person
A certified Storyteller guide will share and celebrate the contributions of important women throughout Disney history, including the eras of Walt's early life, Ink & Paint, and Imagineering.
Lessons From Walt Tour: $12 per person
In this tour and workshop, explore themes such as disruption, teamwork, and adapting. Compare the struggles during Walt's life to the challenges of today in a discussion on the strategies and forward-thinking that Walt adopted in order to overcome multiple failures to find success. This experience is part tour, part breakout for questions/discussions.  
Everyone is a Storyteller Workshop: $12 per person
Discover communication, inspiration, and effective storytelling. Get an insider's look at Walt's incomparable storytelling and learn how to apply it to your work. In this whimsical workshop, hear from our certified guides about the techniques we have developed directly from Walt's body of work. Not just for employees with creative positions, discover how this can improve your skills for every position, including managers, marketing, sales, HR; everyone can become a high-level storyteller!   
Scavenger Hunt: $10 per person
Take a deeper look at our objects with a fast-paced, photo-based Scavenger Hunt of the main museum galleries. In addition to finding our most popular artifacts, you and your team will have an opportunity to get creative and make your own magical memories!
Private Access Booking
Enjoy private group access to the museum galleries while the museum is closed to the public. Please contact groups@wdfmuseum.org for more information.
Hours
Thursday–Sunday, 10am–3:30pm
Tour availability outside of museum hours can be offered at a premium rate, please contact groupsales@wdfmuseum.org for more information.
Booking and Payment
If interested in booking a group visit, please contact a Group Sales representative at groupsales@wdfmuseum.org to confirm your group's date and time. The form and payment are due no later than two weeks prior to your group's arrival date. Once payment has been received, a receipt/confirmation will be sent via email.
Reservations are required at least 2 weeks in advance.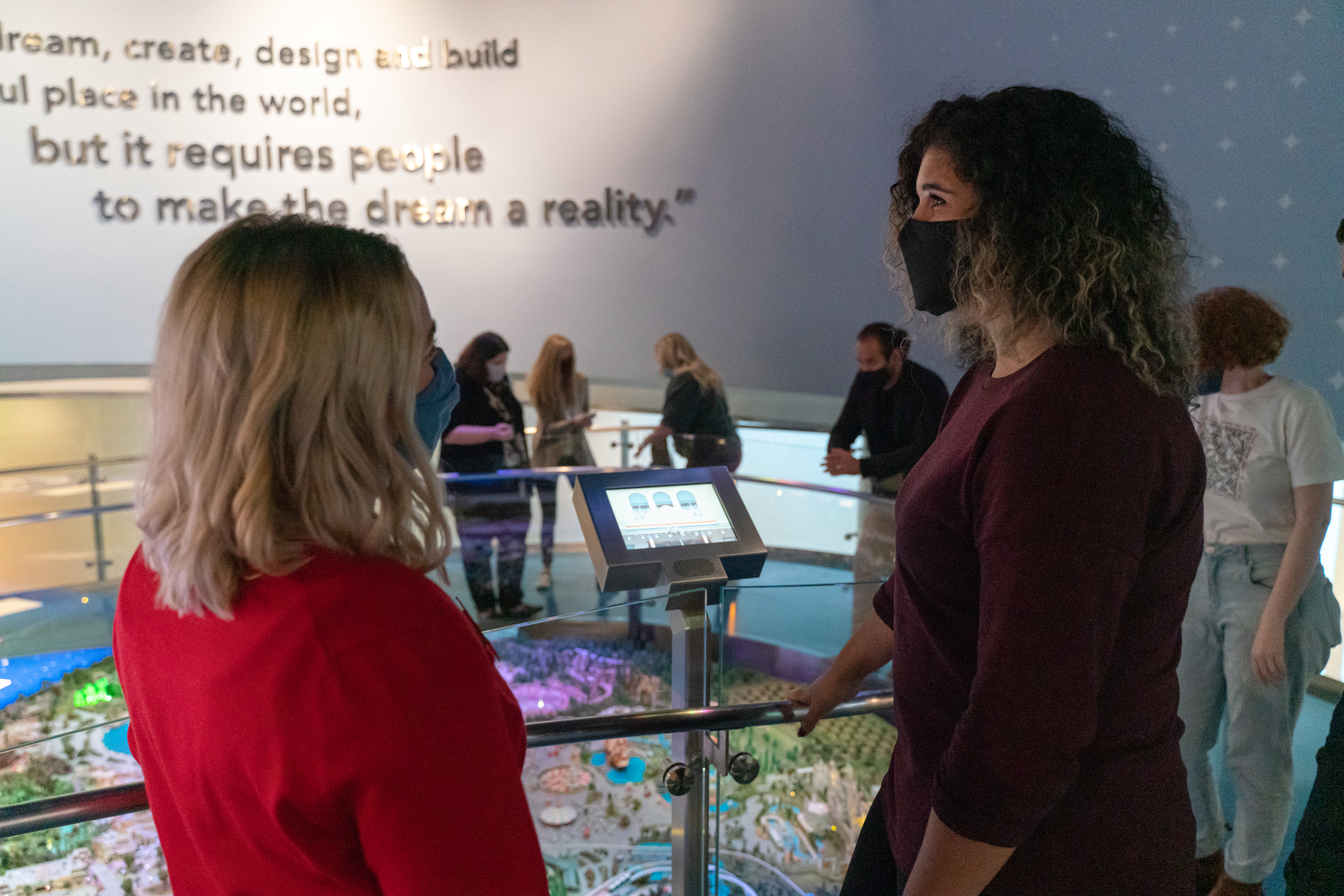 Youth Tours and Camps Policies 
For youth tours and camps, a 10:1 youth to adult chaperone ratio is required.
Chaperones will ensure that group behavior will not negatively impact other museum guests. Please be mindful of the group's noise level and remain together the entire duration of the visit.  
Please note that any unwillingness to comply may result in being asked to leave museum without a refund. 
Cancellation and Refund Policy
General admission, program, special exhibition, and guided tour purchases will not be refunded for bookings cancelled by the group itself.

Unused tickets will not be refunded.

The Walt Disney Family Museum reserves the right to cancel or reschedule any tour due to unforeseen circumstances. If the Walt Disney Family Museum needs to cancel your group visit and cannot reschedule a new date, a refund will be issued.