Disneyland has brought joy to guests for nearly six decades. Each decade has seen attractions come and, sadly in some cases, go. Depending on age, some guests have experienced Disneyland during Walt Disney's lifetime, while others do not know a Disneyland without Buzz Lightyear Astro Blasters and Mickey's Toontown.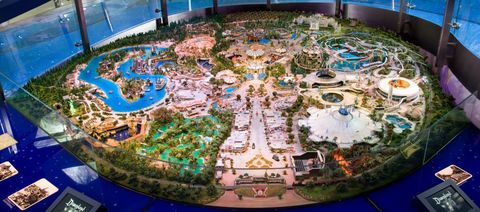 Remembering Disneyland
Over the years, through souvenir guidebooks and other media produced by The Walt Disney Company, many attractions that no longer exist at the park have been documented and presented to those who wish to know for the first time (or, to reminisce) about Disneyland during its early years. Disneyland has become such an integral part of our collective past that company publications have not completely fulfilled the demand to relive, or become acquainted with, the Disneyland of old. To fill the void, a wide range of individuals, from past employees to fans literally working from their garages, have created a truly fan-driven record of the evolution of Disneyland from before Opening Day to the present. The latest Walt Disney Family Museum program presented this phenomenon in a fast-paced, witty, and informative panel discussion in the museum's theater on Saturday, May 31, 2014.
The moderator for the panel was author, Disney historian, and veteran Walt Disney Family Museum speaker Sam Gennawey. His newest book, The Disneyland Story: The Unofficial Guide to the Evolution of Walt Disney's Dream is a delightful account of the creation and growth of Walt Disney's greatest creation. Gennawey began the afternoon with a thought as to why there is such a feeling of ownership that guests feel toward Disneyland. Walt Disney's comments on Opening Day begin with these words: "To all who come to this happy place, welcome. Disneyland is your land…." Sam pointed out that, in his first official remarks about his new creation, the founder, Walt Disney himself, was telling us that Disneyland is "ours," "We own it." Because Disneyland belongs to all of us, there have been ever-increasing efforts over the years by fans of Disneyland to keep Walt's dream alive. With that foundation, Sam welcomed the featured speakers to shed light on the evolution of telling the Disneyland story over the decades.
A Printed History of Disneyland
First was Todd Pierce, professor at Cal Poly San Luis Obispo and award-winning author of several articles, short stories, and books including Behind the Short Story: From First to Final Draft. Pierce covered the initial period of telling the story of the theme park's creation and the challenges faced by those who helped Walt Disney build Disneyland. Initially, the history of Disneyland was told in book form, one example being Disneyland: World of Flowers.
However, much of the material Pierce shared included memoirs and unpublished drafts, along with limited edition print runs that are very rare and hard to find. He treated the audience to several passages from various people involved in the creation of Disneyland ranging from one of Disney's "Nine Old Men," Eric Larson, to noted landscape architect Ruth Shellhorn. From Larson's unpublished memoir, Thirty Nine Years in the Mousehouse, Pierce read a passage on the difficulties of creating animation. He described the process as complicated, demanding, rewarding, and discouraging. Production changes were heartbreaking. And yet, there was a common goal among many Disney artists—"It was Walt Disney we were trying to please and, if we pleased him, we felt good."
Running Late for Opening Day
Harper Goff described a nearly brokenhearted Walt Disney lamenting, during the construction of Disneyland, that nearly half the budget for the park was spent and he literally had nothing to show for it. Ruth Shellhorn's diary showed how far behind the construction was as Opening Day approached. As late as July 13th, just four days before Disneyland was to open, she noted that it was a hot and humid day and "Adventureland is a mess." These behind-the-scenes, firsthand observations were well appreciated by the audience and showed more of how Walt Disney built Disneyland and the challenges that came with it.
Fans Turned Into Scholars
Author, Disney historian, and past Walt Disney Family Museum creative director Jeff Kurtti covered the next stage of telling the Disneyland story. He has written several books on Disney, including The Art of Disneyland and Walt Disney's Imagineering Legends. Kurtti spoke about how many Disney "fans" went on to become Disney "scholars." He pointed out that he was but one of many fans who began to interview primary participants in the creation of Disneyland.
Jeff recounted his personal journey from fan to scholar, beginning with his exposure to giant Dell comic books such as Uncle Scrooge Goes to Disneyland, Donald Duck in Disneyland, and Christmas in Disneyland. These fictional accounts allowed readers to experience Disneyland from the comfort of their own homes, which was especially valuable to children who lived far from Disneyland and rarely, or perhaps never had, attended the park. Additional print media used to inform the public of Disneyland included magazines like Disney News (formerly known as Vacationland), for which the museum's own Ron Miller contributed stories.
The First Use of Television For Advertising Disneyland
Walt Disney used television to inform the public about Disneyland as far back as 1954 with his first Disneyland program on ABC. After Walt's passing, his company continued to build anticipation for upcoming new attractions using television. Kurtti showed a clip from 1969's Disneyland Showtime featuring Kurt Russell taking viewers on a tour of The Haunted Mansion attraction. A less consistent form of Disneyland communication was presented on the Disney Channel.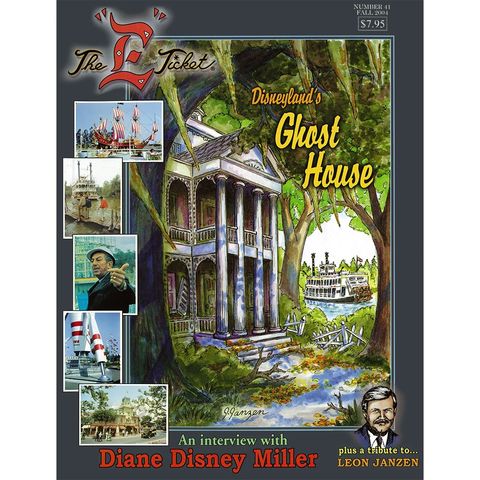 The "E" Ticket Magazine
Soon to follow, however, was an entirely new, fan-driven documentation of Disneyland history that was researched and presented by fans. The first major contribution in this new realm was The "E "Ticket magazine, created by brothers Jack and Leon Janzen. They interviewed many contributors to the creation of Disneyland. These firsthand accounts and the accompanying images and artwork were "manna from heaven" to hardcore Disneyland fans. Here, images never before seen were presented with interviews that gave fans a clearer picture of their beloved Disneyland. Each issue provided an in-depth look at (at least) one major Disneyland attraction. The Walt Disney Family Museum now owns the remaining issues of The "E" Ticket, which was published from 1986 to 2009 and is on sale in the museum store. The brothers Janzen showed that fans could control and share actual content about Disneyland, which set the stage for a new era of Disneyland news sharing and discussion.
The third presenter was Werner Weiss, curator of Yesterland.com, which is a wonderful, image-filled website that pays tribute to the Disneyland of days gone by. Werner took the audience on a journey through the more recent past, demonstrating the innovative ways that fans of Disneyland have elevated the sharing of information to new heights. Weiss began by revisiting The "E" Ticket magazine, which was the state-of-the-art, fan communication vehicle in the years before 1994. In November 1993, a new web browser, MOSAIC, removed the barriers to entry to the Internet for the average person. Werner took advantage of this new frontier in 1995 and began Yesterland.com as a forum for sharing digitized images of his old Disneyland slides. Today, it is one of the favorite websites for fans of vintage Disneyland.
The Rise of the Internet
A proliferation of websites, dedicated to various subjects including, of course, Disneyland, happened between 1994 and 2003. This period also saw the rise of a new "cottage industry" with the publication of specialty books that, in prior decades, may not have been published such as Disneyland the Nickel Tour: A Postcard Journey Through 40 Years of the Happiest Place on Earth and Disneyland Hotel: The Early Years, 1954-1988. Interestingly, the Internet made communication about these traditional media works more widely known than they otherwise would have been. Hence, new media begat old media content.
In 2004, the playing field was again changed with the birth of social media and applications that enable completely new ways of interacting with other fans and sources of information. Facebook, Twitter, and YouTube have become standard gathering places for Disneyland fans who are eager to share new and past experiences. D23 shares Disneyland's past from a corporate perspective. The advent of the iPhone and Android platforms has enabled even greater at the moment access to information.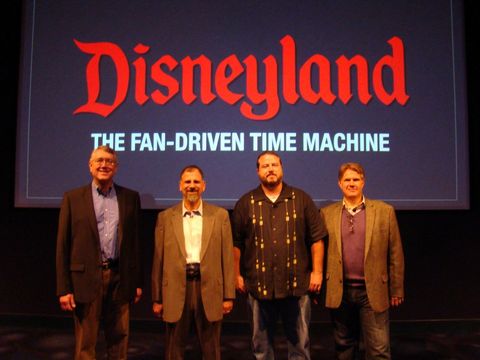 The Future of Disney and Remembering The Past
The future seems to come upon us so quickly these days. Weiss was not definite on what the future will bring to Disneyland fans but feels it is safe to say that we will be living in Tomorrowland. He does believe that there will be a continued trend toward mobile access, cheap storage of data, and amazing new platforms that we cannot yet imagine. No doubt, Disneyland fans will find ways to utilize the new technologies to preserve and share the history of "The Happiest Place On Earth."
Visit Us and Learn More About Disney's Amazing History 
Originally constructed in 1897 as an Army barracks, our iconic building transformed into The Walt Disney Family Museum more than a century later, and today houses some of the most interesting and fun museum exhibitions in the US. Explore the life story of the man behind the brand—Walt Disney. You'll love the iconic Golden Gate Bridge views and our interactive exhibitions here in San Francisco. You can learn more about visiting us here.
–Frank Teurlay
Volunteer at The Walt Disney Family Museum