The Disneyland Resort continues to be the hottest destination this fall as guests clamor to experience two all new lands at Disney California Adventure - Buena Vista Street and Cars Land. Many guests will no doubt journey to Walt Disney's Original Magic Kingdom, Disneyland, after experiencing all of the new and exciting attractions and experiences at Disney California Adventure. We at The Walt Disney Family Museum would like to highlight some of the must see Disneyland attractions guests can still experience today that tie directly back to Walt Disney himself.
So with no further ado we present:
Disneyland - The Quintessential Classics
The Must See Attractions that made Walt Disney's Magic Kingdom
Internationally known as "The Happiest Place on Earth"!
The Tour Continues with a Spooky Detour: The Haunted Mansion
Our tour of Disneyland's Quintessential Classics was supposed to take us into the heart of Frontierland with a detailed look at the Mark Twain Riverboat and the Golden Horseshoe Saloon but a strange presence is drawing us towards that beautiful Antebellum Mansion on the shores of the Rivers of America. Let's take a closer look at the Haunted Mansion.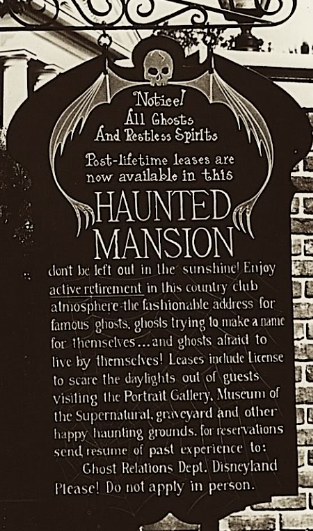 In early 1963, an elegant southern mansion mysteriously appeared along the banks of the Rivers of America, locked away from Disneyland's guests behind a high iron gate and walls. The only clue as to what guests might find inside was a sign stating that Disneyland's Ghost Relations Department was currently accepting applications from ghosts wishing to enjoy "active retirement in a country club atmosphere" described as "happy haunting grounds." The stately mansion would remain unoccupied for more than six years as Walt as his team collected the ethereal residents from around the world. After what must have seemed like an eternity to eager Disneyland guests, the Haunted Mansion welcomed its first "foolish mortals" on August 9, 1969. But we are getting ahead of ourselves…
The development of a Haunted House attraction goes back to the earliest concepts for Disneyland. In one of the earliest layouts for Disneyland, Imagineer Marvin Davis indicated a haunted house located near Main Street. One of Disney Legend Harper Goff's first illustrations for Disneyland from 1951 depicts a creepy, bat-infested "haunted house" high on a hill overlooking a country church and graveyard. Serious development of a Haunted Mansion attraction began in early 1957 when legendary Disney Animator Ken Anderson was approached by Walt Disney to begin thinking about a haunted house attraction for Disneyland. Ken knew the attraction would be built near the planned New Orleans area of Frontierland, so he began designing an early 1800s southern mansion. Ken's first illustration depicted a dilapidated version of the home. Much to Ken's surprise, Walt was not happy with his depiction of the Mansion. "When we were doing the building," recalled Imagineer Claude Coats, "Walt wanted it looking fresh and new, while nearly everyone else thought it should look old and dilapidated. Everyone expects a residence for ghosts to be run-down. But Walt was always looking for the unexpected." "We'll take care of the outside," he used to say. "The ghosts can take care of the inside."
Ken's earliest plans called for the mansion to be a walk-through attraction where groups of 40 guests would be escorted through the old house by a butler or a maid who would tell of the tragic fate of the mansion's original owners. Before entering the house, guests would be welcomed by a recorded introduction by Walt Disney himself, who would give a brief history of the Mansion and explain how it came to Disneyland. Here is the text from the rarely seen script of Walt's introduction to the Haunted Mansion from a draft written by Ken Anderson in September 1957:
"Bloodmere" is the name of this old house, which was the lakeside estate of the Blood family. It was built around 1800 in the swampy bayous near New Orleans, and was moved here intact because it was such a fine example of early architecture from that section of the country. It had not been occupied for some time and was badly in need of repair, so we started the work of restoration as soon as it arrived at Disneyland, but, strangely enough… the work each day was destroyed during the night… and the night watchman reported that when he had passed the house he'd heard eerie screams and weird lights.
Every day we make a new attempt to repair the house, but in vain, for every morning the windows were broken… the furniture smashed… the shutters hanging by a single hinge, and even the new coats of paint scratched and peeled off. Additional night watchmen were employed to catch vandals red-handed, but they were unable to do anything other than report weird and frightening apparitions. The destruction continued unabated, and we were forced to halt the useless attempt to restore the house.
Meanwhile, we conducted a thorough investigation through special agencies in New Orleans who furnished us with starling new facts… our house had a tragic and bloody history of unlucky owners who died sudden and violent deaths, which resulted in their unhappy ghosts remaining behind to fulfill the uncompleted missions of their lives. We were warned to expect unusual activities from the ghosts, since they would be disturbed by being transplanted from their native haunts to Disneyland… and without their permission. In fact we are sorry to report that the latest tragedy of all occurred here in Disneyland… when one of our carpenters engaged in restoration work on the house disappeared completely from sight… and has not been seen or heard from since.
The house has proved too dangerous to be lived in since 1900, but we have succeeded in making it safe enough for a visit… when accompanied by one of our trained and competent guides. Guides are necessary by another strange characteristic of the house. It has rotted so long in the dank fastness of its lost hiding place in the swamps that not even the Southern California sunshine or the best efforts of electricians and illumination engineers can dispel the dimness of the bayous… it mysteriously remains always night within the house… the night in which all ghosts are condemned to live in.
Now we cannot promise you that anything at all will occur during your visit… since it is usually in the wee small hours that the dead ones live it up… However, be prepared to see and hear something or other, and take whatever precautions you please. We recommend that you stay close together during your visit and please… above all… obey your guides instructions… Thank you."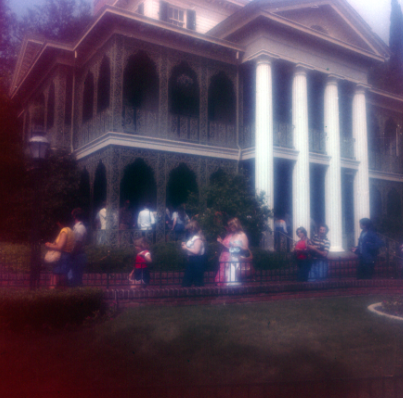 Work continued throughout the late 50's and into the early 1960's on different concepts and illusions for the Haunted Mansion. Beginning in 1958 Imagineers Rolly Crump and "Illusioneer" Yale Gracey were given the task of creating the numerous special effects for the Haunted Mansion. Many of the effects they developed were inspired by some of the illusions created by 19th century magicians including the famous "Peppers Ghost" effect. A 1961 Main Entrance handbill actually announced that the Haunted Mansion would open in 1963, but with the Imagineers focused on creating four major attractions for the 1964-1965 New York World's Fair, the Haunted Mansion was put on hold. By the time work resumed on The Haunted Mansion after the Fair, Ken Anderson had moved back to Feature Animation at the Studio, so Disney Legends Marc Davis and Claude Coats were called upon to lend their talents to the project. On a "Walt Disney's Wonderful World of Color" television episode celebrating Disneyland's Tencenial in 1965, Walt took Julie Reihm, the first Disneyland Ambassador, on a behind-the-scenes tour of WED Enterprises. TV viewers were given a sneak preview of some of the future plans for Disneyland, including The Haunted Mansion. Walt revealed that he was inviting ghosts from all over the world to come live in this new home where Walt promised "wall-to-wall cobwebs", and "creaking doors and creaking floors." As part of the television show, Marc Davis displayed his metamorphosing portrait of Medusa, as well as the stretching paintings from the windowless gallery. Nearby, Rolly Crump explained about the "Museum of the Weird," a concept for the Mansion that never made it into the final attraction.  By this time, the Haunted Mansion was no longer a walk-through attraction. The WED designers had learned how to move large amounts of people through their attractions at the Worlds fair and were ready to bring that knowledge to the Haunted Mansion. The Omnimover ride system being created for Tomorrowland's Adventure thru Inner Space was adapted and the blue "atommobiles" became black "doom buggies."
Walt Disney's untimely death in December of 1966 caused yet another delay in the development of the Haunted Mansion. Imagineers could not decide on the overall tone of the attraction. Disney Legend Ward Kimball recalled, "In one corner were those who felt that, ghosts being scary to begin with, the show needed to be lightened up. "Look at all the little kids who are frightened by the witch in the Snow White ride," they argued. In the other corner, equally vocal designers insisted that guests would expect a big chill in anything called a Haunted Mansion. "People love to be scared," they replied. Would Disney himself have opted for more "fright" or "light?" Disney Legend Marc Davis summed up his feelings on completing the first major attraction without Walt Disney's guidance saying, "There were too many people. I think we had a lot of confusion because Walt had not been gone all that long. I think there were a lot of great ideas, but when you have too many people of equal clout, nobody's about to say, 'Hey, wait a minute! Let's do it this way,' which Walt would have done in a moment." Thankfully the Imagineers were able to pull together their best ideas and on August 9, 1969 finally opened those iron gates to an eagerly waiting public. The Haunted Mansion would go on to become one of the most popular attractions ever created at Disneyland, an attraction that continues to playfully scare and delight guests, forty-three years after its opening.
Happy Halloween!
Next time we'll continue our tour by heading down the Rivers of America to Frontierland to explore the Mark Twain Riverboat and the Golden Horseshoe Saloon.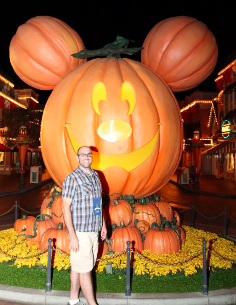 Joseph Titizian (pictured on the left at Disneyland, October 2012) is an inaugural member of The Walt Disney Family Museum volunteer team. He is a regular contributor to this blog, and has developed continued education courses for the volunteer team. A lifelong Disney fan, Joseph has previously worked at Disneyland Park and Pixar Animation Studios.
[Images above: Courtesy Walt Disney Family Foundation]