When the Haunted Mansion finally opened to guests in August 1969, its 999 resident ghosts were ready to socialize. But, as we all know, spooks don't come out for a swinging wake without suitable musical accompaniment. Here's how "Grim Grinning Ghosts" materialized…
Pirates Paving the Way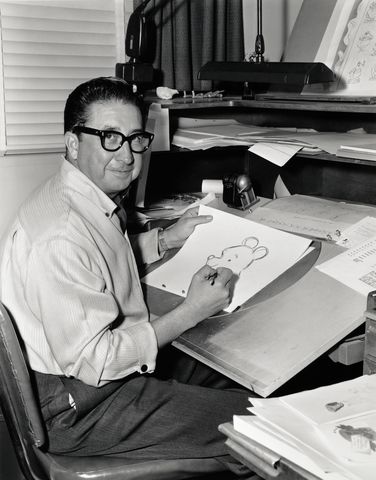 In the mid-1960s, Walt invited X Atencio—a WED Enterprises newcomer—to work on his upcoming pirate-themed Imagineering project. Atencio possessed decades of Disney animation experience, having lent his talents to movies such as Fantasia (1940), The Parent Trap (1961), and Mary Poppins (1964), and was keen to get involved with shaping this brand-new Disneyland offering.  
In addition to his original task of creating a script, Atencio spent time considering how the pirate attraction might develop. "…I suggested to Walt maybe we should have a song in this one," he later recalled. "I had a lyric in mind and kind of a melody, so I half sang it and half recited it."
Walt was impressed with Atencio's idea and advised him to take it further, with George Bruns at the musical helm. Bruns had previously composed music for a variety of Disney films, perhaps most notably Sleeping Beauty (1959). Following Walt's instruction, Bruns and Atencio worked together to write "Yo Ho (A Pirate's Life for Me)", which would go on to become synonymous with Disney Parks across the world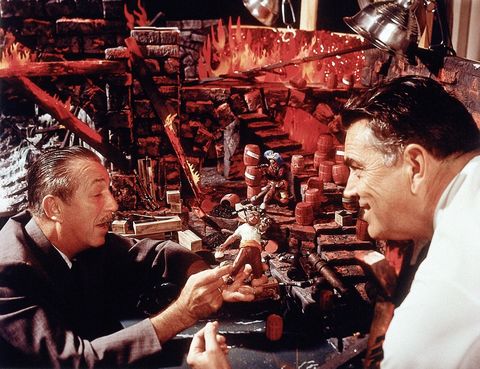 The Vision for the Haunted Mansion: Scary or Humorous?
Atencio's next task was to somehow replicate the success of his Pirates theme song and script for Walt's new "ghost house" attraction, which had been discussed and shelved several times since the 1950s. But following Walt's death in 1966, the Haunted Mansion project had become clouded by creative disagreement. "Great debate arose between Marc [Davis] and Claude [Coats] about whether the Haunted Mansion should be scary or funny," explained Atencio's daughter, Tori Atencio McCullough.
In the midst of the confusion, it was up to scriptwriter X Atencio to decide how to tie a range of conflicting ideas into one solid storyline, supported by music and lyrics. The team's haunted house—a symbol of classic spooky thrills—needed to take a uniquely Disney angle and work for a family audience.
Ultimately—and poignantly—it was Walt's vision that reigned. "Almost by default, X returned to Walt's original concept of a retirement home in which displaced spirits could spend their afterlives haunting any unsuspecting guests who came calling," wrote Disney Historian Jason Surrell, in his book The Haunted Mansion: Imagineering a Disney Classic. Now that a final idea had been selected, Atencio could move forward with the attraction music.
Buddy Baker, the Music Mastermind Behind "Grim Grinning Ghosts"
Composer Buddy Baker had previously contributed to Walt Disney's Wonderful World of Color, and later scored both "Great Moments with Mr. Lincoln" and the "Carousel of Progress" attractions for the 1964/65 New York World's Fair. Already familiar with Imagineering projects—and a highly-respected veteran within his field—he was brought in to work on the Mansion's theme composition with Atencio.
The finished arrangements and lyrics skilfully towed the line between funny and frightening, just as Atencio had planned: "[The ghosts] terrorize, but their main point was to socialize. Walt bought that idea… 'Socialize' is the key word," he explained. Atencio named the finished number "Grim Grinning Ghosts (The Screaming Song)"—a nod to the Shakespeare poem Venus and Adonis and a suitably juxtaposing title for such a genre-blending attraction.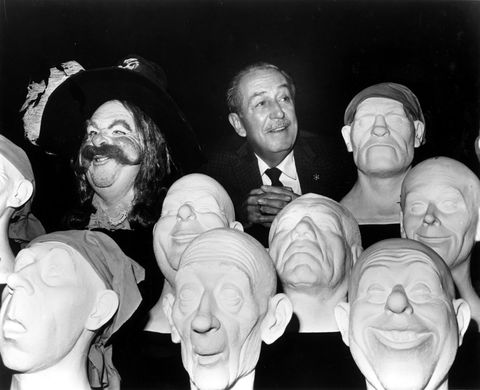 Walt's Lasting Impact on the Haunted Mansion
Although Walt had passed away almost three years before the Haunted Mansion's opening, his impact on the project was deeply felt, from X Atencio's consideration of Walt's original "retired ghosts" concept to the Imagineers' memories of his leadership. "I didn't even know I could write music, but somehow Walt did," Atencio later reminisced. "He tapped my hidden talents."
Baker agreed, fondly remembering Walt's belief in his team: "During the 28 years I worked at the Studio, Walt never came to a recording. He had confidence in me and in everybody else. He trusted his people."
Walt's faith in his workers allowed them to stretch their own abilities and push the boundaries of what a Disney Park might look like. He may not have been able to experience the Haunted Mansion in person, but this attraction, which has enchanted and spooked Disney Parks guests across the globe for over fifty years, is still very much a part of his lasting legacy.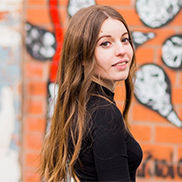 – Sophie Jo
Sophie Jo is a writer and long-time Disney fan from England. Find her tweeting @sophiejowrites or happy-crying over 'it's a small world.'
Image Sources (in order of appearance):
McKim, Sam; concept painting of Haunted Mansion; Courtesy of Walt Disney Imagineering; © Disney
X. Atencio drawing Winnie the Pooh for Winnie the Pooh and the Honey Tree (1966); courtesy of the Walt Disney Archives Photo Library, © Disney

Walt with Claude Coats and pirate maquette, ca. 1965, courtesy of the Walt Disney Archives Photo Library, © Disney

Walt Disney with sculptures and pirate head, ca. 1966; courtesy of the Walt Disney Archives Photo Library, © Disney
Visit Us and Learn More About Disney's Amazing History
Originally constructed in 1897 as an Army barracks, our iconic building transformed into The Walt Disney Family Museum more than a century later, and today houses some of the most interesting and fun museum exhibitions in the US. Explore the life story of the man behind the brand—Walt Disney. You'll love the iconic Golden Gate Bridge views and our interactive exhibitions here in San Francisco. You can learn more about visiting us here.