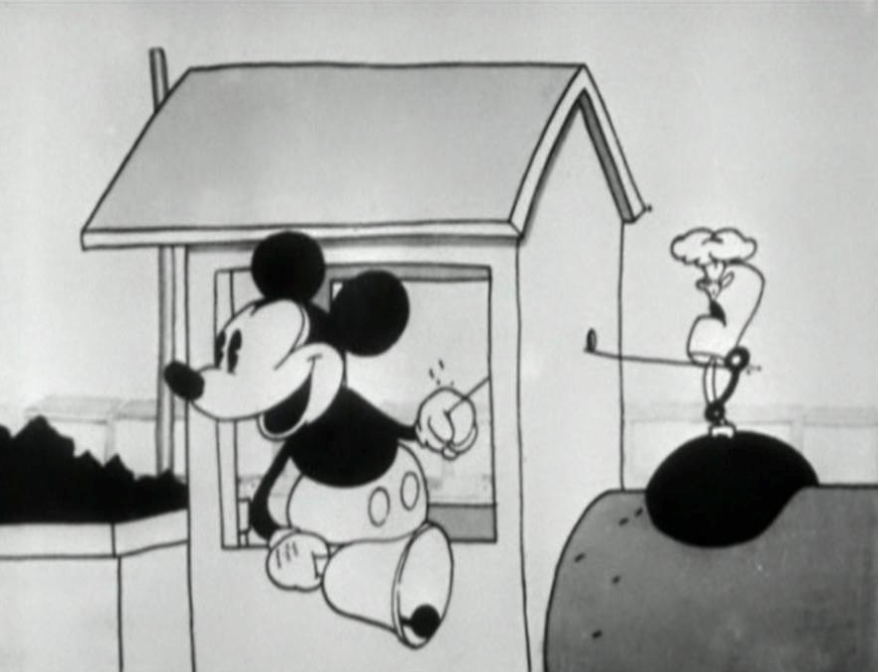 When Walt Disney commissioned artist Herb Ryman to create a piece of concept art of Disneyland to show to the bankers, his instructions were clear: "Herbie," Walt said, "I just want it to look like nothing else in the world. And it should be surrounded by a train." Walt's love for trains can be traced all the way back to his days as a young boy growing up in Marceline, Missouri, and spanned the breadth of his amazing life.
In the 1929 short, Mickey's Choo Choo, Mickey and Minnie embark on a journey aboard an anthropomorphized locomotive. At the short's conclusion, the two mice find themselves on a runaway boxcar that eventually smashes into a tree, rocketing debris into the air. Some of the broken pieces land perfectly to form a simple handcar, upon which Mickey and Minnie land. According to legend, that image served as the inspiration for one of the most hallowed collectibles in Disney history—one that not only provided hours of enjoyment for children, but also rescued a company that today is world-renowned.
In 1900, Joshua Lionel Cowen founded Lionel Manufacturing Company. The company was renamed The Lionel Corporation in 1918, and by the 1930s had become an innovator in toy train production. But the Great Depression took its toll, and on May 7, 1934, Lionel went into receivership to avoid bankruptcy. Two months later, Disney merchandising genius Kay Kamen went to the Lionel Corporation with an idea: A Mickey and Minnie wind-up handcar. As historian Jim Korkis notes in The Book of Mouse, Kamen "believed in the company."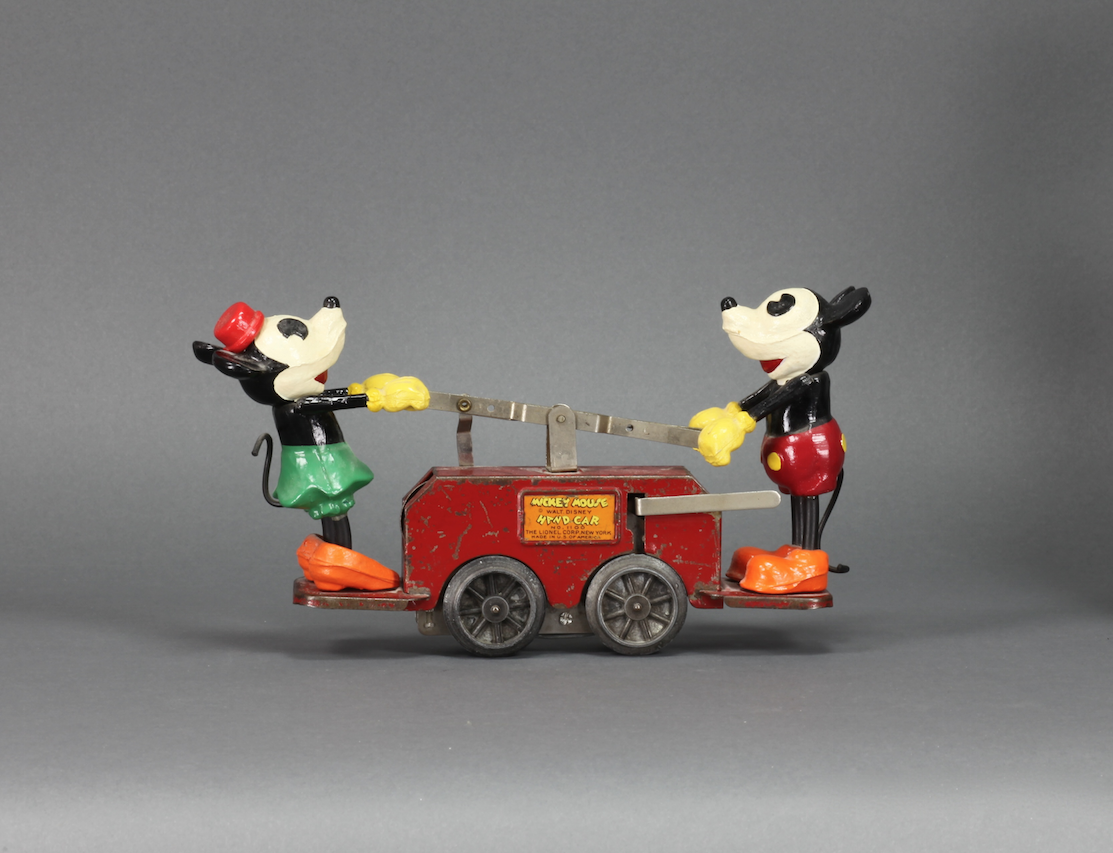 The wind-up handcar was produced and became available in either red or green, running along a circular O-gauge track. Within four months, over 253,000 sets were sold. By December 31, 1934, Lionel paid its debts in full, and the company left receivership the following month. That $1 toy was credited with saving the company. According to Korkis, "It was not just the sale of the Mickey Mouse Handcar but the fact that the company was associated with Mickey Mouse that made the rest of its products and the company itself popular."
Lionel continued to thrive and innovate in model train production as The Walt Disney Studios rose to new heights in the world of animation. Into the 1940s, as the Studios expanded and faced greater challenges, Walt found himself in need of a new hobby. He remembered the trains he loved as a child and the company he helped to save.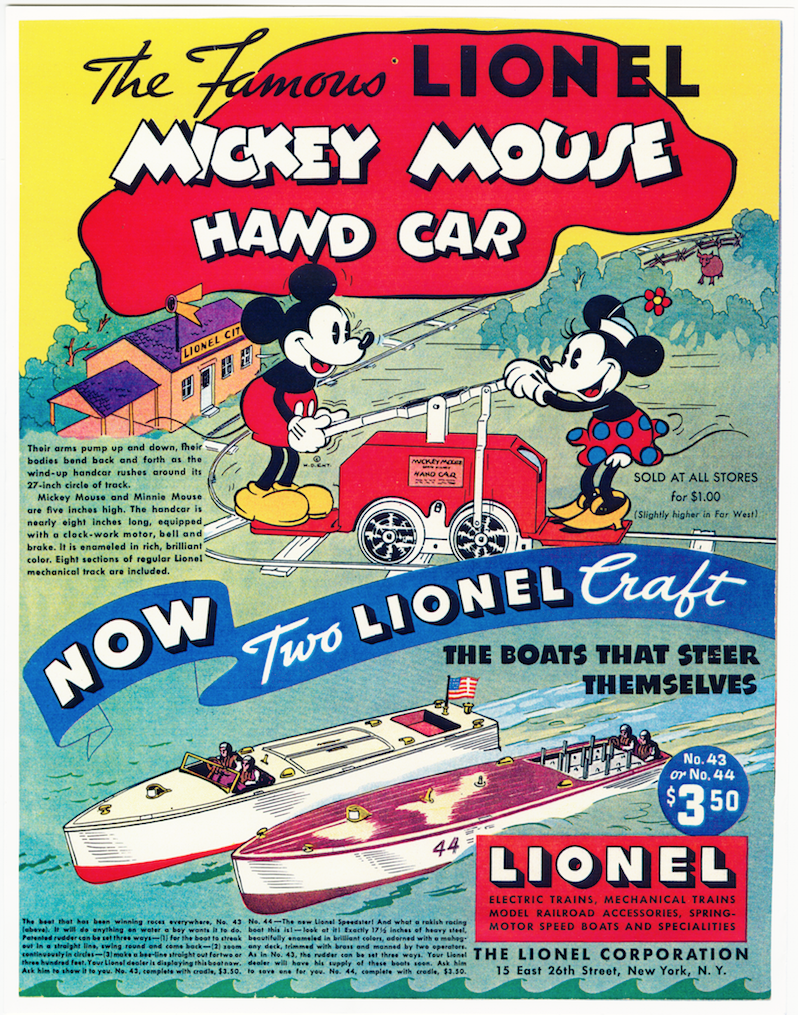 Because of his longstanding relationship with the company, Walt was already familiar with Lionel products, so it came as no surprise when it was a Lionel train set that Walt acquired in 1947. Animator Ollie Johnston remembered, "One day in early December 1948, Ward Kimball came into my office and said, 'There's something up in Walt's office you've gotta see.' We walked in and there was a complete Lionel layout he had built. Walt turned to me and said, 'I didn't know you were interested in trains, too.'"
The Lionel layout in Walt's office served a welcome distraction from the stresses of studio work, and something that he could share with others. Even when Walt had moved on to the larger scale locomotive of his Carolwood Pacific Railroad, reference was still given to Lionel. As Imagineer Roger Broggie recalled, "We approached the challenge of laying the rails first as was done in full-size practice. But we abandoned it for what we termed the 'Lionel Method' as being more practical." With the Lionel Method, the studio made complete sections of the rail, ties, and other part of the train before they were—very similarly in a similar manner that model railroad layouts were done—installed in pieces.  
Today, Lionel still proudly produces Disney-themed products, including two O Gauge handcars, one with Mickey and Minnie, the other with Mickey and Goofy. The relationship between Disney and Lionel has always been one of mutual benefit and respect, and afforded Walt the opportunity to further indulge in one of his greatest passions.
All Aboard: A Celebration of Walt's Trains explores the influence that railroading had on Walt Disney's life and work, and how his railroading legacy lives on to this day in Disney films and theme parks around the world. Through rare artifacts, firsthand accounts, archival videos, images, and running model trains, guests will learn how Walt's passion for trains developed before manifesting itself in Disney short cartoons, feature films, and in Walt's personal life at home.
While here, don't miss the special Family Activity Area, located on the second floor of the Diane Disney Miller Special Exhibition Hall. The immersive, hands-on All Aboard Family Activity Area is for families and children of all ages, and is made possible with the generous support of Lionel, LLC.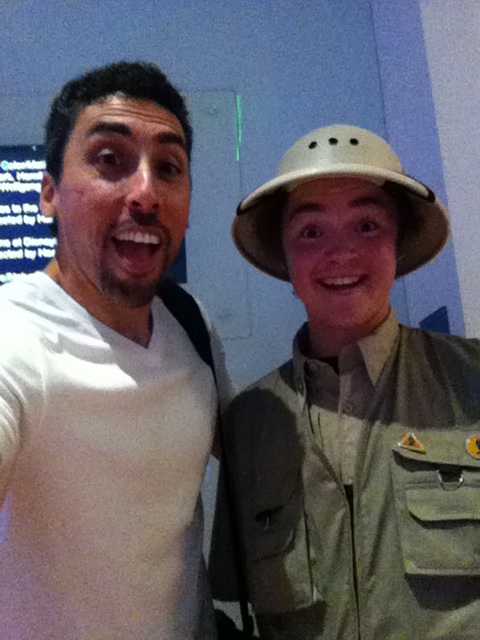 This article was co-written by Museum Educator Lucas Seastrom and WDFM Podcast host Keith Gluck, who are are both lifelong Disney fans with a strong admiration for Walt himself. The two writers became friends while volunteering at The Walt Disney Family Museum and have worked on multiple projects together, including a special "ghost host" tour of the museum during the popular after-hours event Animate Your Night.
Sources
- Greenberg, Bruce C. Greenberg's Guide to Lionel Trains 1901-1942: O Gauge. N.p.: Kalmbach, 2000. Print.
- Korkis, Jim. The Book of Mouse: A Celebration of Walt Disney's Mickey Mouse. S.l.: Theme Park, 2013. Print.
- "Lionel and Railroads in America." Lionel Train History, Lionel Past and Present. Lionel, n.d. Web.
- Peri, Don. "Interview with Ollie Johnston." Working with Disney: Interviews with Animators, Producers, and Artists. Jackson: U of Mississippi, 2011. N. pag. Print.