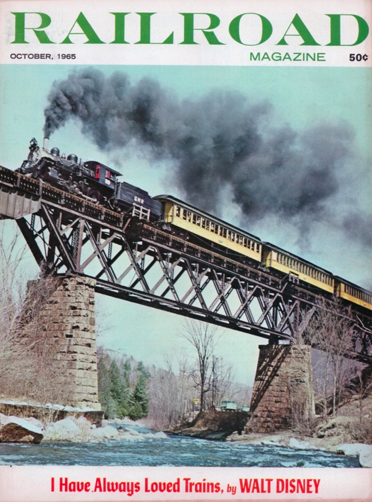 "I suppose I've always been in love with trains," Walt wrote, and in October we will celebrate his lifelong locomotive love at The Walt Disney Family Museum, and here on Storyboard. This article appeared under Walt's byline in the October 1965 issue of Railroad Magazine. Although certainly written by a Studio publicist or staff writer, it is factually correct, and communicates Walt's thoughts and ideas authentically and accurately.
I suppose I've always been in love with trains. As a small boy living on a farm near Marceline, Mo., I had a unique claim to fame: my Uncle Mike was engineer on the Santa Fe's accommodation train that ran between Marceline and Fort Madison. That was something to brag about to my schoolmates at a time when railroads loomed large in the scheme of things and steam engines were formidable and exciting.
We fellows would marvel at the tall stacked engines that pulled into and out of the depot opposite the park where we played, huffing with steam and trailing nebulous smoke plumes. One day in about 1909, when I was 8 or 9 years old and full of nerve, my buddies dared me to climb into the cab of one of them that stood there, temporarily deserted, and pull the whistle cord. I did so, but as soon as the whistle shrieked I quickly climbed down in a panic and ran like the dickens.
Later, my family moved to Kansas City. My father had a newspaper route and I helped him, getting up at 3:30 every morning and delivering papers till 6, after which I hurried home for breakfast and went to school. This lasted for six years. During that time I missed a total of one month from the work, on account of illness. I was rather proud of my record, though.
It was always pitch dark when I left home on winter mornings, and often bitter cold. Sometimes I plowed my way through several feet of freshly fallen snow, breaking a path in those early hours. And was I sleepy! Occasionally, when I reached the warm hall of an apartment house, I would lie down for a short snooze, awaking to find it was daylight. Then I'd run the rest of the way to deliver all my papers and not be late for school.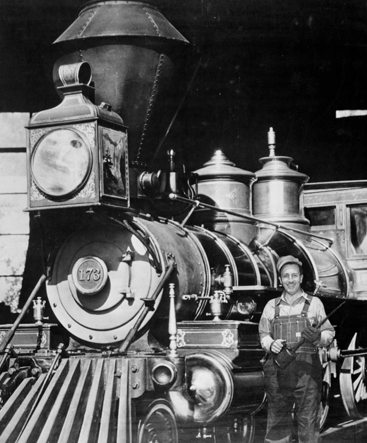 In 1916, when I was 15, my father sold the newspaper route and that summer I looked around for some way to earn money until high school reopened in the fall. My brother, Roy, who had been employed by the Fred Harvey system as a news butcher on Santa Fe trains, selling magazines, peanuts, candy, apples, soft drinks, cigars and so on, suggested that I apply for a similar job.
I did so and was hired for two months. I felt very important wearing a neat blue serge uniform with brass buttons, a peaked cap, and a shiny badge in my lapel. As the train rolled into one station after another I stood beside the conductor on the car steps to enjoy the envious stares of youngsters waiting on the platform.
But my first day's business, on the Missouri Pacific, was a fiasco. We ran from Kansas City to Jefferson City. Our train pulled out at 4 a.m. with two commuter coaches added to its usual consist. The day being hot, I soon sold out my supply of soda pop to the commuters. I didn't know until it was too late that the two commuter cars would be detached at Lee Summit. They were gone before I could collect the empty bottles. Inasmuch as my margin of profit lay in the bottle refunds, I realized with dismay that I was wiped out.
Undaunted, I continued plying my trade on passenger trains not only of the Missouri Pacific but also of the Kansas City Southern and the Missouri, Kansas and Texas, commonly known as the "Katy." It was quite an adventure for a kid who hitherto had rarely been away from home.
I liked especially the MP run between Kansas City and Down, Kan. It took six hours, because we'd stop at every station en route and we often pushed boxcars out of the way to clear the track. During the journey I sometimes went to the baggage car and supplied the baggage man with cigars or chewing tobacco and then I'd climb over the tender into the engine cab to do the same for the engineer and fireman. They'd let me ride the cab with them for a while-and what a thrill that was!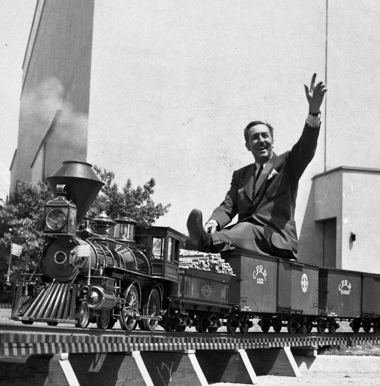 The train would stop overnight at Downs before taking on coal and water for the return trip. One night I decided to walk around the town to look it over. Wandering down the main street, I was window-shopping when a policeman asked what I was doing there and where I had come from. I said I was the news butcher on the train, but I had to accompany him back to the train and unlock my merchandise hamper in order to prove it.
My railroad career was brief, exciting, and unprofitable. Too many people were eager to take advantage of a young businessman like myself. The suppliers, for example, would fill my hamper with rotten fruit. This drew so many flies that the conductor would make me dump it out, and I was stuck with the cost. Besides, I was only fifteen and I ate up most of my profits. So I quit at the end of that summer with losses that absorbed the $30 bond I had posted when I took the job.
That ended my experience with trains, except as a passenger-until years later when I decided to build my own railroad. In the interim I had various jobs. For several months, I worked for the Chicago Post Office as a downtown letter carrier in the daytime and a route collector at night. Then I put in a year of wartime service with the American Red Cross overseas, driving an ambulance and chauffeuring Red Cross officials. On one occasion I chauffeured General Pershing's 11-year-old son Jack around Neufchateau, France, when the boy visited his famous father.
Back in America, I landed an art apprentice art job in the fall with a Kansas City advertising company, which did work for farm journals. I drew such inspiring things as egg-laying mash, salt blocks for cattle, and farm equipment. They paid me $50 a month but fired me immediately after the Christmas rush. Then I went back to post office work, delivering Christmas cards till New Year's Day. After that, carrying out a New Year's resolution, I opened a commercial studio in partnership with another apprentice artist.
Later a Kansas City slide company hired me to draw cartoons at $35 a week and I turned my commercial art business over to my partner. That is how I got started on the animated cartoon game. It was around February 1920. In the years that followed I developed the Mickey Mouse movie cartoon, among other things. Shortly after the Second World War, I was having trouble getting my studio rolling again. I knew another fellow living in Beverly Hills who had built a midget railroad and I determined to build one of my own to keep my mind busy and off studio problems.
I went about it systematically. After serving an apprenticeship in a machine shop, I studied metalwork and carpentry before I figured I was ready to start building. Then I built a train to one-eighth scale. The engine and the tender combined was seven feet long and operated on coal and water, like the ones I had known as a news butcher. I fashioned all the cars myself. The boxcars were big enough for a person to straddle, and the flatcars could seat two. My special pride was the caboose, which I furnished entirely in miniature, right down to the pot-bellied stove. The engine was designed after one that had run on the old Central Pacific, so I named my little railroad the CP, for Carolwood Pacific, the street I lived on.
All my planning worked out perfectly except for one factor, my wife. She didn't take kindly to the idea of having a railroad run around our house, and told me so in no uncertain terms. Things came to such a pass that I went to my lawyer and had him draw up a right-of-way agreement giving me permission to operate the railroad on the property. My wife signed it and my daughters witnessed the agreement.
I figured out a route around the place, but it required a six-foot cut in one of the slopes. This time my wife put her foot down. So I compromised by building a tunnel 90 feet long and covering it with dirt. I gave my secretary strict instructions not to tell me how much it cost.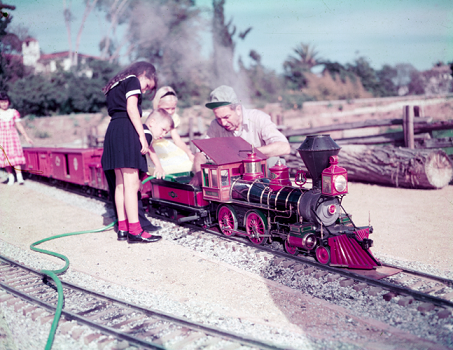 The Carolwood Pacific gave me many happy hours, but it was not without hazards. Once while experimenting on remote control, I sat on the first car instead of the tender and operated the locomotive with wires. As I was rounding a turn, the front wheel hit a rock and bobbled the engine so that she uncoupled from the tender and I was jolted backward. My hand jerked the throttle valve all the way back, and the engine went racing down the track.
Leaping off the car, I chased the engine, which was now shooting wet steam 40 feet into the air. She was going too fast for me to catch her, so I raced over to the point where she would come out of the tunnel and go into a tight curve. Just as I reached there, the engine hurtled out of the tunnel, hit the curve, and tumbled off the track. She rolled over, her stack and pilot cracking off. Then she just lay there, hissing and belching steam like a dying monster.
My wife was in the house. I hollered to her, "Come on out if you want to see a terrible sight!"
She emerged from the doorway to gaze at the shattered locomotive and the downhearted engineer.
"Oh, Walt, that's too bad!" she said feelingly.
Thus I had finally succeeded in getting her on my side in the railroad operation—but I had to wreck a train to do it. After being repaired, the train continued to provide many delightful hours for our family and friends. But after a while, the studio was moved again and I no longer had time for the Carolwood Pacific.
Then Disneyland Park came along. I had the excitement of creating an honest-to-goodness railroad—well, 5/8ths scale anyway—the Disneyland and Santa Fe. We built the two larger engines, No. 1 and 2, at the studio from the same plans I had used for the midget train. Later, in Southern lumber mills, we found two old chassis, with wheels, on which we built two more locomotives, Nos. 3 and 4. The latter was made to look as much as possible like the old Montezuma No. 1 of the Denver and Rio Grande.
What happened to the Carolwood Pacific train? I still have it. I'm going to get it repainted and displayed in a glass case at the Disneyland and Santa Fe station. That's only right, since it spawned the busy little railroad here in Disneyland and somehow is tied up emotionally with my boyhood experience as a news butcher. Yes, in one way or another I have always loved trains.
President of Carolwood Pacific Historical Society and friend of the Museum Michael Campbell will host a multimedia presentation, Walt Disney's Love of Trains, on Saturday October 15 at 3:00pm. Trains played an important role in many aspects of Walt's life and railroading was a favorite hobby. Learn about the miniature railroad that the Disneys had at their Holmby Hills home, the trains that circle Disneyland and more. Tickets are available at the Reception and Member Service Desk at our museum, or online by clicking here.
The Great Locomotive Chase screens daily through October at 1pm & 4pm (except Tuesdays, and October 15). Tickets are available at the Reception and Member Service Desk at our museum, or online by clicking here.
All images above © Disney