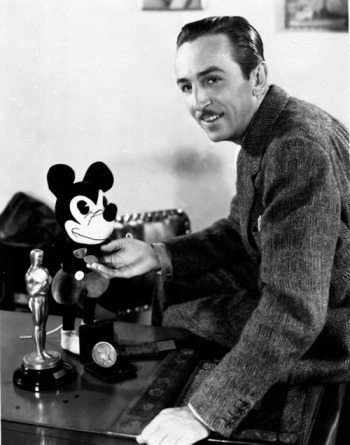 Walt's Charitable Nature
I've written quite a bit about Walt's sense of charity and giving back. He was always willing to help a good cause, but as you know he was especially fond of his roots (Chicago, Illinois; Marceline, Missouri; and Kansas City, Missouri). In the 1930s he was often sending off little things to help along the people and organizations from his "hometowns." All of the big things he did are documented, but many of the day-to-day requests for help that Walt responded to are often forgotten. 
Hope During the Great Depression
Remember, it was the Great Depression, and Mickey Mouse became the everyman, overcoming odds and prevailing. As we have often heard, the song "Who's Afraid of the Big Bad Wolf?" was a rallying cry for many during the height of the Depression. The same can be said of a lot of small gestures Walt gave back to his communities to help out.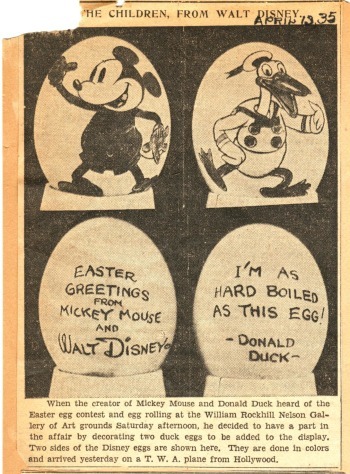 Today, this may not seem much of anything, but during the Depression, this was something significant and important. It lifted people's spirits. It helped the community. And it was a nice thing to do. As I preach to my students, "Historical Context," I ask you to think about living through the Depression, and having someone from your community who has truly made good give something back. It was hope. Hope in the future and the American dream.
The Contributions of Walt Disney
"If Walt Disney, who grew up right here in Kansas City, can make his dreams come true, then so can I. To Hell with the Depression. And then, when I make it, I can give back too." A worn-out cliché, "It was a simpler time"—but it really was, and it was people like Walt Disney who made the tough times bearable.
Walt Disney was not only a beacon of hope during the Great Depression through his films, but also through his small acts of kindness and charity. Despite the difficult economic circumstances, Disney remained committed to giving back to his community and helping those in need.
Mickey Mouse Clubs
One example of Disney's generosity was his creation of the "Mickey Mouse Clubs," which were local organizations designed to provide a safe and positive environment for children. These clubs provided a variety of activities, including sports, games, and arts and crafts, and were free to join. Disney believed that by providing a fun and engaging outlet for children, he could help them to cope with the stress and anxiety of living through the Great Depression.
Films to Boost Morale During The War
Disney also made significant contributions to the war effort during World War II, by creating films and cartoons that were designed to boost morale and encourage support for the troops. One of the iconic cartoons he created was Der Fuehrer's Face. He also used his studio facilities to produce training films for the military and donated proceeds from his films to various war-related causes. Walt often said that it was art that got him through the Great Depression.
Visiting the Children
In addition to his larger contributions, Disney was also known for his small acts of kindness. He would often visit children's hospitals, bringing along Disney merchandise and spending time with the children. He also frequently donated money to local charities and community organizations.
Providing Opportunities for Work
One particularly touching example of Disney's kindness was his decision to hire a young woman named Mary Ford, who was struggling to make ends meet during the Great Depression. Ford was a talented artist, but due to her gender and lack of formal training, she was unable to find work in the male-dominated field of animation. Disney recognized her talent and hired her as an inker, making her the first female inker in the industry.
Overall, Disney's small acts of kindness and charity during the Great Depression demonstrate his commitment to using his success to make a positive impact on those around him. Through his philanthropic efforts and commitment to helping others, he was able to make a significant difference in the lives of many people during one of the most challenging periods in American history.
Visit Us and Learn More About Disney's Amazing History 
Originally constructed in 1897 as an Army barracks, our iconic building transformed into The Walt Disney Family Museum more than a century later, and today houses some of the most interesting and fun museum exhibitions in the US. Explore the life story of the man behind the brand—Walt Disney. You'll love the iconic Golden Gate Bridge views and our interactive exhibitions here in San Francisco. You can learn more about visiting us here.
[Images above: 1) Walt and Mickey, courtesy The Walt Disney Company. ©Disney. 2) Easter eggs. Courtesy of Disney History Institute and Paul F. Anderson.]
Paul F. Anderson is a noted researcher, interviewer, and writer on the subject of Walt Disney's creative legacy. He edited and wrote for the Disney History Journal Persistence of Vision, and in 1999 was invited to teach "Walt Disney & American Culture" at BYU. He has lent his expertise on film, television, radio, and DVDs; and is the author of numerous articles and several books on Disney. Paul is now working on a book about Walt and World War II for the Walt Disney Family Foundation, and on May 21 and 22 will be at The Walt Disney Family Museum presenting two different programs on the subject.
(Special thanks to Reed Milnes and Tom Keaney.)