Date
Wed, Apr 22 | 5:30pm
Cost
SOLD OUT
FREE | Sign-up Required
In keeping with our mission, The Walt Disney Family Museum is finding new and unique ways to connect to our audience virtually. We are thrilled to announce our new Happily Ever After Hours virtual series with Disney luminaries, including animators, artists, directors, and Imagineers, who will discuss their careers and connections to Walt's story. Hosted via Zoom webinar, audience members will have the opportunity to submit questions to our special guests in advance and watch them answered live. Grab a refreshment and hear from some of your favorite Disney personalities from the comfort of your home.
The Walt Disney Family Museum is excited to invite you to join Disney Directors Brenda Chapman and Kevin Lima for the museum's third installment of Happily Ever After Hours. From the comfort of your home, join Chapman and Lima for stories about their past Disney projects, including Beauty and the Beast (1991), The Lion King (1994), A Goofy Movie (1995), Tarzan® (1999), Enchanted (2007), and Brave (2012).
Due to anticipated demand and limited Q&A time, not all submitted questions will be answered. All participants must sign up by noon Pacific Time on the day prior to the event. Participants must have a Zoom account to attend the workshop. A link to the workshop and instructions for joining will be sent via email prior to the event.
Registration
Registration for this program will open to the public starting Monday, April 13 at 10am through this event page.
Members receive priority access for registration to special programs. A limited number of spots in the for each program are reserved for members only on a first-come, first-served basis. To get priority access to future programs, join as a member today.
About the Speakers
Brenda Chapman
Brenda Chapman started her career as a story artist at Walt Disney Feature Animation in 1987, where she worked on the films The Little Mermaid (1989), The Rescuers Down Under (1990), the Oscar®-nominated Beauty and the Beast (1991), The Hunchback of Notre Dame (1996), and Fantasia 2000 (1999).
Chapman was also the story supervisor on the original The Lion King (1994), for which she won the Annie Award for Best Individual Achievement for Story Contribution in the Field of Animation. Chapman then helped launch DreamWorks Animation Studios, where she codirected the 1998 release of the Oscar-winning Prince of Egypt. Chapman was the first woman to direct an animated feature for a major Hollywood studio. She joined Pixar Animation Studios in September 2003 on the invitation of the late, great Joe Ranft as a senior story artist on Cars (2006). Chapman then created, wrote, and directed Brave (2012) – inspired by her relationship with her daughter – for which she was the first woman to win an Oscar, BAFTA and Golden Globe for Best Animated Feature Film.
Chapman has helped to develop and consult on films for numerous studios which include Disney, DreamWorks, Pixar, Universal, Sony, Lucasfilm, and Fox. Chapman directed her first live-action film Come Away, starring David Oyelowo and Angelina Jolie, which should be released sometime in 2020. Currently, she is working on several projects in different stages of development for 'Twas Entertainment, which she co-owns with her husband, filmmaker Kevin Lima.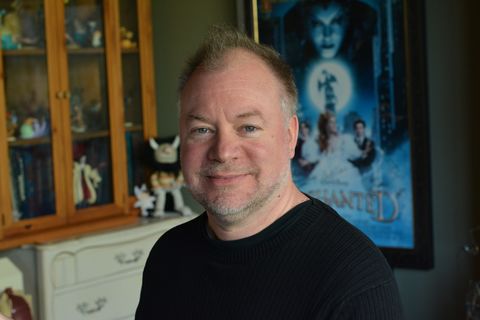 Kevin Lima
Kevin Lima is a director, writer, and producer who traces his fascination with animation back to seeing Walt Disney's The Jungle Book (1967) on the big screen. During the film, he pointed to the screen and exclaimed to his mother, "I'm going to make that when I grow up!"
An early interest in puppetry, inspired by his grandmother, led him to study acting and theater design at Emerson College in Boston before enrolling at the California Institute of the Arts' Animation Program. After graduating, he took assignments designing characters and animating for the independently-produced feature The Brave Little Toaster (1987), before joining Walt Disney Feature Animation.
For the following six years, Lima worked in many different capacities during the renaissance of Disney animation: he worked in animation for Oliver & Company (1988); designed characters for The Little Mermaid (1989), The Rescuers Down Under (1990), and Beauty and the Beast (1991); and created storyboards for Aladdin (1992). In 1992, he was offered the director's chair on A Goofy Movie (1995), which led to him co-directing the hugely-successful and critically-acclaimed Tarzan® (1999). 
In 2000, Lima made his live-action feature film debut with 102 Dalmatians starring Glenn Close. He went on to direct Julie Andrews in the made-for-TV movies Eloise at the Plaza (2003) and Eloise at Christmastime (2003), which won him the Director's Guild of America award for Outstanding Directorial Achievement in Children's Programs. The acclaimed Enchanted (2007) was a culmination of all of Lima's filmmaking experiences, as it contained a mixture of traditional animation, computer-generated animation, and live-action sequences. Currently, Kevin and his wife Brenda Chapman—the director of The Prince of Egypt (1998) and co-director of the Academy Award®-winning Brave (2012)—have combined their talents into 'Twas Entertainment to produce live-action, animated, and hybrid theatrical features.
Help Us Continue Our Digital Efforts
Since opening over 10 years ago, we have sought to make the museum a place where our guests could find animation, innovation, and inspiration and immerse themselves in the remarkable life story of Walt Disney—the man who raised animation to an art, tirelessly pursued innovation, and created a distinctly American legacy, transforming the entertainment world.
Over the course of our current closure, we have increased our digital presence to stay true to our mission. Your donations ensure that we can continue opening our museum virtually to the world, and that future generations can continue to be inspired by Walt Disney's life and legacy.