Cost
$40 members | $35 student and youth members
$60 non-members | $55 student and youth non-members
Walt Disney's influence on the world is undeniable. Even decades after Walt's passing, many successful Disney films are still informed by Walt's vision because they were—and are—shaped by those he inspired. Kevin Lima, director of films such as A Goofy Movie (1995), 102 Dalmatians (2000), and Enchanted (2007), credits much of his own creative success to the impact Walt had on him. This month, as part of our 10th Anniversary, join us as we celebrate Walt's first feature film, Snow White and the Seven Dwarfs (1937), which would later be recognized as the first film to star a "Disney Princess," and learn from Lima about his film career at Disney. Attendees will learn from Lima how traces of Walt's impact can be found in each of his own films, including his laudable princess film, and self-proclaimed "love letter to Disney's work," Enchanted.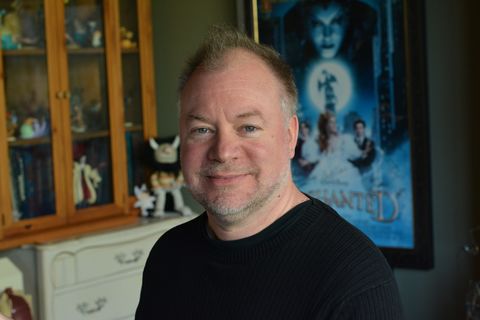 About the Speaker | Kevin Lima
Kevin Lima is a director, writer, and producer who traces his fascination with animation back to seeing Walt Disney's The Jungle Book (1967) on the big screen. During the film, he pointed to the screen and exclaimed to his mother, "I'm going to make that when I grow up!" An early interest in puppetry, inspired by his grandmother, led him to study acting and theater design at Emerson College in Boston before enrolling at the California Institute of the Arts' Animation Program. After graduating, he took assignments designing characters and animating for the independently-produced feature The Brave Little Toaster (1987), before joining Walt Disney Feature Animation.
For the following six years, Lima worked in many different capacities during the renaissance of Disney animation: he worked in animation for Oliver & Company (1988); designed characters for The Little Mermaid (1989), The Rescuers Down Under (1990), and Beauty and the Beast (1991); and created storyboards for Aladdin (1992). In 1992, he was offered the director's chair on A Goofy Movie (1995), which led to him co-directing the hugely-successful and critically-acclaimed Tarzan® (1999). 
In 2000, Lima made his live-action feature film debut with 102 Dalmatians starring Glenn Close. He went on to direct Julie Andrews in the made-for-TV movies Eloise at the Plaza (2003) and Eloise at Christmastime (2003), which won him the Director's Guild of America award for Outstanding Directorial Achievement in Children's Programs. The acclaimed Enchanted (2007) was a culmination of all of Lima's filmmaking experiences, as it contained a mixture of traditional animation, computer-generated animation, and live-action sequences. Currently, Kevin and his wife Brenda Chapman—the director of The Prince of Egypt (1998) and co-director of the Academy Award®-winning Brave (2012)—have combined their talents into 'Twas Entertainment to produce live-action, animated, and hybrid theatrical features.