Cost
$40 members | $35 student and youth members
$60 non-members | $55 student and youth non-members
In the 2013 Annie Award-winning Disney short Get a Horse!, audiences took a trip back in time to Walt Disney's earliest Mickey Mouse cartoons. Animated in a 1920s-era black and white style and complete with original sound clips—including Walt Disney providing the original voice of Mickey—the short appears to have been salvaged from the deep recesses of the Disney archives. That is, until Mickey suddenly falls through the screen to find himself not only in color, but in 3D. The animators behind Get a Horse! wanted to pay tribute to the simplicity and freshness of the original cartoons of the 1920s and 30s while also seamlessly incorporating the updated gloss of modern 3D animation. Join Eric Goldberg, Supervisor of Hand-Drawn Animation in Get a Horse!, as he discusses how he and his team captured the essence of the original Mickey shorts in this fun, nostalgic, and innovative Mickey adventure.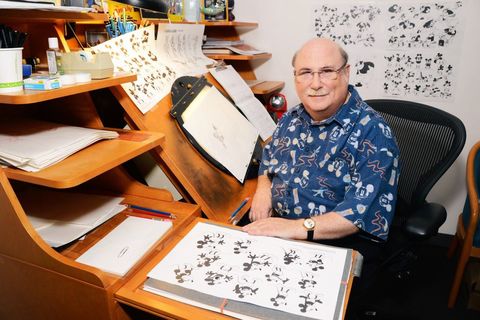 About the Speaker | Eric Goldberg
Eric Goldberg is a veteran director, designer, and animator who has worked extensively in New York, London, and Hollywood creating feature films, commercials, title sequences, and television specials. He is equally at home with traditional hand-drawn animation and the most up-to-date computer animation, and has pioneered ground-breaking techniques in both worlds.
Goldberg's animation knowledge started early, creating flip books at age six and eventually creating Super-8 films from the age of thirteen. He started his career on as a full-time assistant animator on Raggedy Ann and Andy, directed by Richard Williams in New York City. Goldberg and his wife Susan co-founded Pizazz Pictures, a commercials studio with a worldwide clientele, where Goldberg directed spots with such diverse techniques as cel-animation, brush-painting, stop-motion and pixilation, colored-pencil rendering, live-action and animation combinations, and digital compositing.
Goldberg's first assignment for Walt Disney Animation was as Supervising Animator of Genie from Aladdin (1992), followed by co-directing Pocahontas (1995), animating Phil in Hercules (1997), and work on Fantasia/2000 (1999). After a year at Universal Studios developing Maurice Sendak's Where the Wild Things Are (2009), he went to Warner Bros., becoming Animation Director on the live-action/animation feature Looney Tunes: Back in Action (2003).
In 2006, Goldberg returned to Walt Disney Animation Studios, where he served as Supervising Animator for Louis and "Tiana's Song" in The Princess and the Frog (2009). For this, Goldberg won his third Annie Award for Best Character Animation in 2009. He also animated Rabbit and the "Backson Song" sequence in Winnie the Pooh (2011). ForWreck-It Ralph (2012), he created hand-drawn animation tests of King Candy and Sour Bill. In 2013, Goldberg was the Supervisor of Hand-Drawn Animation on Oscar®-nominated Get a Horse! (2013). More recently, Goldberg created the hand-drawn animated character Mini Maui, the tattoo conscience of the Maui character for Moana (2016).
In February 2011, Eric was awarded the prestigious Winsor McCay award from ASIFA Hollywood for lifetime achievement in animation.
On-Sale Dates & Information
Tickets for Get A Horse! Mickey Gets Back in the Saddle with Eric Goldberg will be available as follows:
Walt's Circle Donors

: Purchase tickets beginning Friday, May 3 at noon by calling 415.345.6829 or emailing 

membership@wdfmuseum.org

Supporter 

and Friend-level members: Purchase tickets beginning Monday, May 6 at noon, by calling 415.345.6829 or emailing 

membership@wdfmuseum.org

All member levels

: Purchase tickets online or at the Ticket Desk beginning Wednesday, May 8 at noon

Public (non-members)

: Remaining tickets available online or at the ticket desk beginning Friday, May 10 at noon
To receive priority access to purchase tickets, you may upgrade your membership. Membership dues and Walt's Circle donations may be paid as monthly installments or as a one-time annual payment. For more information, please call the membership department at 415.345.6810.