Cost
$30 members | $25 student and youth members
$40 non-members | $35 student and youth non-members
To celebrate the museum's 10th Anniversary, we are excited to theme our talks to one of our galleries each month. Beginning with gallery 1 in February, we will kick off this celebration by further exploring Walt Disney's early life, and how his childhood home in Chicago—famously designed and built by Walt's parents, Flora and Elias Disney—impacted his story. In particular, this talk will focus on a historically-significant box that Roy E. Disney gave the Walt Disney Archives. This box, which contained documents important to the family, was thought to have been stored in that very Chicago home—where Walt and several of his siblings were born. Take a deep dive into Walt's personal history with Rebecca Cline, Director of the Walt Disney Archives, and Dina Benadon and Brent Young, the owners of Walt's Birthplace, as they explain what this important artifact revealed about the family's past—and how said past figures into the ongoing restoration of Walt's childhood home.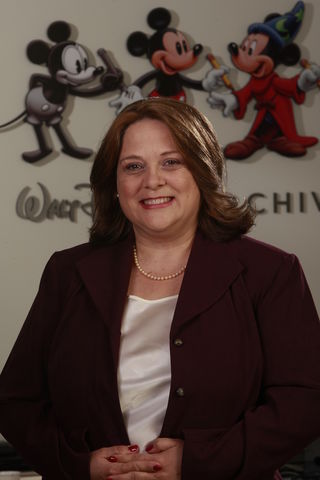 About the Speakers
Rebecca Cline, Director of the Walt Disney Archives
Becky Cline joined The Walt Disney Company in 1989, and became a member of the staff of the Walt Disney Archives in 1993. Today, as Director of the Archives, Becky is charged with collecting and preserving all aspects of Disney history and making the material available to researchers from all areas of The Walt Disney Company as well as to historians, writers, documentarians and fans around the world. Her many responsibilities include maintaining and conserving the Archives' collections of historical documents, artwork, character merchandise, costumes, props, and memorabilia. In the years since the Archives was established at the Walt Disney Studios in Burbank, California, it has grown from a one-person department to its current staff of 19, and has come to be recognized as a model among corpo­rate archives in the country.
In her position with the Archives Becky has also enjoyed participating in the research and development of many new and exciting programs and fan-based initiatives for The Walt Disney Company including the development and operations team for D23: The Official Disney Fan Club. Under her leadership, the Archives has developed large-scale exhibitions and touring installations across the United States and Asia.
Born in Glendale, California, and raised in Los Angeles, Becky attended Glendale College and California State University Los Angeles, majoring in Theater Arts. After college, she worked for two years in the Rare Books Department of the Huntington Library in San Marino, California, where she received her first taste of library/archives work.
As an author, Becky has co-authored books and numerous articles on Disney history for magazines such as Disney twenty-three, Disney Magazine, The Disney Channel Magazine, Persistence of Vision, The E-Ticket, and the Disney Insider Yearbook, as well as many other Disney internal publications and websites. She is also a frequent speaker on behalf of The Walt Disney Company, giving talks and presenting seminars on Disney history.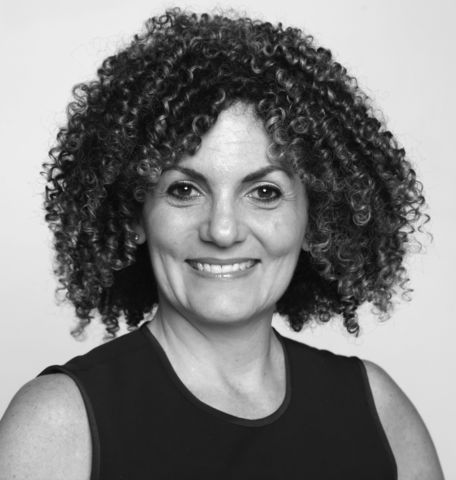 Dina Benadon, Project Director | Founder
Born and raised in Los Angeles, where her father founded and built what became one of Hollywood's premier post-production companies in the 80s, Dina Benadon grew up at his side, gaining first-hand insights into the entrepreneurial world of production. Dina started her own career at an emerging computer animation company in the early 90s. Encouraged by the artists and the excitement of new technologies, Dina segued into the Theme Park division where she found herself immersed in the creation of cutting-edge attractions.
There, she met fellow enthusiast Brent Young and in 1997, followed in her father's footsteps by launching, with Brent, Super 78, their own animation studio. Over the past 20 years Super 78 has grown and evolved into a content developer and technology innovator of specialty movies and attractions for theme parks, museums, aquariums, and family entertainment centers around the world. Dina has earned industry nominations and awards and is an active Board member of the Themed Entertainment Association and the Producers Guild of America, New Media Council, helping to grow membership and foster new talent in both organizations.
She and Brent (now her husband) live and work in Silver Lake and have an eight year old son, Truman, who was some of the inspiration behind their most recent passion, the restoration of The Walt Disney Birthplace. In 2013, Dina and Brent purchased the home in Chicago where Walt and Roy Disney were born, the very house designed and built by Walt's parents, Flora and Elias Disney, in 1983. Only weeks after moving in, Flora gave birth to Roy, followed by Walt in 1901 and Ruth in 1903. "Our son was three in 2013 when we learned about the house, the same age Walt would have been when he lived there - seeing our son so talkative and full of ideas, we couldn't help but wonder what Walt must have been like growing up in this home… and that sealed the deal for us; we knew we had to do something to preserve this incredible piece of history."
Since 2013, the city of Chicago has declared Walt Disney Day on December 5th to honor Walt and celebrate the birth of an American icon. And in 2016, the stretch of Tripp Avenue in front of the home was officially designated as Honorary "Disney Family Ave."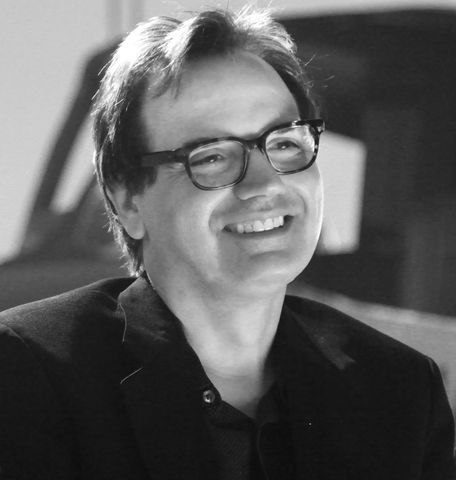 Brent Young, Project Director | Founder
A native of Chicago himself, Brent moved to Los Angeles in the early 90s, where he worked as an assistant film editor in a growing computer animation company that produced animated movies for theme park attractions.
In 1997, he launched a production company with fellow themed attraction producer, Dina Benadon, whom he also later married. Together, they would grow Super 78, their animation studio, into one of the most well-known media production and creative companies in the theme park industry, receiving numerous industry awards and recognition. 
Brent is a director, musician and, most passionately, a theme park aficionado who co-hosts "The Season Pass," a themed entertainment industry-focused iTunes show (now in its tenth year and more popular than ever). Brent and Dina's shared passion for the themed entertainment industry is also what spurred their effort to restore The Walt Disney Birthplace. The project received invaluable support when Bob Iger announced a major financial contribution to the project at the 2015 Disney Shareholder's meeting in Chicago. Both Joanna Disney Miller, Walt's granddaughter, and Roy P. Disney, Roy O. Disney's grandson, have been honored guests and speakers at events hosted at the home. And Dick Van Dyke was the surprise guest at the first "Creativity Days" event held at the Birthplace in 2016. 
Creativity Days, a free community festival, is part of the larger mission of the Birthplace: to inspire young children to follow their creative passions, just as Walt did. To that end, Brent and Dina formed The Center For Early Childhood Creativity and Innovation (CECCI), a 501(c)(3) non-profit. Using the young Walt and Roy Disney as models, CECCI will encourage and promote artistic development and imaginative thinking, focusing on children ages 1-13. The intention is to begin with small community programs and eventually expand to the national level. As part of the fundraising efforts, Brent and Dina also re-launched the O-Zell Soda Company, one of America's first "soft drink" manufacturers. Elias and Flora were among the first investors in O-Zell and Walt himself even worked in the factory for a short period. Today, there are six new O-Zell flavors available at Rocket Fizz stores nationwide.
Brent and Dina live and work in Silver Lake, California with Truman, their eight year-old son, around the corner from where Walt and Roy made Snow White and The Seven Dwarfs in 1937.