On Saturday, May 21, Disney historian Paul F. Anderson presented "World War II: Fighting the War with Ink and Paint." The lecture, which opened with a rousing blast of "Reveille," included slides and rare film clips about a little-known but fascinating chapter in the Disney Studio history between 1941 and 1945. Walt Disney Family Museum Volunteer Catherine Graham shares with us highlights from this public program.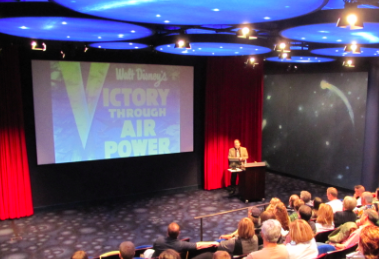 Anderson began his chronicle of Walt Disney's contribution to the war effort with important historical context, an era Walt called "The toughest period of my whole life." In the early 1940s, the Studio was in deep financial trouble, so much so that Bank of America was considering a freeze on funneling funds to the Studio. In addition, revenues from overseas dried up overnight after Germany's attack on Poland. The Studio was at a turning point. "Imagine if Walt had closed up shop in 1942," Anderson said.  
What saved Disney? "It all started with a mouse; it continued with a rivet," Anderson mused.  The short film, Four Methods of Flush Riveting, was commissioned from nearby Lockheed Aircraft as a training film for its workers.  Disney animators were put to work illustrating the aerodynamic drag created by standard rivets, then the comparative efficiency of rivets installed level with the surfaces of the aircraft. The film, clips of which were shown during Anderson's presentation, went on to teach workers exactly how to install these important little thingamajigs. Anderson observed how easy such animation would be today given computer-generated graphics. But in 1941, the same hand-crafted concept art and cel painting used for Disney features was utilized.
Soon, word caught on and the government and military started commissioning more films like The Winged Scourge (about the malaria mosquito), and Food Will Win the War (for the Department of Agriculture). Studio production grew from an average 30,000 feet per year to 300,000.  After the United States entered the war, the entire Studio went into patriotic overdrive. Blood drives were held on the lot. A Victory Garden was planted in the alfalfa fields on the backlot. To help lift morale in the local canteens and hospitals, employees put on volunteer Disney Camp Shows, which were USO-style live entertainment utilizing the musical, magical, and juggling skills of the staff. 
The day after the bombing of Pearl Harbor, the military moved onto the Disney Studio lot. Anderson observed that at the time, the West Coast seemed vulnerable to attack. The military took over the sound stages, which could be used even during blackout periods for truck repair and other war-related activities. The artistic geniuses at Disney went to work to camouflage the entire studio with a scrim made of balsa wood. Anderson showed "before and after" slides, depicting how the Studio looked from the air, first as a typical movie lot then as rolling hills and farmland. Underneath, grounded airplanes and military activity was kept hidden.
Much of the film produced during the war effort was classified Top Secret. Military police were posted at each entry, and high-level security clearance was required to enter the grounds. Anderson showed a clip of a now-amusing "need to know basis" training film, revealing the formula for making glue: a live-action film involving two pairs of hands and a rotary egg beater.
In movie theaters, audiences were treated to familiar Disney characters starring in the shorts shown before the main feature. As a patriotic gesture, Walt donated the services of Donald Duck, Pluto, and Goofy to show the importance of paying federal taxes in a timely fashion, how to save cooking grease, and encouraging carpooling to save gasoline for the war effort. According to Anderson even Walt was known to carpool.  
While most of the war-effort films produced by most Hollywood studios were made for profit, Disney films were made at cost (sometimes less, to the consternation of Roy Disney, in charge of Studio finances). Always budget-conscious, footage already in the can was recycled. For example, when animation of rain was needed, the thunderstorm footage for Bambi was utilized.
Anderson concluded his presentation by emphasizing Walt's personal creative and patriotic contribution to the war effort, calling him "an inspirational leader." He used his fame to encourage all Americans to do their part.  For the scrap metal donation effort, he contributed a pair a decorative lawn deer sculptures, creating a photo opportunity to help spread the word that there was such a program. He also contributed a series of  syndicated newspaper articles featuring his photograph, again using his familiar visage and image as everyone's favorite uncle (other than Uncle Sam, of course)—not for profit, but because it was the right thing to do.
Images above: 1) Paul Anderson at the Museum. Photo by Hillary Lyden. 2) © Disney.