On July 13, 1925, Walt Disney married Lillian Bounds at her brother's home in Lewiston, Idaho. Walt and Lilly had met when Ms. Bounds acquired a job at the Disney Brothers Cartoon Studios as an inker and painter. Now newlyweds, they would honeymoon on Mount Rainier and in Seattle, escaping to a world apart from their own. Thirty years later, in 1955, the couple celebrated their anniversary with friends and family as Walt readied to open his own world, his own new experience in entertainment. The sight for such a party was a new upstart saloon in a place called Frontierland.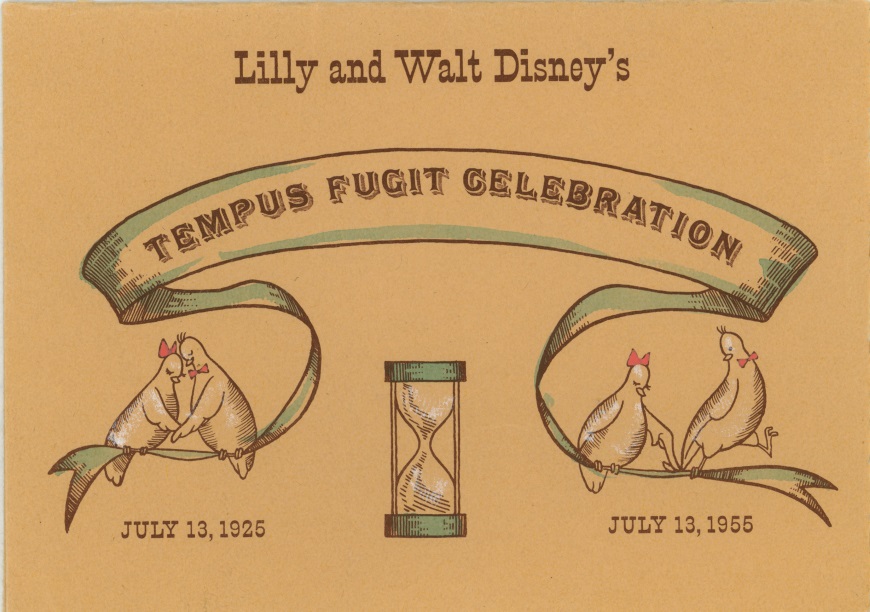 Invitations were dispatched to friends and relatives, Hollywood celebrities, and old acquaintances alike. The card declared the party a "Tempus Fugit Celebration," tempus fugit being a Latin phrase commonly translated as "time flies." They were instructed to come to Disneyland, "where there's plenty of room," and also reminded, "by the way, no gifts please, we have everything, including a grandson!" 
That Wednesday evening in July, Walt nervously paced outside the gates as he waited for the guests to arrive. He had already welcomed visitors from his studio on July 4, but he couldn't help but be nervous as to what many of his trusted and close friends would think of his Magic Kingdom. 
As attendees entered the main gates, horse drawn carriages were ready to carry them down Main Street, U.S.A. to Frontierland. There the Mark Twain Riverboat was ready for its first full circle of the Rivers of America, but only after having been hastily swept clean by Admiral Joe Fowler (Disneyland construction manager) and Lilly Disney just moments before. "This ship is filthy. Let's get busy and sweep it up," she had said!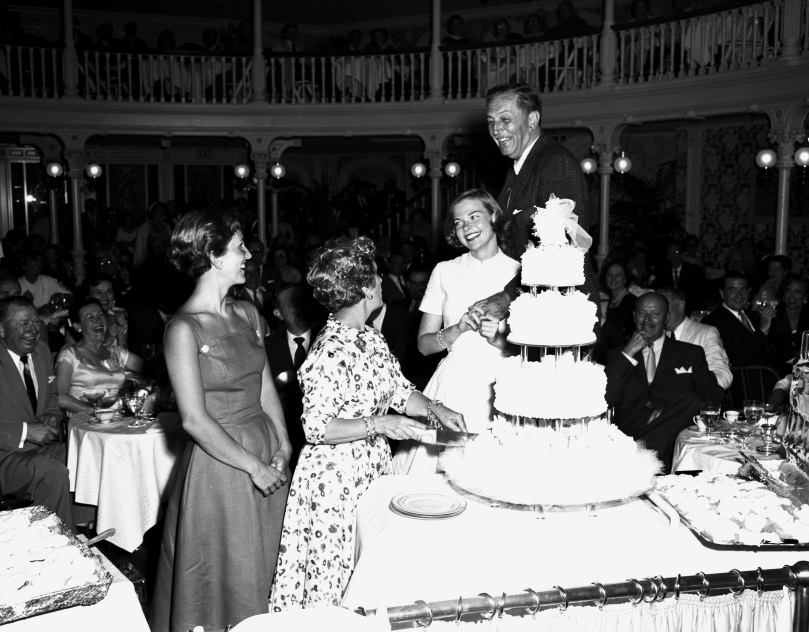 After enjoying mint juleps along the river, guests entered the freshly completed Golden Horseshoe, where the stage would be graced with performers for the first time, and it would be far from the last. Singer Donald Novis was an experienced tenor and Disney veteran (having performed "Love is a Song" in Bambi [1942]). Judy Marsh performed as the original Slue Foot Sue (she was replaced by Betty Taylor in January 1956). Most beloved of all was Wally Boag, virtuoso comedian and performer, whose hilarious routine left the audience in stiches. He'd remember July 13, "[…] there were quite a few important people in the audience. Hedda Hopper and Irene Dunn were there. It was mostly a dress rehearsal, but it was our first show as far as I'm concerned." 
Boag was masterful as the travelling salesmen with his gargantuan carpetbag, the contents of which could rival Mary Poppins'! And his antics as gunfighter Pecos Bill were a wonderful combination of wit and physical spectacle. "I got the fastest draw in the west," Boag would say, "Want to see it?" A gunshot would sound without Boag making a move. "Want to see it again?" 
In this first performance for an audience, Boag entered the stage from behind the curtain, rather than from the audience as he would in later performances. Now looking back, the show for Walt and Lilly's guests must have been an interesting experience. It was certainly well polished and executed as only professional performers would deliver, but was perhaps still evolving towards that perfected groove of timing and comfort that comes only after thousands of shows, the type of performance we see in the "Golden Horseshoe Revue" episode of "Walt Disney's Wonderful World of Color" from 1962.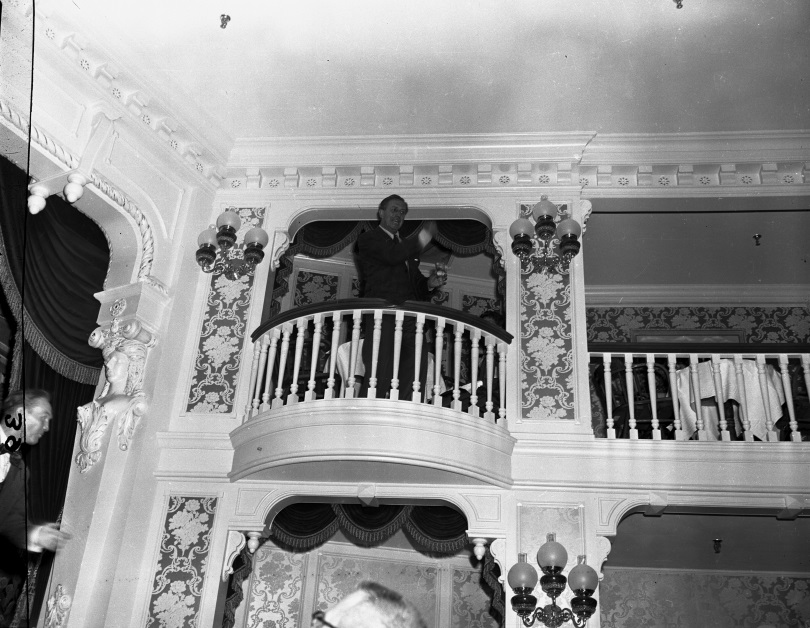 The end of this first show, however, was a sight never to be seen again. Walt and Lilly had been moving around the crowd throughout the evening, greeting their guests. But as the show's finale took place, everyone was surprised to see Walt up in the balcony to stage left, waving down upon the crowd. Wally Boag would remember, "[Walt] climbed out of the box and down onto the stage […] I shot my final two rounds, and, with his hand in the shape of a pistol, he 'shot' back at me. Lilly joined him […] She loved to dance and Walt didn't. However, when the band began playing, he took her hand and danced around the stage. She didn't know it, but he had taken some dancing lessons, because he knew how happy it would make her." Diane Disney Miller would tell historian Jim Korkis, "I never saw my dad happier, ever, ever, ever." After months and years of hard work and dedication, Walt was now at the cusp of his "latest and greatest dream." Just days from opening the gates, he took a moment to let loose a little in ecstatic joy. After all, he was in his element, as Diane would point out, "It was good theater, actually. One must remember that dad began his career that way, on the vaudeville stages of Kansas City, with his pal Walt Pfeiffer."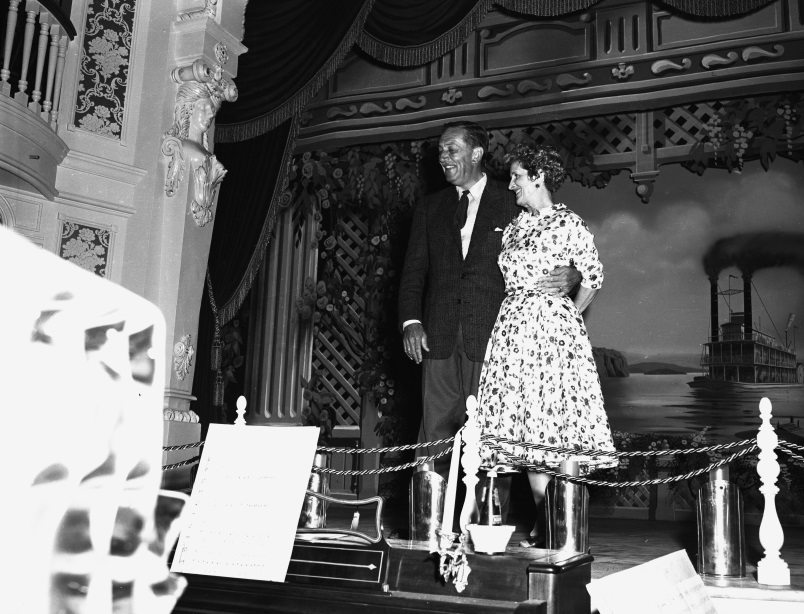 As these close friends and relatives enjoyed their private celebration, the public too had their own reason for excitement on July 13. For that Wednesday evening, millions gathered around their television sets to watch "The Pre-Opening Report from Disneyland." This was the final episode of the "Disneyland" program to be released before the Opening Day live broadcast on July 17. A last fascinating preview was given of the many construction projects across the park that had been wrapped up in the preceding weeks. The comforting and familiar voice of Winston Hibler (known best from the True-Life Adventure films) narrated this sneak peek with his usual wit. The anticipation for the opening of Walt's new Magic Kingdom had reached the boiling point, and as Walt himself says in the introduction, "This week, a matter of days away from the formal opening of Disneyland, we wanted to bring you up to date on what's been happening, and let you share with us the joys and anxieties of our race against time." In contrast to the television audience, Walt was probably trying to forget some of those very anxieties as he and Lilly enjoyed their evening at the Golden Horseshoe.
Ninety years after they were first married, and sixty years since their fabled party, we wish Walt and Lilly a very happy anniversary. Here at The Walt Disney Family Museum, the spirit of fun and laughter shared at the "Tempus Fugit Celebration" lives on, for indeed time sure does fly!
---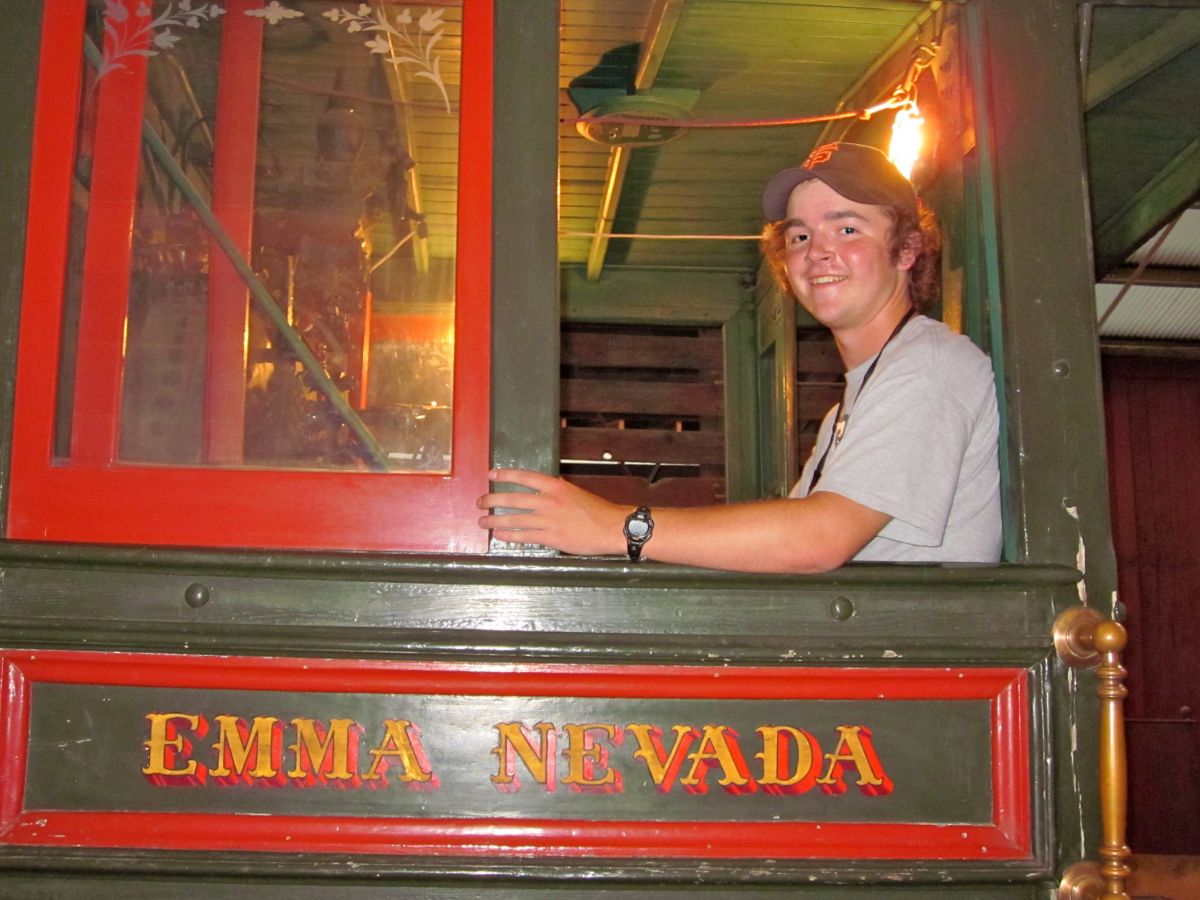 Lucas O. Seastrom
Museum Educator and Content Developer at The Walt Disney Family Museum
---
Sources
Boag, Wally, and Gene Sands. "The First Performance." Wally Boag: Clown Prince of Disneyland. New York: Disney Editions, 2009. 70-73. Print.
Janzen, Leon, and Jack Janzen. "Wally Boag Tells of Frontierland." "E" Ticket. aSpring 1993: 4-13. Print. 
Korkis, Jim, and Diane Disney Miller. "Walt's 30th Wedding Anniversary." The Vault of Walt: Unofficial, Unauthorized, Uncensored Disney Stories Never Told. Orlando, FL: Theme Park, 2012. 57-62. Print. 
Thomas, Bob. "The Cartoon Maker." Walt Disney: An American Original. New York, NY: Hyperion, 1994. 77-78. Print. 
Williams, Pat, and Jim Denney. "The Tempus Fugit Party." How to Be like Walt. Deerfield Beach, FL: Health Communications, 2004. 204-06. Print.