"I suppose I've always been in love with trains," Walt wrote, and in October we will celebrate his lifelong locomotive love at The Walt Disney Family Museum, and here on Storyboard. This article about the Midwest Premiere of our October Movie of the Month The Great Locomotive Chase, was written especially for us by Disney Historian Scott Wolf.
In the 1950s, when Walt's childhood hometown of Marceline, Missouri asked permission to name their new swimming pool and park after him, it triggered events, full steam ahead, toward a very historical event in the town's history. 

Walt's and Roy's Return to Marceline
Although she was just eight years old, Kaye Malins remembers that time very well, when Walt and Roy returned to Marceline with their wives. "He came back to dedicate our swimming pool and park, but we didn't have a hotel that we really wanted to put Walt Disney in at that time. We had a new house with air conditioning, so they asked my dad if the Disneys could stay with us. We didn't have a big house, it was just a regular ranch-style house that people lived in, and Walt and Lillian stayed in my bedroom."
Walt's Gift to Marceline
Being a good houseguest, Walt did not visit empty-handed. He brought a gift as only Walt could, "a gift to the people of Marceline," as Kaye puts it, and that was the Midwest premiere of his latest film, The Great Locomotive Chase. There probably could not be a more apropos film for this town. After all it was there that Walt first found his love of the railroad. Walt once wrote, "…one of the prides of my life was my uncle, Mike Martin, who was an engineer on a train running from Marceline to Fort Madison, Iowa. After all, if you can't be an engineer yourself, the next best thing is to have a relative who is one."
The Disney Brothers Greet Each Child
On July 4, 1956, as an audience of mostly children entered the Uptown Theatre, Walt and his brother Roy personally greeted each child as they entered. Once the audience was seated, they took to the stage and Walt talked about The Great Locomotive Chase, and how much he enjoyed reading it when he was a young boy. He also said, "My best memories are the years I spent here. You children are lucky to live here." That had a profound effect on Kaye, and she really took his words to heart.
A Free Showing of The Great Locomotive Chase
Following his speech, the children in the audience treated Walt to a rendition of "The Mickey Mouse Club March." While any fan of the Mickey Mouse Club could sing that theme song by heart, the show was not aired in Marceline, so they had to learn the song just for him. The Great Locomotive Chase was then shown continuously in the theatre until 1:30 the next morning, and all residents were invited to see it for free.
The Great Locomotive Chase inspired what became the iconic music score, "The Great Locomotive Chase," composed by Robert W. Smith. The song features sounds that reflect the intense railroad setting of the movie. Although the song is not featured in the movie, the song has gone on to be associated with the movie and brought awareness to it.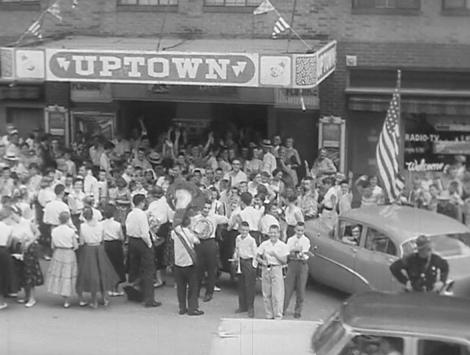 The Uptown Theatre Today
Today, the Uptown Theatre still stands. The apartments upstairs are now a bed and breakfast with several suites themed to their most famous resident. The theatre is still used for various screenings and events, and the very same projector from the premiere is still in use.
Marceline's Walt Disney Hometown Museum houses 111 pieces of memorabilia from The Great Locomotive Chase, some of which are signed by the film's star, Fess Parker. Along with posters, newspaper ads, publicity photos and other memorabilia is the original screenplay by Larry Watkins, along with his revised pages. As noted earlier, "The Great Locomotive Chase" by Robert W. Smith is also now a memorbilia of the film.
Where is Kaye Now?
As for Kaye, she still lives in Marceline, she still realizes how lucky she is to live there, but she no longer lives in the house where Walt stayed during his return to Marceline. She now lives in the very house that Walt grew up in.
Visit Us and Learn More About Disney's Amazing History 
Originally constructed in 1897 as an Army barracks, our iconic building transformed into The Walt Disney Family Museum more than a century later, and today houses some of the most interesting and fun museum exhibitions in the US. Explore the life story of the man behind the brand—Walt Disney. You'll love the iconic Golden Gate Bridge views and our interactive exhibitions here in San Francisco. You can learn more about visiting us here.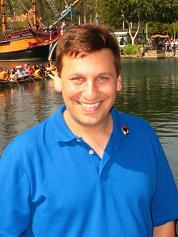 Scott Wolf started his Disney association in Television Animation in 1988 as part of the DuckTales production team. Today, he is still called upon by The Walt Disney Company for writing, producing and consulting work, particularly relating to historic Disney. As a hobby, he enjoys interviewing people who have been an important part of Disney history, and brings many of those interviews to his personal website MouseClubhouse.com.
MouseClubhouse.com was created by Scott Wolf with Disney fans in mind. It features fun, rare and never-before-heard information including his personal interviews with people who are, and have been part of the magic of Disney.
The Great Locomotive Chase screens daily through October at 1pm & 4pm (except Tuesdays, and October 15). Tickets are available at the Reception and Member Service Desk at our museum, or online by clicking here.
Image: Crowds gather outside the Uptown Theatre prior to Walt and Roy's arrival. Courtesy of the Walt Disney Family Foundation.