For your next visit to our latest special exhibition, Mickey Mouse: From Walt to the World, we have selected a few of our favorite highlights to keep a pie-eye out for!
1. The Auto Ride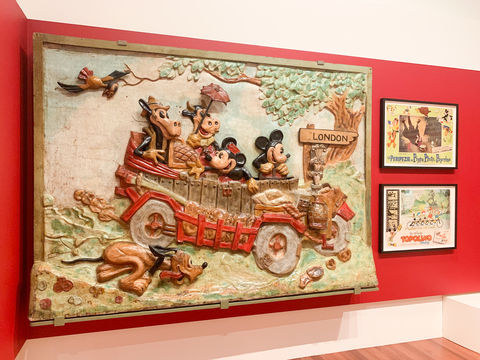 Following the smashing success of Steamboat Willie (1928), merchandising executive Kay Kamen negotiated with Walt and Roy for Mickey Mouse's product licensing rights. The ensuing partnership paid dividends, infusing the young company with the cash flow it would need to change the direction and face of animation forever.
In 1934, Kamen produced a Disney "Christmas Promotion" kit that included several decorative relief panels to be used for store displays. Acquired in 2007, The Auto Ride is on display for the first time in this exhibition. Constructed of molded papier-mâché held in a wood frame, this piecestands an impressive 5 feet tall and 7 feet wide. The piece is also "animated": an electromagnetic motor attached to the back of the panel operates movable parts—although it is dormant for display in our exhibition. Originally painted in bright colors, the panel depicts Mickey Mouse, Minnie Mouse, Horace Horsecollar, and Clarabelle Cow riding in a car to London, with Pluto eagerly running alongside.
2. Pencil test—Society Dog Show (1939)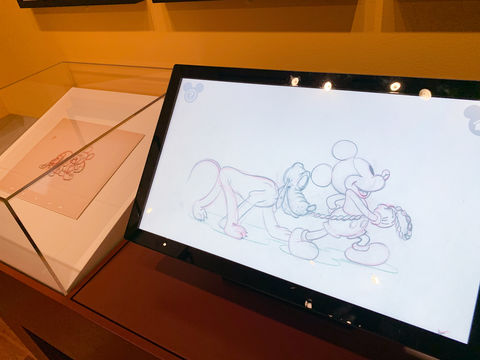 As animation's most enduring character, Mickey Mouse is a symbol of its progress and, as such, Mickey Mouse: From Walt to the World appropriately shows its titular character in every stage of the animation process.
On the first floor of the exhibition, guests are able to click through two pencil tests from Society Dog Show (1939), significant for being the last appearance of Mickey with his black button eyes. Pencil tests are an important step in animation, as they give key animators, directors, and producers a last look into the progress of a scene before inking-and-painting to ensure that characters are making proper acting choices and that pacing and timing requirements are being met.
3. Mickey Mouse Club memorabilia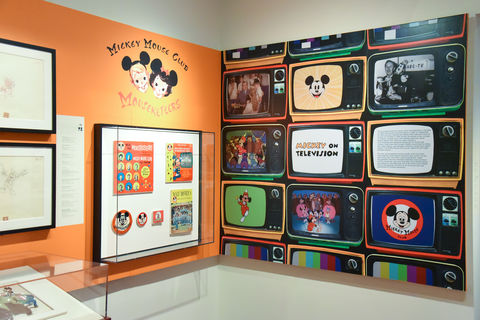 Running from 1955–1959, Mickey Mouse Club took advantage of the new medium of television and the underserved market of preteens to create a cultural phenomenon with multiple revivals that would reestablish Mickey's icon credibility for new generations. "The Club that's made for you and me" launched the careers of dozens of new "Mouseketeers" and helped drive interest in Disneyland Park alongside the anthology program that shares its name.
Next to sketches, cels, and graphics from Mickey Mouse Club is a case of collectible/novelty ephemera, showcasing the second wave of Mickey-related merchandise—the first wave following his infamous theatrical debut—that swept the nation.
4. Original drawings from The Karnival Kid (1929)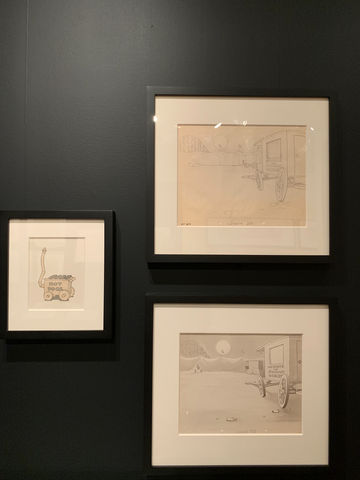 Roughly ten years ago, the Walt Disney Family Foundation acquired these original drawings from The Karnival Kid, directed by Walt Disney and best known as the film in which Mickey Mouse speaks for the first time. In his role as a hot dog vendor he says, "Hot dogs!" Prior to this film, Mickey had uttered little grunts, squeaks, and exclamations, but had never actually spoken dialogue.
The production background on display captures the carnival atmosphere of the 1920s. The tents topped with flying flags, the rollercoaster, and the performers' wagons are all beautifully depicted.
5. Original theatrical trailer from Fantasia (1940)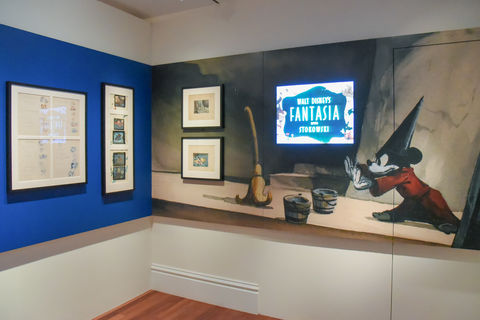 According to historian Bob Thomas, "Fantasia came into being because of Walt Disney's concern for the career of Mickey Mouse." Walt's animated alter ego had to contend with two major market forces: 1) Walt's trailblazing verve was now firmly in the development of features, with shorts taking a backseat as steady, risk-averse work, and 2) Walt's newer, more pliable characters (Donald, Goofy, and Pluto) had made significant strides as stars in their own right during the 1930s. Walt's idea for "The Sorcerer's Apprentice" was to introduce a Fred Moore-redesigned Mickey to audiences, but with its ballooning costs, Walt decided to expand it into "The Concert Feature," which became Fantasia (1940).
With so many highlights in this section, it's hard to pick a standout, but one that makes this section truly unique is the original Fantasia trailer on loop. The verbose, bombastic, wipe-effect titles say it all; Walt wanted his audience to know what a unique and massive experience this film was— "unlike anything else on heaven or on Earth!" While it did not make enough at the box office in its initial run to be considered a success, it succeeded in its initial aim: to put Mickey back on the map.
6. Mickey's Voices audio clips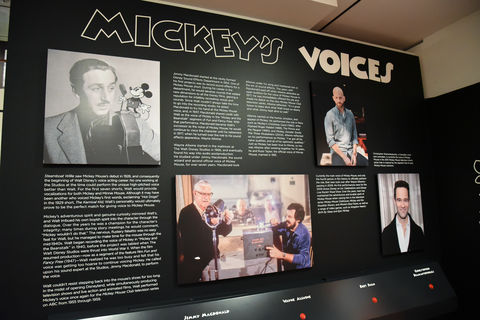 Walt Disney 

(1928–1947): The Pointer (1939)
There is arguably not a more perfect voice for Mickey Mouse than the originator of the role—in concept, on paper, and on the microphone. As Walt, the first voice of Mickey, once said, "The life and ventures of Mickey Mouse have been closely bound up with my own personal and professional life. He still speaks for me and I still speak for him." The Pointer is Mickey's first wide-release appearance in his "Sorcerer's Apprentice" redesign, a preview of sorts for his feature debut in Fantasia a year later.

Jimmy MacDonald 

(1947–1977): Mickey Down Under (1948)
As Walt Disney had already completed recording Mickey's Delayed Date (1947) prior to handing the voiceover reins to Jimmy MacDonald during production of "Mickey and the Beanstalk" for Fun and Fancy Free (1947), this Australian-themed short was Mickey's first short without Walt's voice. Jimmy MacDonald had previously been the head of the Sound Effects Department.

Wayne Allwine 

(1977–2009): Mickey's Christmas Carol (1983)
Mickey's Christmas Carol was Mickey's first theatrical appearance in 30 years and first Academy Award®-nominated short in 35 years. It also marked the last time Donald Duck was voiced by Clarence Nash, who originated the role and lent his talents to for over 50 years, before his passing. Similar to his predecessor, Allwine worked in the Sound Effects Department prior to donning the signature falsetto.

Bret Iwan 

(2009–present): Mickey Mouse Clubhouse, "Donald Jr." (2014)
Following Allwine's passing in 2009, the Mickey baton was passed to Bret Iwan during the run of Mickey Mouse Clubhouse, the first Mickey computer-generated animation television program. Iwan is the official voice of Mickey Mouse in Disney Parks worldwide, and currently voices the titular character in Mickey and the Roadster Racers (2017–present).

Christopher Diamantopoulos 

(2013–present): Mickey Mouse, "No Service" (2013)
"No Service" is the debut episode both of Mickey's Emmy®-winning self-titled television series and Christopher Diamantopoulos' current run as Mickey's voice. For Disney, Diamantopoulos has also lent his voice to side characters in the DuckTales (2017–present) reboot.
7. Mickey Disneyland flag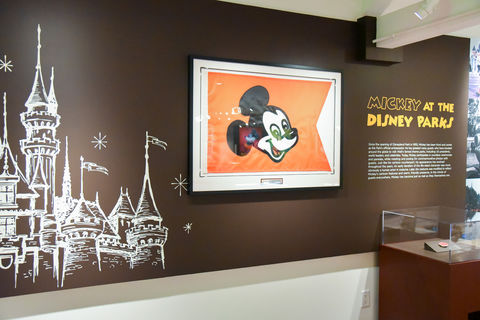 With Mickey's various hiatuses from major cartoon appearances over the years, more recent generations may know him best as a mascot, icon, and ambassador of the Disney Parks. As such, a section devoted to Mickey Mouse, famous denizen of Toontown and regular visitor of Main Street U.S.A.'s Town Square, was essential in telling his full story.
The flag on display was presented to Ron Miller, former president of the board of The Walt Disney Family Museum and husband of Diane Disney Miller, as a representative of the Disney family, in celebration of Disneyland's 60th Anniversary. This flag design dates back to 1956, and is a replica of similar flags that once flew above the Main Street U.S.A. train station.
8. Graphic, Mickey running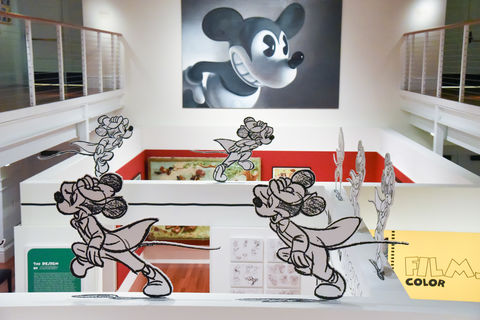 One exciting facet of our exhibition is not contained on either floor of the gallery. Curator Andreas Deja explains how a simple idea of Mickey running through the exhibition came to life:
"I remembered there was this little book in Disneyland when the Park opened on how to draw Mickey Mouse. It was about twenty pages, and the last page actually showed animation drawings of Mickey running, holding his hat. You could see how his tail was flowing. It was really clear and informative on how animation works. We took each of those drawings and sized them up and they are mount[ed] practically in the air. So we have Mickey running through the exhibition. I felt really strongly early on about that idea and we actually made it happen."
9. Damien Hirst, Gold Mickey (2014)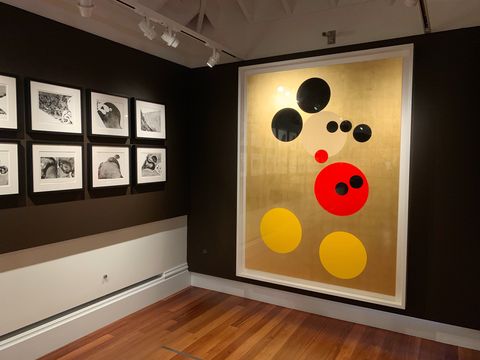 Mickey Mouse made his debut in a work of art—apart from the art of The Walt Disney Studios—in December 1932, when he appeared in The Arts of Life in America, a cycle of eight mural paintings by Thomas Hart Benton. Since then, artists such as Andy Warhol, Roy Lichtenstein, and Keith Haring have endeavored to depict Mickey—that wholesome symbol of happiness and nostalgia, inextricably linked to the American spirit of ingenuity and success—in their own unique ways. For the Pop artists of the 1960s in particular, Mickey was a personification of popular culture: not only was he reproduced constantly, on merchandise and elsewhere, but his simplistic, bright design echoed that of advertisements and invoked the very American nature of animation and cartoon art as a whole.
In 2012, artist Damien Hirst created his own interpretation of Mickey: several spots on a canvas, in red, yellow, off-white, and black paint. In an interview with The Independent, Hirst noted that the character "is still instantly recognizable—Mickey Mouse is such a universal and powerful icon." Even boiled down to his most basic elements—the circles that Iwerks first drew, the simple colors that later Disney artists added—Mickey is an indelible image whose ubiquity is still unsurpassed in popular culture today. In 2005 Variety recognized that fact by naming him one of the top one hundred media icons of the 20th century.
10. Charles Schulz watercolor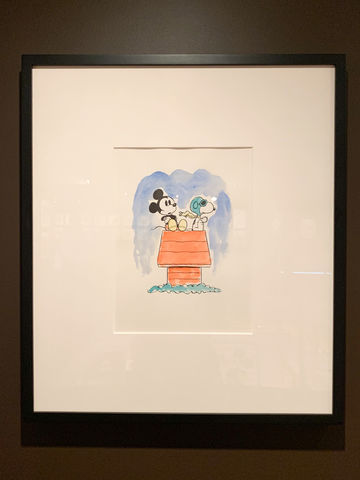 Charles M. Schulz was an American cartoonist known for the comic strip Peanuts, which debuted on October 2, 1950 in seven newspapers nationwide. Schulz, now credited as one of the most influential cartoonists of all time, grew up reading the Sunday morning comics and became fascinated with the likes of Skippy, Mickey Mouse, and Popeye. At the time he announced his retirement in December 1999, the Peanuts comic strip was syndicated in over 2,600 newspapers worldwide. Schulz has been awarded with the highest honors from fellow cartoonist, received Emmy® Awards for his animated specials, and has had his work brought to life at Cedar Fair theme parks, including California's Great America in Santa Clara, about 50 miles south of the museum.
In our main lobby, we also display a framed facsimile of a Peanuts comic, where after watching television, Sally Brown asks her brother Charlie if "there really is a person named Walt Disney." The comic was a gift of Jean Schulz, Charles' widow and President of the Board of Directors of the Charles M. Schulz Museum in Santa Rosa, California.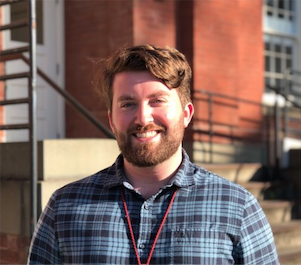 –Chris Mullen
Chris Mullen is the Marketing and Communications Assistant at The Walt Disney Family Museum.
Image Sources (in order of appearance):
Second level of Mickey Mouse: From Walt to the World; photography by Frank Analone; courtesy of The Walt Disney Family Museum; © Disney
The Auto Ride store display, c. 1935; courtesy of The Walt Disney Family Museum; © Disney
Society Dog Show (1939) pencil test interactive; courtesy of The Walt Disney Family Museum; © Disney
Mickey Mouse Club merchandise; photography by Frank Anzalone; courtesy of The Walt Disney Family Museum; © Disney

The Karnival Kid 

(1929) original drawings; courtesy of The Walt Disney Family Museum; © Disney

Fantasia (1940) gallery; photography by Frank Anzalone; courtesy of The Walt Disney Family Museum; © Disney

Mickey Mouse voice actors; photography by Frank Analone; courtesy of The Walt Disney Family Museum; © Disney

Disneyland flag; photography by Frank Analone; courtesy of The Walt Disney Family Museum; © Disney

Mickey Mouse running graphic; photography by Frank Analone; courtesy of The Walt Disney Family Museum; © Disney

Damien Hirst, 

Gold Mickey

, 2014; 

Damien Hirst/Science Ltd. All Rights Reserved, © DACS 2019 © 

Disney

Charles Schulz, Flying Ace Snoopy and Mickey Mouse, courtesy of the Charles M. Schulz Museum and Research Center © Disney