In the 8th and 9th centuries, Vikings sailed to the region we know as Northwestern France and performed regular raids on the towns and monasteries. In 911, French King Charles III the Simple finally surrendered the territory around Rouen and the mouth of the Seine River to the Viking leader, Rollon. Rollon's Scandinavian countrymen flocked to settle their new territory, which over the years they managed to expand via additional conquests. The immigrants became known as Normans, and the territory, Normandy.
It is in Normandy that the Disney story begins.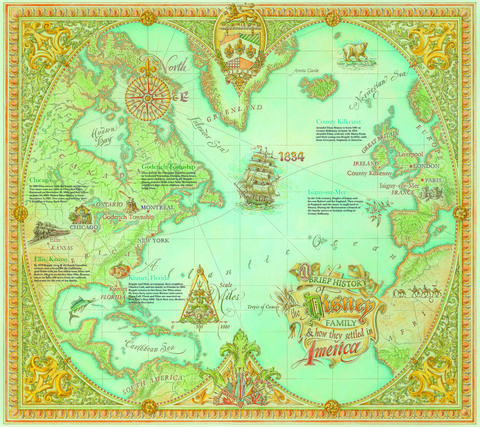 Isigny-sur-Mer, Normandy, France
Isigny-sur-Mer (then known as Isigny) is a small village on the Normandy coast, just south of La Baie des Veys. Village resident Hughes d'Isigny was one of the many Normans who joined William the Conqueror in the invasion of England in 1066. William, the rightful heir to the English throne, defeated King Harold II on October 14 in the Battle of Hastings. After the victory, Hughes and his son Robert elected to remain in England. Their descendants would go on to establish themselves in Lincolnshire, and over the years, the d'Isigny surname became anglicized to Disney. In the mid-17th century, part of that Disney clan branched off to Ireland, settling in County Kilkenny.
County Kilkenny, Ireland: The Hometown of Kepple Elias Disney
In 1801 (note: some sources say anywhere from 1801–03), Arundel Elias Disney (great-grandfather of Walt Disney) was born to parents Kepple Disney and Frances Best. In an essay written by Walt's father Elias in 1939, Arundel Elias "received a fine education, and had plenty of money to go and come on, servants to care for his wants and all that goes with an abundance of the things of this world." In 1832, Arundel married Maria Swan, described in the same essay as "of good people, in the medium condition of life financially." On November 2, Arundel and Maria welcomed their first child, a boy they named Kepple. Kepple Elias Disney was the grandfather of Walt Disney. Swan would go on to give birth to 15 more children.
In 1834, Arundel (great-grandfather of Walt Disney) and his brother Robert traveled to Liverpool with their families and set sail for New York aboard the New Jersey. The Disney party included the two brothers, their wives, and their combined three children. In addition to young Kepple, Francis and Elias, sons of Robert and Jane, rounded out the party.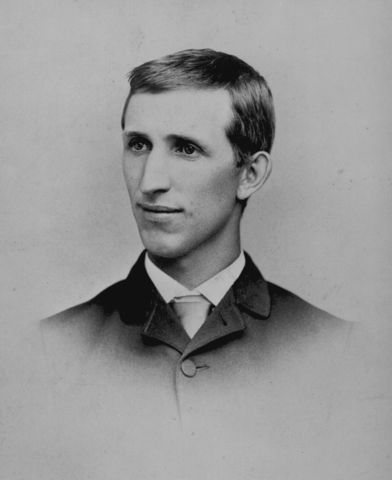 The Move to Ontario, Canada
While the original plan was to remain in America, Arundel soon relocated to Canada. According to Elias' essay, Arundel "settled near Holmesville, on the Grand Trunk Railway, between Goderich and Clinton. He bought a tract of land close to and along the banks of the Maitland River, and built a saw and grist mill which was patronized by the community for a number of years." 
The area was heavily timbered, with plenty of wild fruit and good fishing for a growing family. Wolves, however, were a nuisance to the settlers, and Arundel would regale his children with stories about his physical encounters with the wild animals.
Kepple Elias Disney's Life
As time went on, Kepple grew to be a muscular young man, with a beard as imposing as his physique. He married a woman named Mary Richardson, who was herself the daughter of Irish immigrants. They settled down in the village of Bluevale, Ontario, where Kepple would acquire 100 acres of land. Kepple was a man of great ambition, and he immediately began working to clear his new land, making it suitable for farming as well as a house for his family.
In 1859, Mary and Kepple welcomed their first child, naming him Elias Disney. Elias Disney would later become the father of Walter Elias Disney in 1901.
Despite the challenges of farming in a new land, he remained optimistic and dedicated to his family. He instilled strong values in his children, including a strong work ethic and a commitment to family.
Kepple and his family lived in Canada for many years, but eventually moved to the United States in search of better opportunities. They settled in Ohio, where Kepple continued to work as a farmer. He remained an important influence in his family's life, and his values and beliefs would shape the lives of his children and grandchildren for generations to come.
Unfortunately, Kepple did not live to see the success of his grandson Walt. He passed away in 1906, at the age of 80. Kepple Elias Disney was a hardworking and dedicated man who lived a simple life, but left a lasting impact on his family and the world. Through his strong work ethic and commitment to his family, he inspired his children and grandchildren to pursue their dreams and make the most of their lives. Today, his legacy lives on through the Disney empire, and the countless people who have been touched by the magic of Walt Disney's imaginative creations.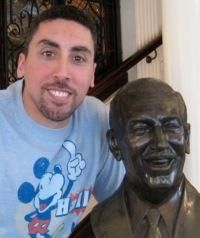 —Keith Gluck
Gluck is a contributing writer for The Walt Disney Family Museum blog and runs thedisneyproject.com, a Disney fan site. 
Image sources (in order of appearance): 
Dave Stevenson, map presenting the history and early travels of the Disney family, collection of the Walt Disney Family Foundation
Portrait of Elias Disney, June 16, 1892; courtesy of The Walt Disney Archives Photo Library 1072-53