In the history of The Walt Disney Studios, animator Fred Moore (1911–1952) is considered among the leading artists who helped originate and define the Disney style, matching appealing design with believable performance. In particular, Moore was instrumental in the evolution of Mickey Mouse as an animated character, and his legacy with the Disney icon's appearance remains evident today. 
Jenny Lerew
Jenny Lerew is a story and development artist, as well as an author and historian who writes about animation on her blog "The Blackwing Diaries". Her books include The Art of 'Brave' and the forthcoming Art and Life of Fred Moore for Disney Editions. The Southern California resident graciously fielded questions on Moore, Mickey, and the art of animation via Consulting Historian for The Walt Disney Family Museum, Lucas O. Seastrom.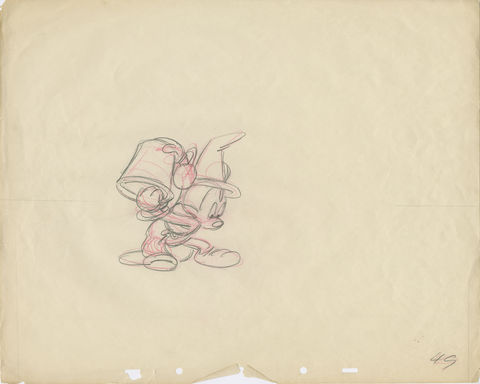 Seastrom's Favorite Examples of

Fred Moore's Art
Lucas O. Seastrom: Do you have any favorite examples of Fred Moore's animation of Mickey Mouse?
Jenny Lerew: Particularly outstanding for me in the earlier cartoons are Puppy Love (1933), where Fred has Mickey run a gamut of emotions, and Pluto's Judgment Day (1935). Later highlights would be The Nifty Nineties and The Little Whirlwind (both 1941). In the later cartoons Mickey is quite different, but he's still the same mouse, if a little older and (sometimes) wiser. 
Fred also had a strong influence on Mickey in two of his most iconic performances, in Brave Little Tailor (1938) and Fantasia (1940)—although in both of these his influence as a Supervising Animator was more crucial than any actual footage he did himself. In what's probably Mickey's most famous role, as the Sorcerer's Apprentice in Fantasia, Fred actually did none of the animation himself. Instead, he supervised it; the animators assigned to that sequence ran their work past Fred to make sure Mickey was as appealing as he could possibly be. He was the acknowledged "Mickey expert," and considering the talent of the other animators there at the time, that alone is quite a distinction.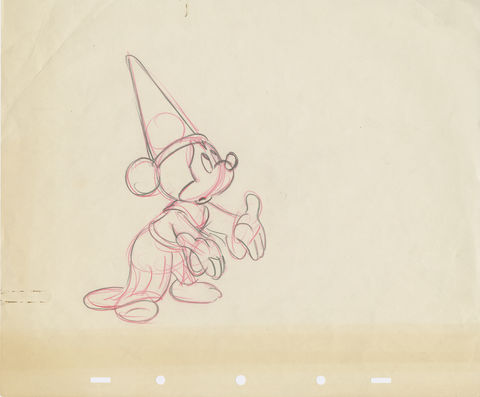 The Impact of Mickey's New Design
LS: How did the success of Mickey's new design help with the character's popular endurance?
JL: It's really a testament to Mickey's tremendous fame and popularity that he lasted as long as he did with the earlier design (of his face, at least).  His solid black eyes without pupils were old-fashioned by the time they were finally changed—in 1938, in the comics, and 1939 onscreen. His new eyes made quite a difference, immediately gave the animators more to work with, and allowed them to give Mickey a much greater range of expression. It was a big step into the modern world…although, at the same time, it's arguable that the secret of his everlasting appeal is that he didn't ever really become too modern. 
The Impact of Mickey's New Design
LS: Considering your current book project, what excites you about telling the story of Fred Moore's art and life?
JL: Thanks to Frank and Ollie's book as well as others that followed detailing the "golden age" of the Disney Studio, Fred Moore is much better known now than when I first noticed that drawing of Mickey, and, of course, the Internet has had a large part in increasing his fame. Yet to date there's never been a single volume focusing exclusively on his work. And he's something of a mystery, as he died so early that he wasn't able to express himself on the record as many of his friends and colleagues eventually did. My book will have his art gathered together for the first time in one place, presented in the context of his life—at work and away. Often, an animator's work, unconsciously or not, is a self-portrait, and nowhere is this truer than in the animation and other art Fred Moore produced. He richly deserves a book of his own, and it's an honor to tackle it.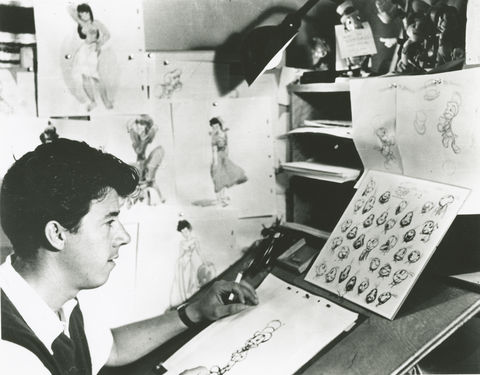 The Legacy of

Fred Moore's Art
LS: As an animation artist working today, how does Fred Moore's work inspire you?
JL: Great drawing, and the animation that can result from it, never gets old. Styles may change, but the essence of a great drawing is the same whether it was made on the wall of a cave in France 20,000 years ago or in Burbank in 1939. Certain drawings can still inspire and teach, or make us feel happy just to look at them. That's the particularly magical quality of Fred Moore: although he lived and died so long ago and so much has changed in animation, his best work has an immediacy and appeal that feels fresh and new. 
There's a reason that the films Fred was a large part of, and the mouse that he helped bring along, are still known today, and it isn't nostalgia. Drawn animation is new to every generation that rediscovers it. For those of us lucky enough to work in animation and draw every day, an artist like Fred Moore reminds us that it's possible to express character and emotion with a simple line drawing – if all the lines happen to be in the right place.  To remember that feelings – the darkest as well as the lightest – can be elicited by something that really isn't alive, but lives, even if it came from an artist's pencil or stylus or whichever tool he or she chooses to use. That's the example Fred Moore sets for us.
This article is Part II of a two-part interview with author Jenny Lerew. Part I can be found here.
Visit Us and Learn More About Disney's Amazing History 
Originally constructed in 1897 as an Army barracks, our iconic building transformed into The Walt Disney Family Museum more than a century later, and today houses some of the most interesting and fun museum exhibitions in the US. Explore the life story of the man behind the brand—Walt Disney. You'll love the iconic Golden Gate Bridge views and our interactive exhibitions here in San Francisco. You can learn more about visiting us here.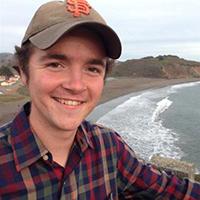 –Lucas Seastrom
Lucas O. Seastrom is a writer, filmmaker, and contracting historian for The Walt Disney Family Museum.
Image sources (listed in order of appearance):
Fred Moore, rough animation drawing scene, "The Sorcerer's Apprentice" segment from Fantasia (1940); courtesy of Andreas Deja, © Disney 
Fred Moore, rough animation drawing scene, "The Sorcerer's Apprentice" segment from Fantasia (1940); courtesy of Andreas Deja, © Disney 
Fred Moore drawing Jiminy Cricket, c. 1940; courtesy of the Walt Disney Archives Photo Library, © Disney