The story surrounding the origin of Mickey Mouse is well-known. Walt, feeling defeated from losing creative control over Oswald the Lucky Rabbit, was on a train ride home when he began thinking about a new star. With the help of his creative partner Ub Iwerks and apprentice Les Clark, he created an icon whom we would all come to know and love. But how has Mickey Mouse evolved over time? Mickey's appearance and personality have noticeably shifted during these past 90 years, reflecting the cultural values of the time as well as new trends in animation. In honor of the closing of our special exhibition, Mickey Mouse: From Walt to the World, we invite you to step back through time and examine Mickey's incredible transformation.
The early days of Mickey Mouse demonstrate a version of him that present-day viewers might not quite recognize. The first Mickey cartoon produced, Plane Crazy, suggests his mischievous side, as we see a young, scrappy Mickey looking for trouble and adventure. One might observe him as overconfident and bold toward his female co-star, Minnie Mouse. These early days of Mickey present a happy-go-lucky character, but one that displays slight juvenile behavior. Steamboat Willie (1928), the first Mickey Mouse cartoon to be publicly released, shows Mickey flirtatiously pursuing Minnie Mouse, playing with animals as if they are instruments, and discovering his curiosity and love of music; Mickey's actions are typified by that of a teenager or young boy. It wasn't really until Mickey started speaking in The Karnival Kid (1929) that he was given more relatable attributes.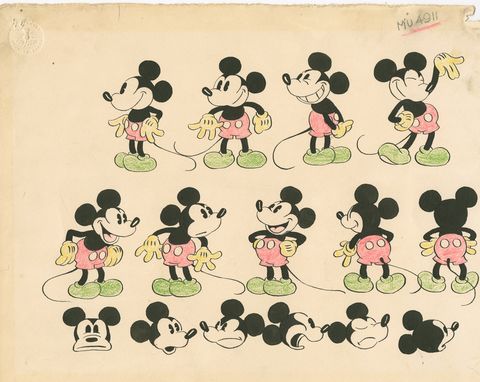 As for Mickey's look, in Plane Crazy there is no sight of his iconic white gloves or his oversized shoes. He didn't even have a consistent number of fingers during this time, as the number alternated between four and five. It wasn't until later on that they eventually settled on three fingers and a thumb. As for Mickey's shoes, his trademark footwear is introduced in the second Mickey cartoon produced, The Gallopin' Gaucho (1928), and has stayed with him almost ever since. But when did Mickey's gloves come into play? In the 1929 cartoon, The Opry House, the gloves made their debut appearance as part of his stage costume, but had the added effect of distinguishing his hands from his body. His trademark gloves became a permanent fixture in the following short, When the Cat's Away (1929), and has remained part of his design ever since. Of course, Mickey's face was subject to some changes, too. Unlike Plane Crazy, where his eyes occupy almost his entire face, in Steamboat Willie his eyes were redesigned as small, black ovals giving Mickey a greater range of facial expression. 
Starting in 1929, the era of "pie-eyed" Mickey Mouse came to be. "Pie-cut eyes" were mostly used in print cartoons, while the animated shorts showed Mickey with the earlier-mentioned black oval eyes. This was part of the "Inkblot Cartoon Style", which was a very common principle of character design during the 1930s and not something typical of modern animation (with the exception of some of the newest Mickey Mouse shorts). This style often goes hand-in-hand with "rubber hose" animation, referring to how a character's limbs flowed like a garden hose and stretched like rubber. These cartoons tended to be nonsensical and slapstick; for example, a breathing cow might resemble an inflating balloon or the floorboards of a house could bend as if made of paper. "Rubber hose" animation was quickly adopted as the new industry standard and continued with Mickey until 1939, with the last remnants of it being featured in Society Dog Show as Walt and his team moved toward a more realistic depiction of their characters.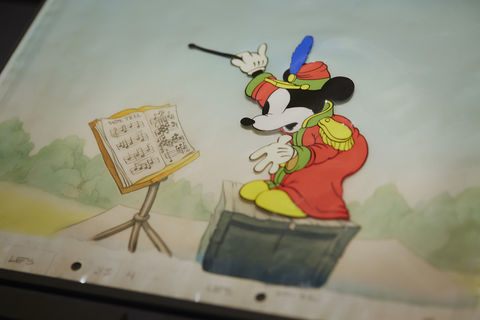 With Walt's ever-growing success and determination to keep up with the industry, a special cartoon featuring Mickey Mouse was created in color in 1932: Parade of the Award Nominees. This cartoon was never released to the public as it was created exclusively for the 5th Academy Award® ceremony. Therefore, The Band Concert (1935) was the first standard Mickey Mouse cartoon made in color. Further, The Band Concert established a final decision on the definitive color of Mickey's shorts. According to D23: The Official Disney Fan Club, "Mickey's shorts had been both red and green in merchandise, but they were more often red, so The Band Concert decisively made red Mickey's signature color." By this time, Mickey's actions as a mischievous prankster had passed on to Donald Duck, and Mickey had firmly transitioned into the role of an endearing romantic and humble hero. As seen in On Ice (1935), Donald is shown playing mean tricks on Pluto, whereas Mickey attempts to teach Minnie how to ice skate and win her heart. It was much more appealing to audiences seeing the protagonist as charming, with the side character up to no good.
Over time, Mickey's facial features softened and appeared younger while his personality gradually matured. We can thank legendary animator Fred Moore for this new design, as his assistant—and member of Walt's "Nine Old Men"—Frank Thomas stated, "It was one of the best Mickeys we ever had…Freddie's new design brought more fullness to the cheeks, and more flexibility around the middle." During this time, Brave Little Tailor (1938) was released and sparked the peak of Mickey's career. This cartoon was nominated for an Academy Award® and was highly regarded among audiences. At this point, we no longer see the overconfident Mickey from his rascally beginnings; rather, we find a more curious and wholesome version of him. "The Sorcerer's Apprentice," now incorporated into Fantasia (1940), displays Mickey as a character who is eager to learn, but still yearning for a bit of fun.
Walt planned "The Sorcerer's Apprentice" to bring Mickey back into the spotlight, after the Donald Duck shorts had somewhat eclipsed Mickey's popularity. Mickey was redesigned during this era, shifting to a more realistic interpretation; his eyes now featured pupils instead of the previous black ovals. It is this version of Mickey that persists throughout the years, as his relationship with Minnie grows and his life settles down. Mickey still enjoys adventure, but his personality is calm and kind. 
Today, we recognize Mickey Mouse in his iconic red shorts, yellow shoes, and white gloves. He is optimistic, brave, and lovable. Mickey undoubtedly stands as the global ambassador of The Walt Disney Company, and without him, Walt might not have found his success. As Walt once said, "it was all started by a mouse."
–Nicole Hellmann
School Experience Assistant at The Walt Disney Family Museum
Image credits (in order of appearance):
Disney Studio Artist, cel and background painting, The Band Concert (1935); collection of the Walt Disney Family Foundation, gift of Ron and Diane Miller; © Disney

Disney Studio Artist, model sheet, c. 1930; collection of the Walt Disney Family Foundation; © Disney