With its charming Audio-Animatronics® and leafy adventures, the Jungle Cruise has long been a fan favorite. How did this attraction come to be?
In 1951—four years before the grand opening of Disneyland—a man named Harper Goff browsed the shelves of Bassett-Lowke, a miniature train store in central London. When a particular antique train took Goff's eye, he was told that it had been promised to someone else. "I found one," Goff later remembered, "and the man said 'There's a gentleman coming in this evening who's shown some interest in that…'"
The gentleman in question was Walt Disney. When Walt returned to the store later that day to collect his model train, he struck up a conversation with Goff. "He turned to me and said, 'I'm Walt Disney. Are you the man that wanted to buy this engine?' Well, I almost fell over. He asked me what I do for a living, and I told him that I was an artist," explained Goff. Walt was interested in Goff's background as an illustrator and set designer, so much so that Walt said, "When you get back to America, come and talk to me." After Goff returned home, he did just that and began working for The Walt Disney Studios later that year.
Dreaming of Disneyland
As Walt's plans for an amusement park began to take form, he asked Goff to draw up some ideas. What might this park look like? What would make it stand out? "I liked the idea of working with Walt Disney… he wanted to build something adults could enjoy along with their children," Goff recalled.
Walt tasked Goff with visiting amusement parks across the country to gather inspiration, but, after those visits, Goff returned home unconvinced. "They were dirty places and it was hard to imagine what Walt had in mind… I said to him… 'Walt, I don't think this type of environment is what you want,' and he replied, 'Mine will be immaculate and the staff will be young and polite'—then I realized he could do it." That confidence Walt had—that his own creation would be different from to anything that had come before it—eventually convinced Goff as well.
Most everyone has been impressed by, and curious about, the realism of Adventureland. 
Adventureland and the Jungle Cruise
As plans for Disneyland started to take shape, Walt's team considered building a nature-inspired area on the east side of the park. It was to be named True-Life Adventure Land, after Disney's popular True-Life Adventures documentary films. But when construction began in 1954, Imagineers decided that the abundance of eucalyptus trees over on the west side of the land would help them to more convincingly create the jungle-inspired environment they had in mind. The lands were reshuffled: the east side became home to Tomorrowland, while True-Life Adventureland was moved to the west side and renamed, simply, Adventureland.
The only Adventureland attraction to exist on opening day in 1955 was the Jungle Cruise, an elaborate river ride where guests sat in small boats that took them on a trip through what Walt called "the waterways of our man-made jungle." At the time, Walt seemed to view Adventureland as one large attraction of its own. In a 1956 segment for his Disneyland television show, he talked viewers through the appeal of the land: "Ever since Disneyland Park opened, one of the most popular realms has been Adventureland," he shared. "Most everyone has been impressed by, and curious about, the realism of Adventureland—the lifelike animals, the authentic tropical settings..."
It was these lifelike animals that really grabbed the attention of Adventureland's guests—the Imagineers had created moving 'creatures' that looked and sounded just like the real thing. Originally, Walt had hoped that real-life animals would roam Disneyland's jungle, but he soon decided that this ambitious approach was not feasible, and asked his team to consider other options. As he later explained, "…to stock Adventureland with live animals was neither safe nor practical, so on paper we began to sketch and design replicas that would be made of plastic and steel, but when in action would be as lifelike as their real counterparts."
The plastic and steel animals Walt referred to were early examples of Audio-Animatronics® figures. Chris Mueller, sculptor, and Bob Mattey, head of Disney's Mechanical Effects department, were instrumental in turning artists' sketches into these physical creatures.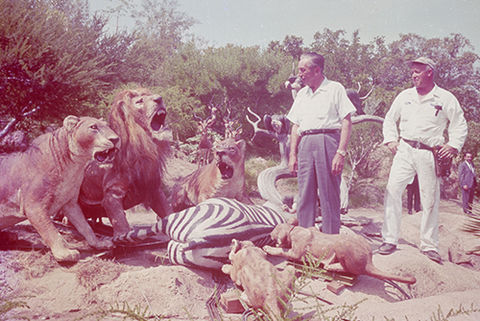 Absurdity in Decorating the Jungle Cruise
"Whenever you try to duplicate nature, you have to work on a grand scale," Walt explained as he discussed Adventureland in 1956—and he meant it. In 1954, when Walt had decided he wanted to populate Disneyland's jungle with real, full-size trees, he tasked Harper Goff and horticulturalist brothers Bill and Jack Evans with 'buying expeditions' for the landscaping of Jungle Cruise.
"We would call cities to see if they were tearing out trees for improvements and go and buy them—we got many that way," recalled Goff. "We drove all around in places like Pasadena seeing great big nice trees. We'd go up to people and ask them 'Any chance you're tired of that tree? We'll give you $200 and carry it away!' Most of these people looked at us like it was some kind of joke…" 
One house in Beverly Hills had a tree in its front yard that looked perfect, and, after driving past several times, Goff asked Jack Evans to pull over outside the house. "I thought: what have we got to lose?" Goff later laughed and recalled, "I went in to ask the people if they would consider selling it. I told the owner we would replace it with a flowerbed or anything they wanted, and surprisingly the owner told me 'yes'—it was blocking the sunlight and view coming through his windows… It was the tree that went around the original Burmese Temple, and we got it for nothing."
A Disney Classic
How is the Jungle Cruise still entertaining guests more than half a century after it first opened? Perhaps because, as Disney Legend Marty Sklar wrote, "no-one settled for 'good enough' in the design phase." The effort and imagination that Walt and his team poured into Adventureland is ever-present, and additions throughout the years—from Marc Davis's 1960s scenes and gags, to each Jungle Cruise Skipper's delightfully corny spiel—have only served to enhance the attraction's appeal.
Adventureland is true, immersive Disney magic, designed to transport guests to another realm. "As we enter the gates of this tropical settlement," Walt declared on Disneyland's opening day, "we leave the everyday world far behind…"
Visit Us and Learn More About Disney's Amazing History 
Originally constructed in 1897 as an Army barracks, our iconic building transformed into The Walt Disney Family Museum more than a century later, and today houses some of the most interesting and fun museum exhibitions in the US. Explore the life story of the man behind the brand—Walt Disney. You'll love the iconic Golden Gate Bridge views and our interactive exhibitions here in San Francisco. You can learn more about visiting us here.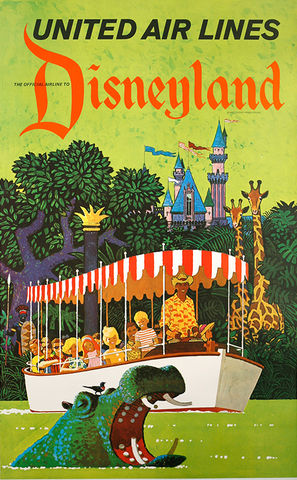 —Sophie Jo
Sophie Jo is a writer and long-time Disney fan from England. Find her tweeting @sophiejowrites or happy-crying over 'it's a small world.'
Image Sources*: 
Walt Disney on Jungle Cruise boat, 1955; courtesy of the Walt Disney Archives, Photo Library, © Disney.
Walt Disney exploring the Jungle Cruise with machinist Louie Francuz, 1964; courtesy of the Walt Disney Archives, Photo Library, © Disney.

United Airlines Disneyland travel poster, c. 1960; collection of the Walt Disney Family Foundation, © Disney. 
*Cited in order of appearance.