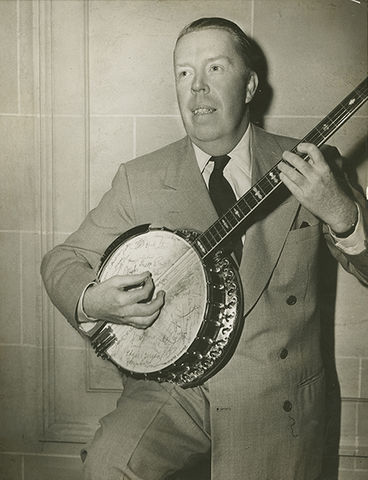 "In 1951, my wife and I were in London. I was always a miniature train fan, so I went to Bassett-Lowke, Ltd... I was trying to find something I could bring back as an antique. I found one, and the man said, 'There's a gentleman coming in this evening who's shown some interest in that. I can't sell it to you, because I think he may think it's being saved for him.'"
The man recalling that story was Harper Goff. The gentleman who "showed some interest in the train," was Walt Disney.
Walt did indeed return later that day. He struck up a conversation with Goff, and after finding out what he did for a living, expressed an interest in hiring him. And yes, Walt ended up purchasing the train.
Harper Goff was born on March 16, 1911 in Fort Collins, Colorado. Much like Walt's boyhood home of Marceline, Missouri, Fort Collins was the quintessential American small town. Goff's father owned and operated a local newspaper. When Goff was a teenager, his family relocated to Santa Ana, California. He was always artistic, and soon began taking art classes at the Chouinard Art Institute. He moved to New York for a brief period, working as an illustrator for various magazines. Upon moving back to California, he obtained work as an art director on films for Warner Bros. He was no longer with them however at the time of his 1951 trip to London.  
After Goff came home from London, he reached out to Walt. Walt brought him on board, and as he recalled, because of his experience as both a magazine illustrator and a set designer, his first project was to create storyboards for what was planned as a True-Life Adventure short. "I want to film whales and so forth with underwater cameras," Walt explained. "And I've got a name for it. I want to call it 20,000 Leagues Under the Sea." So Goff went to work, and Walt returned to Europe on business. But the title set Goff in another direction. "It happened that 20,000 Leagues Under the Sea, the silent version, was my favorite movie as a kid," Goff recalled. "I began doing the Jules Verne-type drawings on my own while working on this Leagues short subject." He had planned to take the drawings down before Walt could see them, but he was too late. "He was kind of angry since all that time I hadn't made the sketches that he'd asked me to do," Goff remembered. But Walt didn't discard the eight 4' x 8' storyboard panels. And Goff recalled a day that he returned from his lunch break and spotted Walt studying the storyboards. Not long after that, Goff received a call from Walt's secretary, Dolores Voght. "Walt wants to talk to you," she said. After Walt had examined the drawings, as well as doing some research on his own, he came around to Goff's vision and decided to make 20,000 Leagues Under the Sea his first full live-action feature produced in the United States. Goff went on to design many of the film's sets, as well as the iconic submarine, Nautilus.
During pre-production of Leagues, Walt also assigned Goff to a project known by some as "Disneylandia." The ambitious project entailed creating miniature, fully animated scenes of Americana and showcasing them on a private train. "This traveling show would come to everyone's hometown," Goff remembered. The show was not to be, however. Between the reduction in American rail line availability, and the show's projected operating costs indicating it would actually lose money, Disneylandia was scrapped. But, Walt did have another idea up his sleeve.
Walt's idea to create elaborate sets showcasing the nostalgia of America past wasn't limited to a few train cars. Disneyland, Walt's permanent park and love letter to America, was beginning to take shape. He originally wanted to build it in Burbank, across the street from The Walt Disney Studios. Goff drew up the little "Mickey Mouse Park" concept art, which inspired Disney historian Jeff Kurtti to dub him "the Second Imagineer" (after Walt, of course).
Walt would find another location for his Park, and Goff continued to create sketches for it. When he was tasked with designing Main Street, U.S.A., he "drew" inspiration from his boyhood town, just like Walt did. While many attribute Main Street's look to Walt's recollections of Marceline, much of Goff's experiences found its way into the final product. Some of his early concept pieces featured small, rustic buildings adjacent to wooden sidewalks, harkening back to his days as a youth in Fort Collins. "You know, in 1951 I did these drawings for the little town we had in mind at the beginning," Goff recalled. "Then Walt decided that a two-story street would allow for storage, and space for later attractions." Based on old photographs, it's easy to see that some buildings that ended up on Main Street were indeed based on structures in Marceline. But thanks to Goff, Fort Collins is well represented, too. City Hall is probably the most prominent example.
In 1952, with the look of Main Street, U.S.A. still being pieced together, Goff conceptualized a small residential area tucked down a side street. The end of the little avenue featured a haunted house atop a small hill, overlooking a quaint church and overgrown graveyard. While the haunted house never found its way onto Main Street, a little under a thousand happy haunts did eventually find a home in Walt Disney's Magic Kingdom.
When Walt was planning an elaborate river ride, it was Goff who helped him refine it into Disneyland's classic Jungle Cruise.  Citing the 1951 film The African Queen, Goff said he and Walt began to think of hippos and other animals that wouldn't depend on wires for animation. But that was just one of the challenges that attraction faced. There was no accurate way to determine the turn radius the boats would need, or the attraction's run-time. Since that was information the engineers needed, Goff solved the problem by creating "the jungle jeep," which entailed taking a jeep and mounting a dummy ride launch on top of it. And when Walt declared he wanted real, full-sized trees, Goff teamed up with landscaper Bill Evans and took to the streets, literally. "Bill Evans and I found some trees there in Anaheim, and around Orange County, and then we took off in this Buick looking for trees," Goff recalled. "We drove all around in places like Pasadena seeing great big nice trees. We'd go up to people and ask them, 'Any chance that you're tired of that tree? We'll give you $200 and carry it away.' Most of these people looked at us like it was some kind of joke."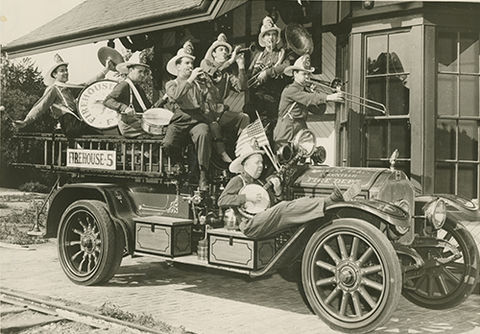 When Goff wasn't working or fiddling with model trains, he played banjo with the Dixieland jazz band "Firehouse Five Plus Two," a group made up of various Disney artists. They even performed at Disneyland on opening day. After wandering the Park for a bit, they soon realized it made perfect sense that the "Firehouse Five Plus Two" perform in front of, where else, the Main Street Fire Station. Everyone was enjoying the music, except for Walt. He was in his apartment above the Fire Station at the time, trying to take a nap.
Goff went on to do freelance work from 1955 to 1975, working on designs for World's Fairs, and serving as art director for more films, including Willie Wonka and the Chocolate Factory. He returned to Disney in 1975, working at WED Enterprises designing pavilions for EPCOT Center's World Showcase. In a 1977 interview, Goff reminisced about the days before WED, when all they had was just a little machine shop. "Today we are larger," he said, "we have many more creative people and we've already earned pride and conviction in what we're doing. But I never become blasé because I continue to have the feeling that Walt is looking over my shoulder."
Harper Goff passed away in 1993, the same year he received The Walt Disney Company's highest honor: Disney Legend.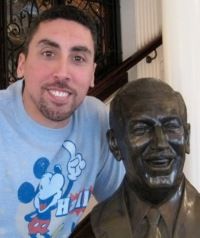 Keith Gluck is a contributing writer for The Walt Disney Family Museum and also runs thedisneyproject.com, a Disney fan site.