For our 8th day of Christmas, Museum Interpreter Mary Beth Culler tells us more about Walt Skis.
For the December Look Closer, we've chosen to focus on an artifact that doesn't relate directly to Walt's artistic or technological achievements, but has to do more with the man: Walt's pair of downhill skis found in Gallery 3. These skis, made of metal on wood from the Swiss manufacturer Attenhofer and worn by Walt during winter vacations with his family, are a wonderful reminder of his love of sports. Though always active as a young adult, Walt didn't begin to participate in sports on a regular basis until the early 1930's when a doctor recommended he use exercise to relieve stress. Walt became particularly interested in skiing in the mid 30's after he suffered a neck injury playing polo and turned to other, more family-oriented activities.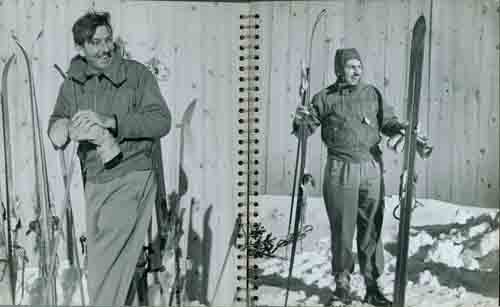 In the late 1930's, while taking ski lessons with Lily, Walt met Austrian skiing champion, Hannes Schroll, at Badger Pass, where Scroll was head of the Yosemite Ski School.  At this time, Hannes was also involved with the development of the Sugar Bowl Ski Resort in Northern California.  Walt later invested in this project and was honored by Hannes when the Austrian changed the name of Hemlock Peak to Mount Disney.  Sugar Bowl became one of the family's favorite places to ski, and our museum recently added a large picture of Walt skiing at the resort to Gallery 3.
Walt's love of winter sports continued throughout his life, and in 1960, he produced the opening and closing ceremonies of the Winter Olympics held near Lake Tahoe, California. Six years later, he proposed the development of Mineral King Valley, near Sequoia National Park, as a ski resort. This project was to include an alpine village, skating rink, hotels, and restaurants, but was abandoned after Walt's death due to objections raised by conservationists. 
Walt's interest in skiing and sports in general carried over to the Disney Studio as well, and is apparent in the production of many sports related how-to shorts from the 1940's and early 1950's.  In one, "The Art of Skiing" (1941), the character of Goofy prepares for a day on the slopes, and later in the short, viewers can see a sign identifying a building as the Sugar Bowl Lodge. In the Museum's Movie of the Month, "Christmas with Walt," a clip from this short showing Goofy falling down the slopes is cleverly juxtaposed with a shot of Walt suffering the same fate.
In addition to skiing, the Disney family enjoyed ice skating, swimming, and horseback riding, and at one point, Walt even had a home gym, which was eventually converted into a playroom for his daughters. Visitors to the Museum can see several photos of the family participating in sports, both at home and on vacation, throughout the galleries.