Our Film of the Month for January is one of the finest adventure dramas of its era, Third Man on the Mountain. This film was only one of the manifestations of Walt Disney's interest in outdoor recreation, sports, and adventure. Disney historian and frequent Museum contributor Jeff Pepper shares one of the great stories of Walt's outdoors avocations.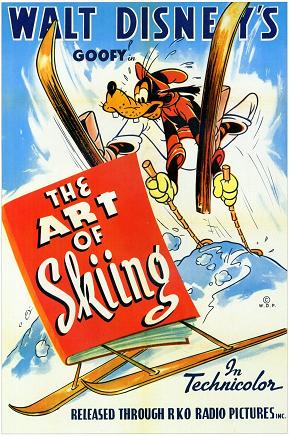 Hide in plain sight. 
As a student of Disney history I have come to embrace that particular cliché. Simple and almost always overlooked details in Disney entertainment can often lead to very enjoyable and enlightening journeys of historical discovery. I recently embarked on such a journey after watching the Goofy cartoon The Art of Skiing.
Released in late 1941, The Art of Skiing was the first of Goofy's many sports-related how-to shorts. The cartoon opens with a panoramic sweep of snow-covered mountains, eventually focusing in on a rustic ski lodge, within which the Goof is awakening and subsequently preparing for a day on the slopes. A sign identifies the building as the Sugar Bowl Lodge. That identification lasted just a few seconds on the movie screen, but provided a window into a little-remembered chapter in the life of Walt Disney.
In the late 1930s, Walt Disney met Austrian skiing champion Hannes Schroll. Walt became acquainted with Schroll while vacationing at Badger Pass, where Schroll was the head of the Yosemite Ski School. The two became good friends. In 1938, Schroll and business partners purchased land with the intention of building a ski resort in the east Sierras, near Donner's Summit and the small town of Truckee. The land encompassed an area around two mountains—Hemlock Peak and Mount Lincoln.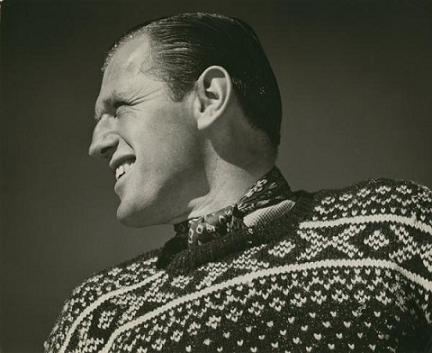 Schroll had sought financial assistance from Disney in purchasing the land, as funds from his native Austria had been appropriated in the spring of that year, when Hitler annexed that country. Schroll wired Disney in June seeking help; Walt was unfortunately out of town when the cable arrived and Schroll had to find others to advance the needed funds to secure the land purchase. One year later when Schroll was seeking additional investments to build the resort, he again approached Walt who in turn wrote Schroll a check for $2,500, and became one of the initial stockholders of the newly christened Sugar Bowl Resort. To honor Walt's support and partnership, Schroll changed the name of Hemlock Peak to Mount Disney.
Among the preeminent enticements that drew skiers to Sugar Bowl in those early years were the chairlift up Mount Disney, the first such lift in California; and the lodge, designed by architect William Wurster (and later featured in the Goofy cartoon). A newspaper report from November of 1939 announced: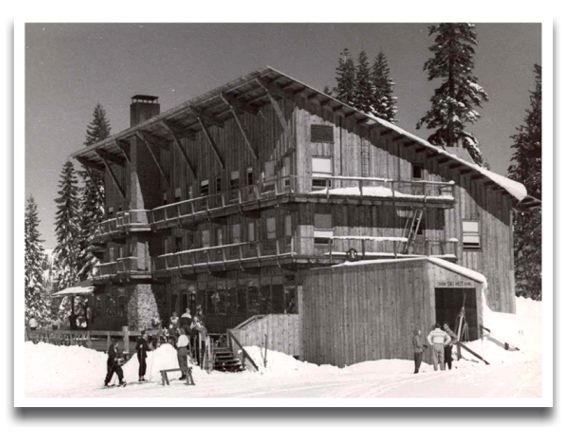 "The Sugar Bowl, located about 1 1/2 miles from Norden Station, near the Donner Summit, has been developed by a private corporation headed by Hannes Schroll, Olympic ski champion, for use this season as a winter sports area. This year a new upski and a new lodge have been constructed. The new chairlift lifts skiers 1,000 feet vertically to the top of the Sugar Bowl's rim. The lodge, which will open on December 15, accommodates 40 persons and has 10 double rooms and two dormitories, one for men and one for women. Other features include a lounge, bar, dining hall, lunch counter and rest room facilities."
Newspaper reporter Bob Blake spotted Walt at Sugar Bowl on January 7, 1940. Blake noted that, "Walt Disney arrived today without Donald Duck and started skiing immediately. 
Walt vacationed at Sugar Bowl in early 1941 with wife Lillian and daughter Diane. A photograph survives showing the three with Hannes Schroll at the resort. Of that trip, Diane Disney Miller recalled, "That was a long time ago, and I seem, to myself, to have been 7. There were twins, boy and girl, who were the children of the manager, that were one year younger than me. I remember that I very much wanted to learn to ski, that the twins—the boy, at least—drove me crazy, and the highlight of the trip was when Hannes took me up the chair lift, with my parents, on Mount Disney and skied down with me on his shoulders."
In their book Skiing With Style, authors Robert Frohlich and S. E. Humphries related how Walt once performed duties beyond just his role of stockholder. According to John Wiley, the resorts first winter sports director, Walt once filled in for a bartender at the lodge's bar. Wiley recalled, "There was no television in those days, so he tended bar almost incognito for about two hours."
Other notable Hollywood personalities found their way to Sugar Bowl as well. Among them were Levi Strauss, King Vidor, Norma Shearer, Errol Flynn, Jean Arthur and Claudette Colbert. A newspaper account from February of 1941 reported that a director named Ewing Scott had arrived at Sugar Bowl to begin work on a documentary about the history of skiing that was to be produced by Walt Disney. The project went unrealized. In spring on 1941, exterior scenes for the MGM film Two-Faced Woman were shot at Sugar Bowl. The film starred Greta Garbo and Melvin Douglas, but the two never left their Hollywood studio. Stunt doubles skied in their places for the second unit filming.
The Art of Skiing was produced throughout 1941. It is interesting to note the now famous and trademark "Goofy yell" originated with Hannes Schroll. An accomplished yodeler, Schroll was recruited by Walt to record material for the cartoon. On December 19, 1941, a presentation of The Art of Skiing was held at the Fairmont Hotel in nearby San Francisco as part of the California Ski Association's first annual Skiers Ball. Walt and Lillian attended the event and introduced the cartoon. One newspaper account described the showing as the film's world premiere, but it had in fact been released to theaters as early as November 12, 1941.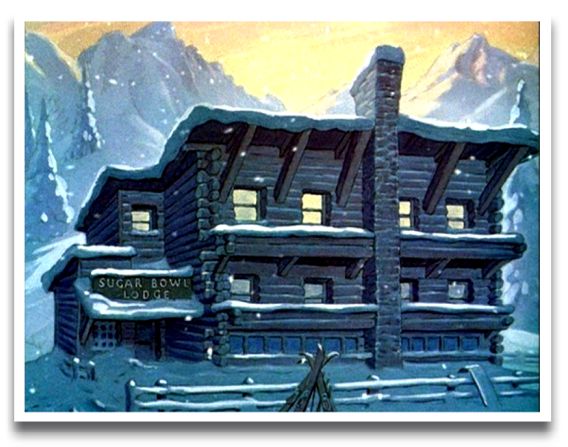 Despite turning away from the sport in later years, Walt remained a part of the resort for some time. He sponsored events such as the Disney Junior Challenge Trophy and the Sugar Bowl Perpetual Goofy Races for children. And the legacy of Walt's involvement with the resort remains apparent. In addition to Mount Disney, there are specific runs named the Disney Nose, the Disney Meadow, the Disney Return and the Donald Duck. A modernized lift replaced the original Disney Chair and is now called the Disney Express.
Walt revisited his interests in winter sports and skiing in the 1960s. He produced the opening and closing ceremonies of the 1960 Winter Olympics held near Lake Tahoe, California, and at the time of his death was formulating plans for a ski resort at Mineral King valley near Sequoia National Park, a project ultimately unrealized.
Special thanks to Diane Disney Miller, David Lesjak and also Jennie Bartlett from Sugar Bowl for generously providing assistance in my research efforts. 
Jeffrey Pepper is a journalist and historian who writes extensively about popular culture, and most especially about Walt Disney and the history of The Walt Disney Company. He is the author of the popular Disney-related website 2719 Hyperion. He is also the author of Boom-Pop!, a website devoted to 20th century pop culture, and the creator, author and designer of Hawkins Strongbox, a faux-history website with a distinct steampunk flavor.
On Saturday January 21 at 3:00pm, Urban Planner and Community Engagement Specialist Sam Gennawey hosts past Disney CEO and Museum Founder Ron Miller and architect David Price to discuss Mineral King: Walt's Lost Last Project, the innovative (and now-forgotten) year-round mountain resort that was one of Walt's last major projects.
Third Man on the Mountain screens daily through January at 1:00pm and 4:00pm (except Tuesdays, and January 21 and 29). Tickets are available at the Reception and Member Service Desk at the Museum, or online by clicking here.
Images above: 1) The Art of Skiing poster © Disney. 2) Hannes Schroll. Courtesy of Sugar Bowl Resort. 2) Sugar Bowl Lodge. Courtesy of Sugar Bowl Resort. 3) Lillian, Diane, Hannes Schroll and Walt at Sugar Bowl in 1941. Courtesy of the Walt Disney Family Foundation. 4) The animated Sugar Bowl Lodge, from The Art of Skiing. © Disney