Released 70 years ago in 1950, Beaver Valley was the second installment in the True-Life Adventures series. As Production Supervisor Ben Sharpsteen recalled to Disney archivist Dave Smith in 1972, the film "was Walt [Disney's] choice all over—'We'll make a picture about beavers.'"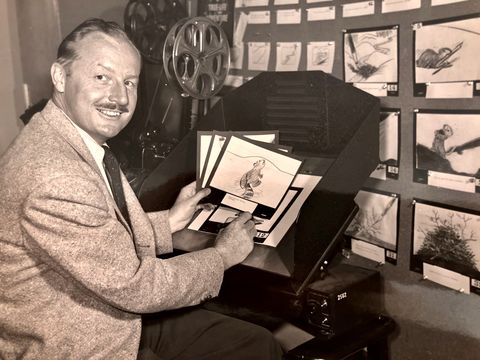 The Scenery of Beaver Valley
Set across all four seasons, the film takes audiences to a quiet basin in the Rocky Mountains where a menagerie of wildlife play out the story of survival. At the center are beavers, hardy and industrious in the construction of their dams. They were characters after Walt's heart, as Director James Algar later told Disney biographer Bob Thomas, "He loved the little beavers… that kept plugging away, plugging away, plugging away just like most of the rest of us."
Algar drew inspiration from popular nature writer Sally Carrighar whose 1947 book One Day at Teton Marsh chronicled the daily life of beavers, otters, moose, ospreys, and more along the banks of a small pond near Mt. Moran in Jackson Hole, Wyoming. Carrighar said of her experiences, "If you sit in one place for a year or so, the animals come to you." Algar later wrote, "That was our formula too."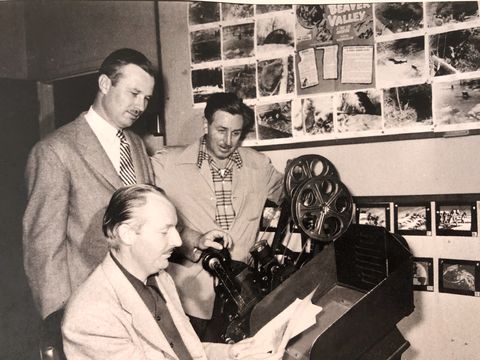 Finding Locations to Provide Inspiration for Beaver Valley
Following their successful work on the first True-Life Adventure, Seal Island (1948), nature photographers—and husband and wife—Alfred and Elma Milotte began scouting beaver locations in California, Idaho, Wyoming, and Montana. They discovered their subjects in the northern Rocky Mountains. "We found a stream that we knew had beaver," Elma Milotte later explained on the Disney Family Album. "We found fresh cuttings and fresh dams, and we spent many months there." Filming would stretch across a full year.
One piece of wisdom gained from Seal Island's production was the effectiveness of what Algar called "'side shots' of nature and her moods." Inserts of puffins or wildflowers had "little to do, technically, with the story of the seals," Walt had remarked, "and yet they are wonderfully interesting to look at and they definitely round out an audience's impression of that island."
After reviewing the Milottes' footage-in-progress in September 1948, Walt insisted on capturing other subjects within the valley. "He's more convinced than ever that the canvas should be enlarged to include all of nature," James Algar wrote to the couple, "[…] the badger, the raindrops spattering the pond, the flaming sunsets, the moon and the night reflection, the cute chipmunk, and the stormy lake." This wider view invited audiences to contemplate the interconnectedness of the creatures, habitat, and climate.
The "life cycle" narrative became standard for the True-Life Adventures. "Out of all this came a public awareness of a word called 'ecology,'" James Algar later wrote. "I don't really think we set out to put the movement in motion—we were just storytellers selling tickets in theaters. It's true enough that people began to learn something about animals and their ways…so, I suppose it could be said that we helped get 'ecology' going."
Disney Music for Kids: Nature's Soundtrack
Academy Award®-winning composer Paul Smith had been with Disney since 1934, contributing to many animated short and feature films. Beaver Valley (1950) was Smith's first work on the True-Life Adventures, and he humbly recalled to Disney author David Tietyen: "I responded to the pictures. I loved them, because of the nature."
After the film's release, James Algar penned an article for Film and TV Music discussing Beaver Valley's score. In contrast to Disney's animated films, where music was typically recorded first and the drawings subsequently matched, the True-Life Adventures were edited with voice-over narration before any music was added. Algar and crew planned in advance "so that the narrator is not talking in those sections where the music is to be most effective." This "compromise" allowed Smith's music to become a "storytelling voice" as "a second narrator."
Although the workflow differed from animation, Algar noted that "we synchronized our music to our screen pantomime more often and more closely than is generally done in live-action movies." A racoon snatching a crayfish, a salmon leaping from the depths, or an otter poking its head through ice were accentuated for humor, drama, and poignancy.
The scene where otters playfully belly-slide down a snowy hill became a favorite. Editor Stormy Palmer would later tell historian Les Perkins that "when you got music to it, it was a lot funnier than it was before. You would add what the musician wanted and it'd be like a completely different sequence." Roy E. Disney—who worked as an assistant director on later True-Life Adventures— recalled to Perkins that "[Paul Smith] wrote this little circus theme that became enormously popular, and it caught the mood of the otters so well." In 1950, the otter theme was adopted by the University of California Los Angeles band as their opening march—Paul Smith himself was a UCLA alumnus. With new lyrics, it became the popular tune "Jing-A-Ling Jing-A-Ling" and was recorded by popular artists.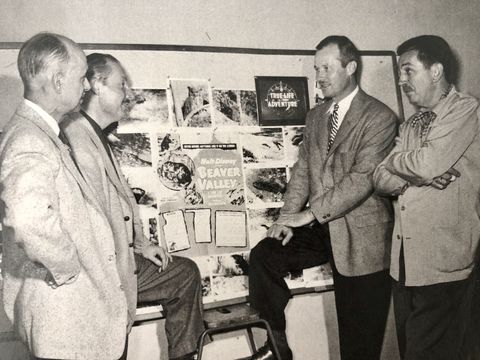 True Life Adventures of Beaver Valley: Awards and Amusement Parks
In the summer of 1950, amateur filmmaker Fred C. Ells had visited The Walt Disney Studios to share one of his own nature films, Garden Gangster, a story about the praying mantis. After viewing Beaver Valley, he shared his impressions with Movie Maker magazine. "This is the most beautiful nature film I've ever seen," Ells wrote, "and as you know I've tried a few myself. No amateur should miss seeing Beaver Valley!"
Like its predecessor Seal Island, Beaver Valley received the Academy Award for Best Documentary Short Subject. Though the Milottes never attended an Oscar® ceremony, Alfred was able to visit New York to accept an award for Beaver Valley from U.S. Camera Magazine. The couple were based in Montana photographing bears at the time, and when Alfred finally brought the trophy to the Disney Studios, Elma recalled Walt saying, "'Well, Milotte, this belongs to you. You should have this on your mantle.'"
In 1960, Disneyland Park's Rainbow Caverns Mine Train reopened as the expanded Mine Train Through Nature's Wonderland, with scenes inspired by the various True-Life Adventure films set within North America. "Beaver Valley" was the attraction's opening scene. As the little train emerged from a tunnel, passengers looked down on, as one newspaper described it, "replicas of the star actors in the… Beaver Valley film," laboring away in the fashion for which Walt admired them so.
With thanks to Laurie Algar, who kindly shared materials related to her father's Disney career.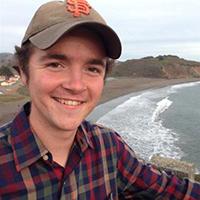 –Lucas Seastrom
Lucas O. Seastrom is a writer, filmmaker, and contracting historian for The Walt Disney Family Museum.
Image sources (listed in order of appearance):
James Algar holding story sketches, Beaver Valley (1950); courtesy of Laurie Algar; © Disney

James Algar showing film to a visitor and Walt Disney, In Beaver Valley (1950); courtesy of Laurie Algar; © Disney

(L to R): Ben Sharpsteen, James Algar, a visitor, Walt Disney, Beaver Valley (1950); courtesy of Laurie Algar; © Disney
Visit Us and Learn More About Disney's Amazing History 
Originally constructed in 1897 as an Army barracks, our iconic building transformed into The Walt Disney Family Museum more than a century later, and today houses some of the most interesting and fun museum exhibitions in the US. Explore the life story of the man behind the brand—Walt Disney. You'll love the iconic Golden Gate Bridge views and our interactive exhibitions here in San Francisco. You can learn more about visiting us here.