One Saturday morning in 1953, artist Herb Ryman sat down in front of Walt Disney and started to sketch. He had two full days to create a visual concept depicting an idea of Walt's: an amusement park that would appeal to both children and adults. Roy, Walt's brother, was set to leave for New York that Monday—ready to pitch the project to financial backers—and Walt wanted Ryman to put pencil to paper in order to illustrate what his park might look like in reality.
"The one thing he insisted upon was that there be a very, very conspicuous castle, because the castle is gonna be the symbol of this whole place," Ryman later remembered. He drew a large central fairytale building at the back of the Park, surrounded by walls and inspired by the Neuschwanstein castle in Germany. "I made it to help sell my friends Dick Irvine's and Marvin Davis's idea—to base it on King Ludwig's Bavarian castle," he said.
The Imagineers panicked; Walt was due any moment.
From Sketch to Model
Later on, Imagineer Fred Joerger created a model based on Ryman's sketches, which had developed over time. "When I saw it," admitted Ryman, "I said 'Well… I don't like it.'" Ryman studied Joerger's model, which was built to split in half, and said, "What if we take it and move it around like this?" He picked up the top half of the castle and turned it to face the other way, so that the back of the model became the front.
The Imagineers panicked; Walt was due any moment. "Turn it around, put it back," Ryman recalled them saying. But when Walt entered the room, he was impressed. "Walt looked over and he goes, 'Hey, that looks good—let's do it that way!'" explained Tim O'Day, author and former public relations executive for The Walt Disney Company.
Walt had other thoughts about the design of the castle, too. "Walt liked the model with the blue roof," remembered Disney Legend Harriet Burns. "He thought it would blend in with the sky, making the castle look taller." In fact, varying shades of this bright blue have been used on the roofing and turrets of every Disney castle since.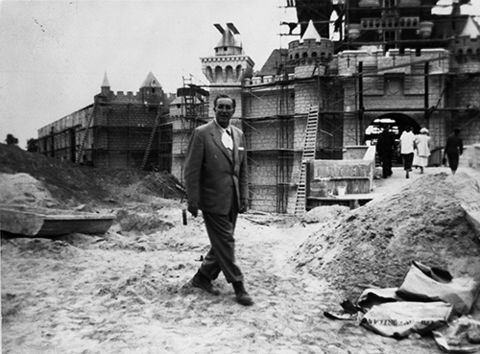 The Castle Becomes a Beacon
This castle wouldn't simply exist to look good or to impress guests—it served an important purpose, too. "Make it tall enough to be seen from all around the Park," Walt had instructed; "It's got to keep people oriented."
In other words, the castle needed to act as Disneyland's beacon, which Disney Legend Marty Sklar described as a "visual target, designed to lead visitors clearly and logically through an experience." To this day, in Disney Resorts worldwide, each castle retains its role of an easy-to-spot central hub that helps guests navigate more efficiently.
The Disney Castle

Silhouette
The Disney castle silhouette is a famous icon that is instantly recognizable as the logo of The Walt Disney Company and is often used as an emblem of the company's theme parks, movies, and other media. The Disney castle silhouette is a simple, elegant design featuring the silhouette of the castle with a series of fireworks exploding in the background.
The Disney castle silhouette was first used in the opening credits of Disney movies in the 1950s and 1960s, and it has since become a staple of the company's branding. The design has been modified and updated over the years, but the basic silhouette remains the same, and it is now one of the most iconic corporate logos in the world.
The Disney castle silhouette is often associated with the company's commitment to creating magical and memorable experiences for its guests and viewers, and it has come to represent the spirit of imagination and creativity that has made the Disney brand so beloved around the world.
Opening Day
On July 17, 1955, Disneyland opened its gates to guests for the very first time. On that day, Rob Fischle, a Disneyland Security Cast Member, was one of the very first children to run through Sleeping Beauty Castle. He'd looked forward to seeing Disneyland in person for months: "Every time we went to the beach we'd stick our heads outside the car and look to see what we could see… something new, something different…but it was still very hard to imagine anything like that. We had no concept of what a Disneyland would be…"
On the live broadcast of opening day, children followed Mickey Mouse and other characters over the drawbridge and into Fantasyland, allowing viewers at home to have their first extended glimpse of Sleeping Beauty Castle. "A few words of dedication for the happiest kingdom of them all: Fantasyland," Walt said with a smile. Television host Ronald Reagan picked up where Walt left off, describing the castle and its nearby attractions as "a wondrous trip through the Disney imagination."
Sixty-three years later, guests from all over the world continue to take the same wondrous trip—with Sleeping Beauty Castle at the center of it all.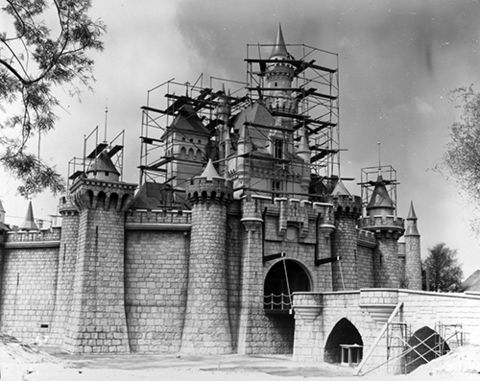 The Royal Residents
Although it's hard to picture Disneyland's now-classic castle with any other inhabitant than Aurora, the titular princess from Sleeping Beauty, it was not initially designed with Aurora in mind. "In early planning and written material, it is designated as 'the Medieval Castle' and then 'Fantasyland Castle' and even 'Robin Hood Castle'," explained author Jim Korkis.
It made sense for the castle to exist as the 'home' of Disney royalty. Biographer Michael Barrier wrote: "Wherever possible, Disney linked an attraction to a film, especially an animated film…" During an early episode of Walt's weekly ABC television show, Walt himself suggested that the castle would belong to Snow White. But the decision was eventually made to name the construction after the upcoming Sleeping Beauty (1959) film. As the movie itself would not be released until 1959, it's arguable that Walt's decision to bring it into the public consciousness four years prior was nothing short of smart marketing.
—Sophie Jo
Sophie Jo is a writer and long-time Disney fan from England. Find her tweeting @sophiejowrites or happy-crying over 'it's a small world.'
Image Sources*: 
Walt with Disneyland concept art, 1954; courtesy of the Walt Disney Archives Photo Library, © Disney.

Sleeping Beauty Castle

construction, 1955; courtesy of the Walt Disney Archives Photo Library, © Disney.

Walt in front of construction on Sleeping Beauty Castle, 1955; courtesy of the Walt Disney Archives Photo Library, © Disney.
*Cited in order of appearance.