A Pictorial Look Back At The Happiest Birthdays on Earth Highlights from Disneyland's First Decade of Celebrations
Disneyland celebrates its 58th birthday today, July 17, 2013. In honor of this momentous occasion, let's take at look back at some rare images from Disneyland's birthday celebrations during its first fabulous decade. (All images below are courtesy The Walt Disney Company, ©Disney.)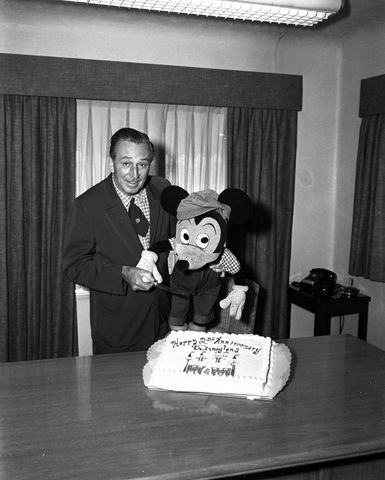 1957 – Train Engineer Mickey (Who joined Walt in the cab of the E.P. Ripley during Disneyland's opening ceremonies) helps Walt Disney cut the cake on Disneyland's 2nd Birthday, July 17, 1957.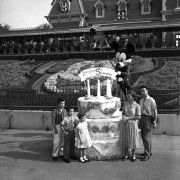 1960 – 5 year old Diane Dickerson and her family from Las Vegas, Nevada help Mickey Mouse cut a 5 foot tall cake in honor of Disneyland's 5th Birthday on July 18th, 1960. Even though Walt was not present on that day, he did write the following statement that was read to the Dickersons and Disneyland visitors on that day: "Everyone at Disneyland is most pleased and grateful for the support the public has shown toward the park. We all intend to work toward adding to and improving Disneyland, as we have through the first five years, so that we will continue to merit this appreciation."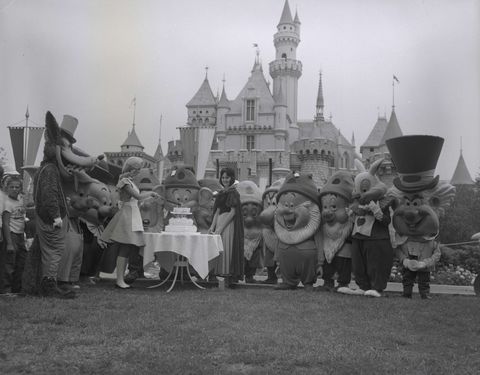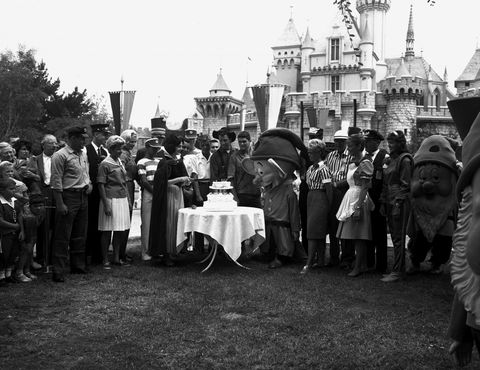 1962 – Two rare photos showing Cast Members and favorite Disney Characters gathered around Disneyland's 7th birthday cake in front of Sleeping Beauty Castle. In the first photo, curious guests look on as Snow White and a group of Cast Members representing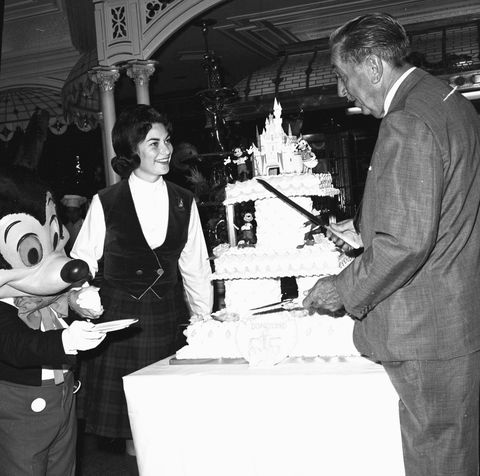 1965 – Miss Disneyland Tencennial Julie Reihm and Mickey Mouse join Walt Disney in cutting Disneyland's 10th Anniversary cake at the Disneyland Tencennial Celebration Press Party, held in the newly opened Plaza Inn Restaurant.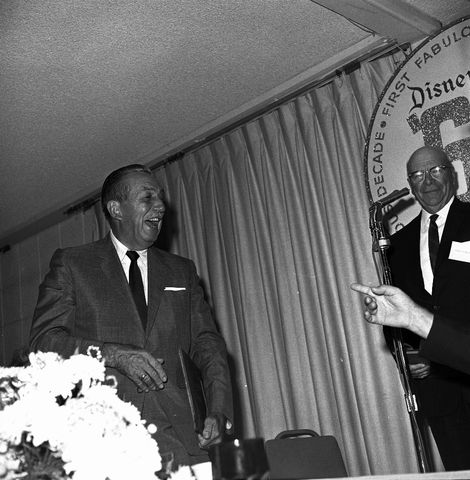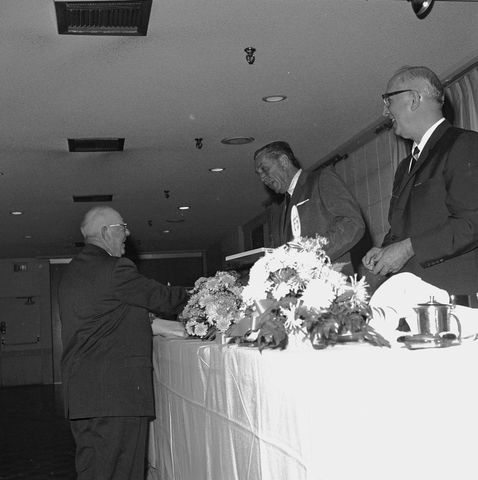 1965 – On July 17, 1965, opening day Disneyland Cast Members gathered in the Magnolia Room of the Disneyland Hotel to celebrate Disneyland's Tencennial. Walt and Roy Disney passed out plaques recognizing this special group of people who became members of the exclusive "Club 55." In order to belong to "Club 55," you had to have started working at Disneyland in 1955, or in the case of some members, even earlier during the planning and construction of the Park.  Walt addressed the group reminiscing about the difficult early days, saying, "A lot of people didn't believe in what we were doing... my brother had the worries of getting this money and fighting the bankers and things... but we ran out of money... a lot of people don't realize that we had some very serious problems here, keeping this going... getting it started... But at this time, ten years after opening, I want to join my brother in saying 'Thanks to you people who have been here with us, and have been part of making this thing come across'..."  Walt wrapped up his remarks with his now famous statement, "But I want to leave you with this thought... that it's just been sort of a dress rehearsal, and we're just getting started. So if any of you start resting on your laurels, just forget it."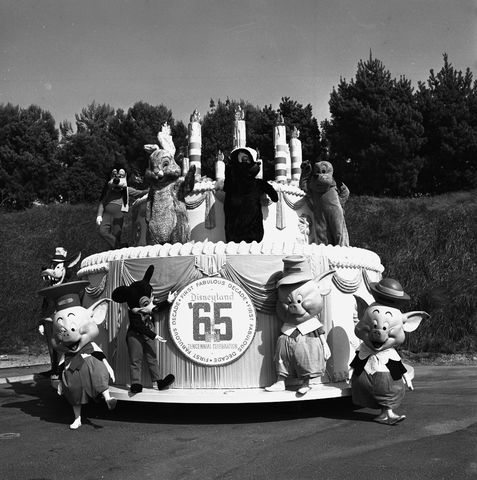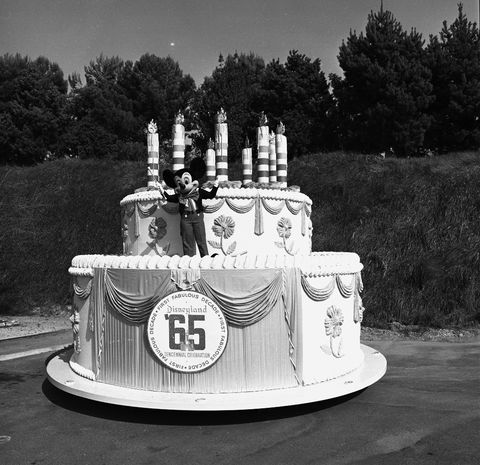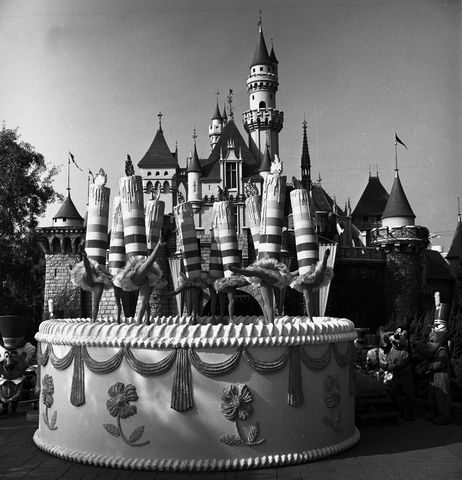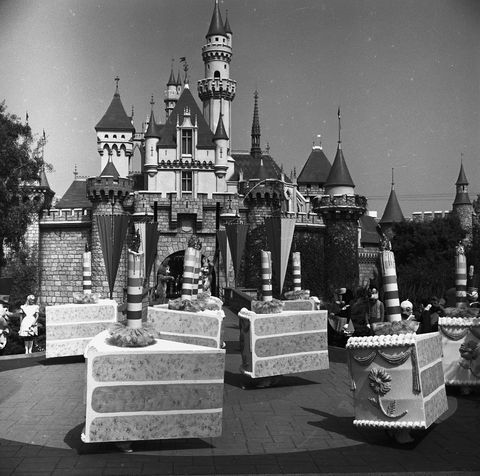 1965 – This rare collection of photos show Mickey Mouse and his fellow Disney Characters showing off Disneyland's Magical 10th Anniversary Cake. This special Cake, introduced in the Disneyland Tenth Anniversary TV Special, featured dancing cake slices and pirouetting candles.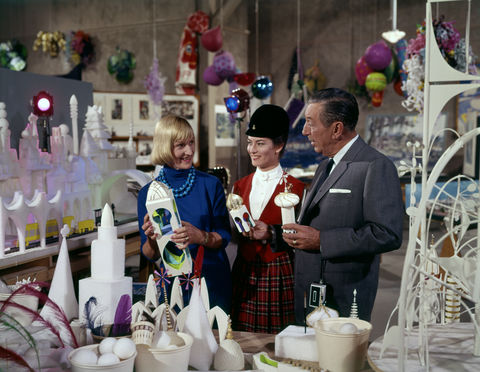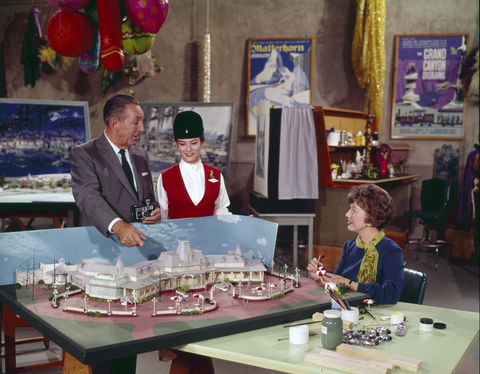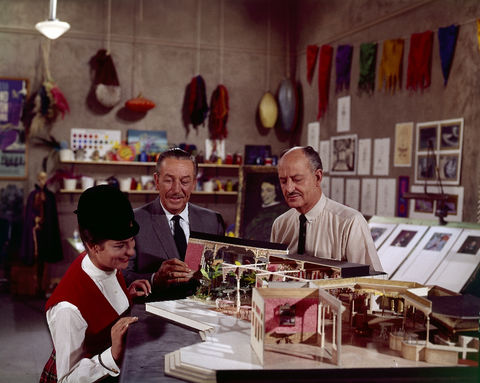 1965 – Walt Disney takes Julie Reihm, Miss Disneyland Tencennial, on a tour of WED Imagineering during the Disneyland 10th Anniversary Special, to preview the many adventures and attractions he was planning for the Disneyland Tencennial Celebration and beyond. Walt introduced Julie to many Disney Legends during this tour including the following:
Walt and Julie visit with Harriet Burnes, "The First Lady of Imagineering", as she puts the finishing touches on the Plaza Inn Restaurant Model.
Imagineering Legend John Hench shows Julie and Walt the intricate interior model for the new Plaza Inn Restaurant, one of the many new features to debut during Disneyland Tencennial Celebration.
Legendary artist Mary Blair discusses the features of new fanciful façade for the"it's a small world" attraction with Julie and Walt. The beloved attraction was designed for the 1964-65 New York Worlds Fair, and an enhanced and expanded version of the ride would debut at Disneyland in 1966 with the intricate façade and a beautiful topiary garden.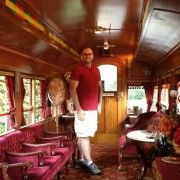 Joseph Titizian (pictured on the left on the Lilly Belle at Disneyland) is an inaugural member of The Walt Disney Family Museum volunteer team. He is a regular contributor to this blog, and has developed continued education courses for the volunteer team.