Cost
FREE for members, Sign-up Required
$5 for non-members
Date
Thu, Apr 22 | 5:30pm PT
Spring has sprung and the hills are again full with flowers. Celebrate Earth Day with a fun and interactive workshop with nature artist John Muir Laws and learn how to block in the basic shapes, foreshorten flowers, and use watercolor or colored pencils to bring out the beauty in your own nature journal.
Supplies List
Drawing Paper

Pencil

Watercolors (Optional)
Registration
Registration for this program will open to the public starting Monday, April 5 at noon.
Members receive priority access for registration to these programs. A limited number of spots for each program are reserved for members only on a first-come, first-served basis. To get priority access to future programs, join as a member today.
Q&A and Requirements
A list of materials needed for this workshop will be emailed to attendees the week of the event. Questions can be submitted during the webinar through Zoom's Q&A function. Due to anticipated demand and limited Q&A time, not all submitted questions will be answered.
All participants must sign up here by noon PT on Wednesday, April 21. Participants must have a Zoom account to attend the webinar. A link to the webinar and instructions for joining will be sent via email prior to the event.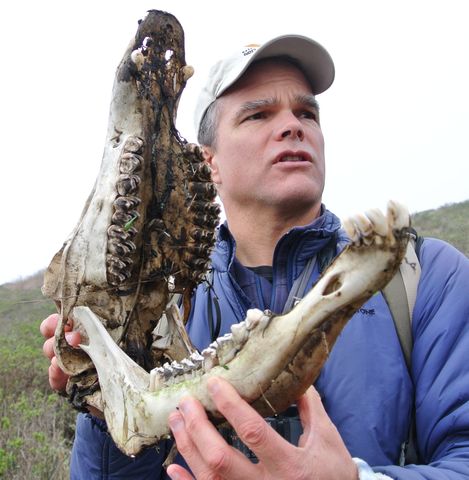 About the Speaker
John Muir Laws is a principal leader and innovator of the worldwide nature journaling movement. Laws is a scientist, educator, and author who helps people forge a deeper and more personal connection with nature through keeping illustrated nature journals and understanding science. His work intersects science, art, and mindfulness. Trained as a wildlife biologist and an associate of the California Academy of Sciences, he observes the world with rigorous attention. He looks for mysteries, plays with ideas, and seeks connections in all he sees. Attention, observation, curiosity, and creative thinking are not gifts, but skills that grow with training and deliberate practice. As an educator and author, Laws teaches techniques and supports routines that develop these skills to make them a part of everyday life.
In 2009, he received the Terwilliger Environmental Award for outstanding service in Environmental Education. He is a 2010 TogetherGreen Conservation Leadership Fellow with the National Audubon Society. He was the 2011 artist for International Migratory Bird Day. He has written and illustrated books about art and natural history including Sierra Birds: A Hiker's Guide (2004), The Laws Guide to the Sierra Nevada (2007), The Laws Pocket Guide Set to the San Francisco Bay Area (2009),
The Laws Guide to Drawing Birds (2012), and The Laws Guide to Nature Drawing and Journaling (2016). He was awarded the 2020 Bay Nature Local Hero award for his work in environmental education.
He is a regular contributor to Bay Nature magazine with his "Naturalist's Notebook" column. He is the primary author and editor of the curriculum: Opening the World through Nature Journaling. This free teaching guide is kid-tested and teacher-approved, and integrates science, language arts, and visual arts through keeping a nature journal. He is the founder and host of the Bay Area Nature Journal Club, which puts on monthly free nature sketching workshops, field trips, and events—connecting people with nature through art.
Help Us Continue Our Digital Efforts
Since opening over 10 years ago, we have sought to make the museum a place where our guests could find animation, innovation, and inspiration and immerse themselves in the remarkable life story of Walt Disney—the man who raised animation to an art, tirelessly pursued innovation, and created a distinctly American legacy, transforming the entertainment world.
Over the past year, we have increased our digital presence to stay true to our mission. Your donations ensure that we can continue opening our museum virtually to the world, and that future generations can continue to be inspired by Walt Disney's life and legacy.