Date
Sat, Feb 9 | 11am & 2pm
Cost
11am: SOLD OUT | 2pm: SOLD OUT
$40 members | $35 student and youth members
$50 non-members | $45 student and youth non-members
Join Antonio Pelayo, one of the uniquely talented Ink & Paint artists at The Walt Disney Studios, for an interactive workshop in which students will learn about the inking and painting of animation cels, a fading art form that was once an essential component of the animation industry. With Pelayo's guidance, learn techniques originally used by Walt's Ink and Paint artists when they created classics, such as the Silly Symphonies and the original Mickey Mouse shorts. After following along with Pelayo's step-by-step process, you will leave class with your own cel, all done in the time-honored tradition of Walt's Ink & Paint Department. All workshop supplies will be provided.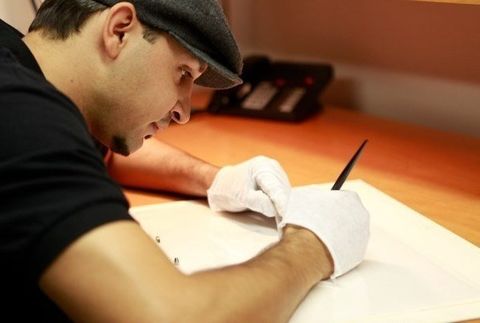 About the Artist
Antonio Pelayo was born in Glendale, California and raised for most of his childhood in the Mexican countryside. Moving from an American suburb to a tiny village kept his world unstable—yet that very instability made him into the artist he is today. Pelayo sought out the work of other Mexican artists, such as Diego Rivera, Frida Kahlo, and José Clemente Orozco, all of whom revealed the depth of Mexican art to Pelayo, especially in the way said art formed its own movement from the shadows of the Catholic Church and into the modern world. Though his mastery of pencil and paper began in the nave of an old country church in Mexico, he developed his skills even further in America. The art of Frank Frazetta and Boris Vallejo, as well as the surreal work of H.R. Giger, blended with Pelayo's Mexican childhood, making him into a true American artist.
In 1994, Pelayo joined The Walt Disney Studios' illustrious Ink & Paint Department, where he learned traditional celluloid animation techniques. Though once big enough to occupy most of a single building on The Walt Disney Studios' lot, the department dwindled during the advent of digital animation and is now housed in a tiny room—a vestige of the "Golden Era" of American animation. In this room, amidst some 4,000 different types of paints and inks, Pelayo found shelter in a company that, to this day, continues to value creativity, raw talent, and imagination.