Cost
$15 members
$25 non-members | $20 seniors and students (with valid ID)
$15 youth | FREE for children ages 5 and under, Registration Required
Join us for an in-depth presentation and panel discussion about one of Walt Disney's personal airplanes with former Disney pilot Mark Malone, archivist Ed Ovalle from the Walt Disney Archives, and the Palm Springs Air Museum's Vice Chairman and Managing Director Fred Bell.
On-Sale Information
Tickets for Inside Walt's Plane will be available as follows:
Walt's Circle Donors: Reserve tickets beginning Tuesday, May 16 at noon PST by emailing membership@wdfmuseum.org.
Supporter, Founding, and Friend-level members: Reserve tickets beginning Wednesday, May 17 at noon PST by emailing membership@wdfmuseum.org.
All member levels: Reserve tickets online beginning Thursday, May 18 at noon PST via the Member Portal.
Public (non-members): Remaining tickets are available online beginning Friday, May 19 at noon PST.
COVID Safety Information
Masks are no longer required, but are strongly recommended, while attending programs in the theater and Learning Center. For more information, please visit our Welcome Back page.
About the Speakers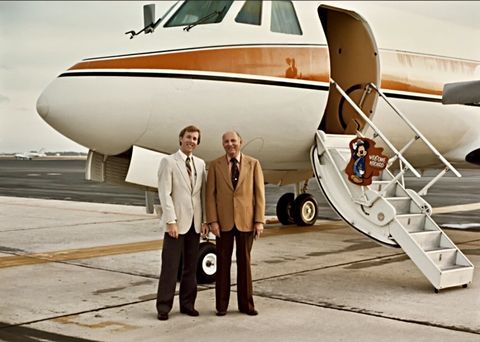 Mark Malone
Mark Malone is the son of Charles A. Malone, Jr., who was Walt's personal pilot and started the Walt Disney Aviation Department in 1962.
Mark flew as a passenger on Walt's Gulfstream on its very first flight in 1964 and dozens of times since, including to Orlando during the grading and construction of Walt Disney World Resort.
From 1979 until its final flight for  Walt Disney Productions, Mark served as a pilot flying with his dad until Charles retired in 1982, and Mark continued as Captain on the Gulfstream. Later on, Mark was asked by then Disney CEO Michael Eisner to become chief pilot in Orlando when the Gulfstream's base was relocated from Burbank, but he chose to remain near his family roots in Southern California.
Mark's 43 year flying career after Disney included being Barry Diller's pilot for 11 years at 20th Century Fox until the airplane was moved to New York, then 11 years as J.B. Nethercutt's personal pilot at Merle Norman Cosmetics until Nethercutt's death. For the past 13 years, Mark has been the personal pilot to the founder of United Healthcare in a family flight department flying modern Gulfstream jets.
The Malone family of pilots also includes Mark's mother Bette and his son Miles who is a Captain flying wide-body Gulfstreams for SpaceX. Mark and his son share a Beechcraft Travel Air that was one of the first airplanes that Walt chartered in 1962 with Mark's father at the controls.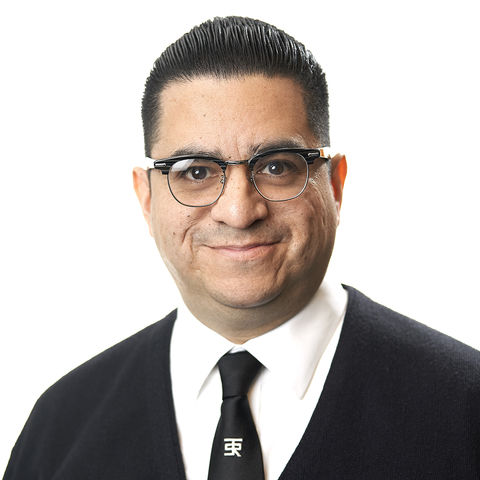 Ed Ovalle
Since joining the staff of the Walt Disney Archives in 2006, Ed Ovalle has been committed to the department's mission of collecting, preserving, and making available for company researchers the history of Walt Disney and the company he founded. He assists Disney employees, Cast Members, and Imagineers, as well as company authors and filmmakers, with projects and inquiries related to Disney's rich legacy—consulting on feature films, publications and media, home entertainment releases, documentaries, theme park and resort experiences, consumer products, and more. Ovalle also supports a variety of company events, special tours, film screenings, and Walt Disney Archives exhibitions across the globe, including for the popular D23 Expo in California where Walt's plane was briefly displayed in 2022 before being moved to the Palm Springs Air Museum for long-term exhibition and restoration. In 2015, he served as Lead Archivist on the renovation of the 3H Animation Building wing at The Walt Disney Studios in Burbank, California, faithfully recreating and restoring Walt Disney's legendary office suite to its original location—complete with original furnishings and personal items from the company's founder. He began his Disney career in 2001 as a Senior Clerk in the Corporate Legal Main Files department.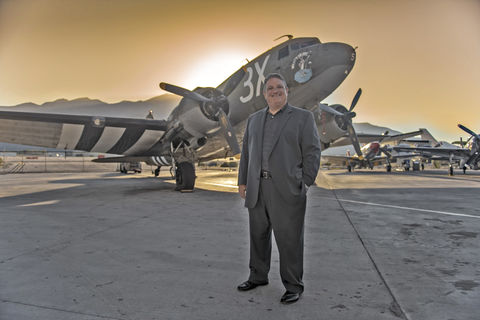 Fred Bell
Fred Bell began his career with the SeaWorld® theme parks as an Operations Manager.
Moving on as an Executive with Edwards Theatres as a Vice President in the Operations Division of the 150 unit $330M chain—he completed the company's aggressive expansion plans and was part of the team. Bell worked with IMAX theaters where he pioneered the technology creation, proof of concept, and use of commercial film product blended with their traditional film offerings. Bell wrapped up his entertainment career on the team that designed, developed, constructed, and managed the temporary 60,000 square foot, 600-seat IMAX theater in Los Angeles for Walt Disney Animation Studios' premiere of Fantasia / 2000 (2000).
After retiring from 23 years in the destination entertainment business, Bell served as the Chief Executive Officer (CEO) of the Building Industry Association Desert Chapter. He was key in developing the California Green Builder initiative which became the industry's flagship renewable energy program for the State of California. Bell received the California Building Industry Association's (CBIA) Chairman's Award in 2008—the only time the award has been given since the organization's inception in 1943—and was named the Building Industry Association of Southern California's CEO of the Year in 2008.
For the past 13 years, Bell served as Chief Operating Officer (COO) of Nobell Energy Solutions (NES), a renewable energy company focused on solar power generation. Bell has nearly 30 years of construction development experience. With that knowledge, he has developed more than 8 megawatts of solar power facilities for individual commercial clients in the southwestern United States.
An active aviation enthusiast, he has also worked with the Palm Springs Air Museum. Since joining its Board in 2007 he has served as a Vice Chairman of the facility. Bell is actively involved in the day-to-day operations as a Board-managed facility. Under Bell's leadership, the Museum has expanded to nearly one hundred thousand feet on 13 acres, has over 75 aircraft now in its collection, awarded an Emmy 2022, and been named one of the top 14 air museums in the World by CNN.