Date
Fri, Feb 12 | 4:30pm PT
Cost
FREE for members | $5 for non-members
Celebrate Galentine's or Valentine's Day with a glamorous presentation with Bésame Cosmetics Founder and Makeup Historian Gabriela Hernandez. Learn about the extensive research behind Bésame's exclusive Disney limited-edition collections, including Disney Snow White – The 1937 Collection (July 2017), Mickey Mouse (November 2018), Disney Sleeping Beauty – The 1959 Collection (August 2019), and the recently released Disney Mary Poppins Collection (November 2020). Be sure to visit our store to purchase Disney Bésame products featured in the presentation.
Registration
Registration for this program will open to the public starting Tuesday, February 2 at noon.
Members receive priority access for registration to these programs. A limited number of spots for each program are reserved for members only on a first-come, first-served basis. To get priority access to future programs, join as a member today.
Q&A and Requirements
Questions can be submitted during the webinar through Zoom's Q&A function. Due to anticipated demand and limited Q&A time, not all submitted questions will be answered.
All participants must sign up by noon Pacific Time on the day prior to the event. Participants must have a Zoom account to attend the workshop. A link to the webinar and instructions for joining will be sent via email prior to the event.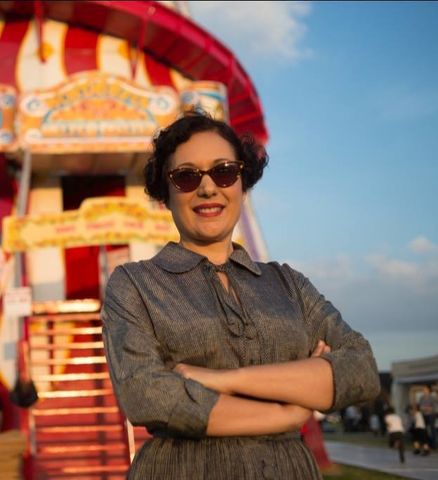 About the Speaker
When she was a little girl in Buenos Aires, Argentina, the beauty rituals of Gabriela Hernandez's older relatives fascinated her. The Burbank-based artist spent years studying vintage cosmetics and after graduating from Art Center College of Design, she began designing makeup packaging. She authored the book Classic Beauty: The History of Makeup,  and in 2004 she produced her version of a 1920s lipstick, launching and started her own cosmetics company, Bésame Cosmetics. Today the company manufactures mascara, lipstick, and powders; offers period beauty classes; and runs a boutique where patrons—including makeup designers on period films and TV shows—can immerse themselves in the charms of earlier generations.
Help Us Continue Our Digital Efforts
Since opening over 10 years ago, we have sought to make the museum a place where our guests could find animation, innovation, and inspiration and immerse themselves in the remarkable life story of Walt Disney—the man who raised animation to an art, tirelessly pursued innovation, and created a distinctly American legacy, transforming the entertainment world.
Over the course of our closure, we have increased our digital presence to stay true to our mission. Your donations ensure that we can continue opening our museum virtually to the world, and that future generations can continue to be inspired by Walt Disney's life and legacy.