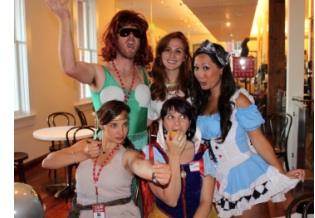 It truly was a Museum full of characters. This past Wednesday night, the Yelp Elite gathered at The Walt Disney Family Museum, in the Presidio of San Francisco, for an animated evening of fun, food, and a little bit of dress-up!
We saw Pinocchio flirting with Tinker Bell, and Snow White sipping on Silverado wines with Sleeping Beauty, while The Mad Hatter and Goofy pawed at Wolfgang Puck's finger foods. Alice--who traveled all the way from Wonderland--fraternized with Princess Belle and The Little Mermaid, as an army full of Mickeys and Minnies popped TCHO Chocolates all night.
To read (or post your own) Yelp reviews of The Museum, click here and here. For more photos from the event, head over to Yelp's Blog or their Flickr. We've posted a handful of our favorite photos below!
All images courtesy of The Walt Disney Family Museum ©2010