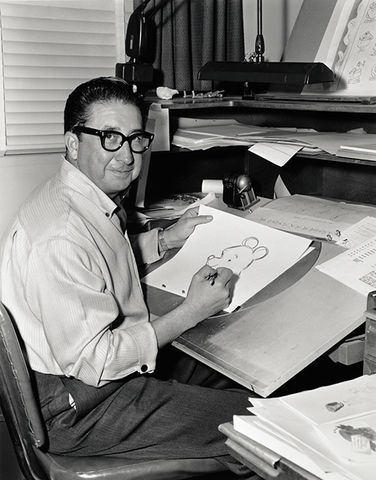 On September 10, 2017, Francis Xavier Atencio—who preferred the simple moniker "X"—passed away at the age of 98. The former animator and Imagineer was one of Walt Disney's master creative forces.
In his later years, X would remember his first encounter with Walt to historian Jeremie Noyer:
"The first time I met Walt is a funny story. I was waiting for the elevator to go up to the second floor and Walt came by. He was going to get on the elevator too. I said, "Hello, Walt," and he said, "Hello, X!" I thought, "He knows my name!" I didn't think he knew who I was. So I almost dropped on my knees and kissed his boots. I was so thrilled."
From an apprentice animator under Woolie Reitherman on Pinocchio (1940) to the picket lines of the labor strike in 1941, X's Disney career ran deep. After his time in the service during the Second World War, he returned to the Studios where he'd remain for the next four decades. Like many of Walt's greatest artists, X was versatile, a jack-of-all-trades. This adaptability served him well in animation as he worked on a diverse array of projects from Toot, Whistle, Plunk, and Boom (1953) to the opening credits of The Parent Trap (1961), which were animated in stop motion. But his greatest work was yet to come.  
WED Enterprises, which came to be known as Walt Disney Imagineering, seemed to come into being one person at a time, each addition hand-picked by Walt from fields within and without the Studios. Walt was building what he sometimes called his creative "sandbox". In 1965, after development on a new animated project fizzled out, Walt reassigned X to the WED team. "I've been wanting you to get over to WED for a long time," Walt told him. It had been some ten years since Disneyland first opened, but as Walt knew, some of the Park's greatest accomplishments were still ahead.
The creative setting at WED was unique. At first, X wasn't sure just what exactly he was meant to be doing, until a few weeks later when Walt gave him a new assignment:
"Walt called me one day and said, 'I want you to do the script for the Pirates of the Caribbean.' I had never done any scripting before… But I said, "All right. Let's give it a try." Walt Disney had a way of finding in his people talents that we didn't even know we had ourselves."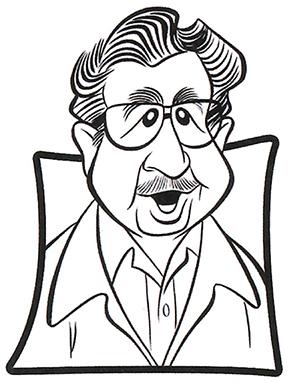 With a little encouragement, X set out to develop the Pirates script, synthesizing an overwhelming array of characters and scenes into a concise, masterfully executed storyline. When X recommended the idea of song for the pirate attraction, Walt quickly agreed and Atencio again found himself in a new role, this time as a songwriter. It is in the immortal turns of phrase from the lyrics of "Yo Ho (A Pirates Life for Me) and "Grim Grinning Ghosts" that we best remember X's genius.
Though he was rightfully best known as a storyteller, perhaps Walt Disney's greatest skill was in the development of creative talent. Bringing out the best in his team, Walt challenged and inspired them to keep "plussing," making their work better than what they had thought it could be. In X Atencio we see the very embodiment of these values. X is forever an inspiration to all who dream and work to bring those dreams to fruition, no matter their medium or level of experience. "Just give it a try," as X would say, and the only limit is the imagination. 
Images: 1) X. Atencio drawing Winnie the Pooh (Winnie the Pooh and the Honey Tree, 1966); courtesy of the Walt Disney Archives Photo Library, © Disney. 2) Caricature courtesy of Peter Emslie.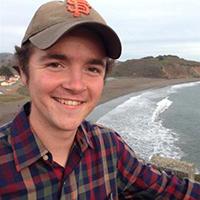 Lucas O. Seastrom is a writer, filmmaker, and contracting historian for The Walt Disney Family Museum.