Devoted family man Walt Disney sometimes laughingly observed that he was outnumbered at home. Surrounding him were his wife, two daughters, his devoted cook and, as Walt wryly noted, even the family dogs were female. Perhaps the predominance of women in the Disney household is one reason Pollyanna appealed to the great showman, for it is a story filled with strong female characters. Included among the film's powerful females are busybody Mrs. Tarbell (played by character actress Anne Seymour), Nancy the empathetic maid (Nancy Olson, Academy Award® nominee for Sunset Boulevard, 1950), Mrs. Lagerlof the strong-willed cook (Reta Shaw) and Angelica the sourpuss maid (Mary Grace Canfield, most famous as Ralph Monroe on TV's Green Acres, for whom Pollyanna writer-director David Swift specially wrote the part). Just as in Walt's household, even Aunt Polly's dog Elizabeth is female. But the movie's most compelling female roles are Aunt Polly, Mrs. Snow and of course the titular "Glad Girl" herself, each adroitly performed by a trio of gifted actresses handpicked by Walt Disney. 
Walt's 1960 film tells the story of Pollyanna Whittier, an orphaned girl who comes to live with her wealthy aunt, Polly Harrington, in the small 1912 town domineeringly controlled by the older woman. The town, not so coincidentally, is named Harrington (changed from the name Beldingsville in the original book by Eleanor H. Porter to underscore Aunt Polly's control over the community). "Around the turn of the century," Walt noted, "towns like Harrington were fairly common—communities that were founded by, built by and controlled by one family. Nowadays we don't see much of that, probably because progress just won't stand for it. But in the case of Harrington there was another reason—and that was Pollyanna." Arriving in the midst of this troubled town, the unassuming little girl has devised a playful way to deal with the trials and tribulations of life: always finding something to be glad about, the "Glad Game" which she unpretentiously shares with the townspeople she meets.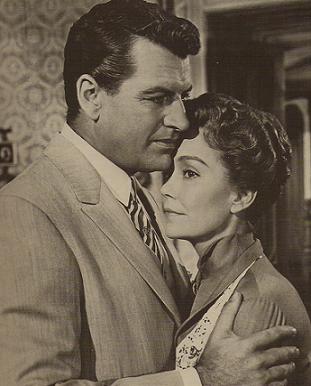 Running the town with an iron fist, Harrington's leading lady is portrayed by Jane Wyman, the accomplished film actress who gained even greater fame later in life as the ruthless matriarch in the 1980s TV drama Falcon Crest. In Wyman's skillful hands, Aunt Polly's dictatorial power is exhibited with an understated approach, making it all the more effective. Jane was a versatile actress who could play everything from an unyielding farm wife in The Yearling (1946, a role that earned her one of her four Academy Award® nominations), to the deaf-mute country girl in Johnny Belinda (1948), the role that won her an Oscar® as Best Actress. In Pollyanna, Jane's enactment is balanced and rounded, showing a glimmer of the goodness underneath her hard exterior—a goodness Pollyanna ultimately brings out in full. Wyman's Aunt Polly is neither villain nor caricature; her humanity is especially revealed in the affecting scene where Aunt Polly, alone and gazing at her mirror reflection as she brushes her hair, lets her guard down, exposing a crack in her otherwise rigid demeanor. That Aunt Polly and her niece have similar first names is a clue that they are actually similar. Pollyanna, also a strong and determined character, brings out the love in her aunt that the older woman buried long ago.
Mrs. Snow is another powerful female but her strength is turned inward and has become self-destructive. This crotchety hypochondriac has given up on life. Mrs. Snow has not only convinced herself she's an invalid, she actually longs for death. Only Pollyanna challenges Mrs. Snow's stance, inviting the self-centered figure to constructively direct her considerable energy outward in the service of others. Deftly conveying Mrs. Snow's strength (that has, in reality, mutated into weakness) is Agnes Moorehead, the actress of whom Orson Welles quite accurately said, "She can play anything." Agnes was nominated for five Academy Awards throughout her film career, including for Johnny Belinda, in which she appeared with Pollyanna co-star Jane Wyman. Pollyanna premiered three years before the 1964 debut of Bewitched, the TV series in which Agnes achieved television immortality as witchy mother-in-law Endora. "She was so wonderful and powerful," recalled Hayley Mills of Moorehead's Pollyanna performance, "and she gave you so much to work against."
By design and dramatic purpose, however, it is Pollyanna who is the strongest woman in the film—and indeed the movie's strongest character of any kind, male, female, adult or child. "I loved the script and was really looking forward to playing that part," Hayley later revealed, "[with] so many great scenes to get your teeth into." Walt didn't want his Glad Girl to be sticky-sweet; he wanted her to be an authentic 12-year-old with an unforced optimism. Writer-director David Swift took pains to make Pollyanna a three-dimensional character, and he succeeded. "Our Pollyanna isn't the same as in the book," Hayley noted. "This girl sees the nicer side of life, but she's a real girl too. She can stick out her tongue when she is angry. She is much more believable." But as beautifully as the film is produced, written and directed, it is Hayley's remarkable acting skill that puts the character over. Jane Wyman commented that Ms. Mills "was a joy to us all. What a person to act to. She acts right back." 
Though fictional, the Pollyanna characters of Aunt Polly and Mrs. Snow embody a certain strong female figure, those who oppress others through the forcefulness of their personalities. And then there is Pollyanna herself. As depicted in Walt Disney's film, this young girl is shown to have true power, a power that is nurturing, affirming, healing, other-oriented, a force that is actually more potent than Aunt Polly's domineering rule. That power is of course love. This power is prized in many Disney films but its embodiment is nowhere more direct and more delightful than in Pollyanna. Hayley Mills herself was struck by the power of positivity. "There's an awful lot about Pollyanna that stuck with me, that positive thinking creates good things in your life, it creates health in your body. It attracts love."
As if to affirm not only the strength of Pollyanna but also that of the outstanding young actress playing her, Variety proclaimed the movie "a personal triumph for Hayley Mills." The Academy of Motion Picture Arts and Sciences awarded her an honorary Oscar® (accepted by fellow Disney superstar Annette Funicello on behalf of Ms. Mills, who was out of the country at the time) for her powerful performance. As portrayed by Hayley Mills, the "Glad Girl" is a triumphant symbol of the power of love.
Jim Fanning is a writer, historian, editor and researcher specializing in Disney. In a career dedicated to celebrating and exploring the work and life of Walt Disney, Jim has authored books, magazine articles, TV documentaries, comics and a variety of other works, including a biography of Walt Disney. A contributor to Disney twenty-three Magazine and the D23 website, Jim has written officially-commissioned projects for many departments of The Walt Disney Company, and has interviewed many Disney Legends, including Frank Thomas, Ollie Johnston, Marc Davis, Carl Barks, and the Sherman Brothers. He also wrote many episodes of the groundbreaking documentary TV series,Disney Family Album, and has contributed writing and research to The Walt Disney Family Museum. 
*Images courtesy The Walt Disney Company, ©Disney.