This article was originally written and posted for our eighth member magazine in 2011 by consulting Disney historian, author, and former archivist for The Walt Disney Company, Paula Sigman Lowery.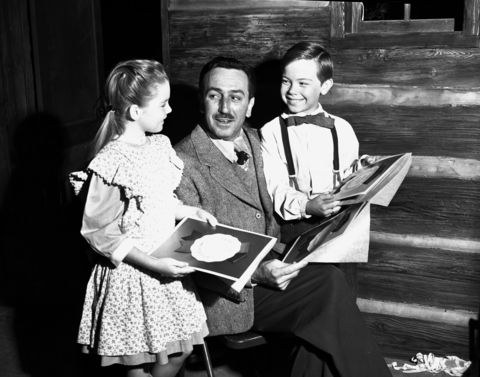 "The greatest wealth a man may acquire is the wisdom he gains from living. And sometimes, out of the small beginnings, come the forces that shape a whole life."
These words invite visitors of The Walt Disney Family Museum into the main galleries, setting the stage for the story of Walt Disney's birth and early life and, as Diane Disney Miller has said, "explain the purpose of our museum better than I ever could."
They were written by screenwriter John Tucker Battle, for the opening scene of one of Walt Disney's favorite films, So Dear to My Heart (1949).
After World War II, Walt began transitioning his studio back from training films and sparsely animated shorts to full-length productions. He turned to Americana, and telling stories with live-action. His first film was the acclaimed Song of the South (1946), based on the Brer Rabbit stories of Joel Chandler Harris; the second was a less familiar but equally heartwarming tale based on the novel Midnight and Jeremiah, written in 1943 by American author Sterling North.
Retitled So Dear to My Heart, the film is the story of Jeremiah Kincaid, a young boy (Bobby Driscoll) who lives on a farm with his stern but loving grandmother (Beulah Bondi). Inspired by the great racehorse, Dan Patch, Jeremiah dreams of having his own prize-winning steed, but as the song "It's Whatcha Do with Whatcha Got" advises, he sets his efforts to raising an orphaned black lamb into a champion sheep.
Walt planned So Dear to My Heart as his first completely live-action film, but his distributor felt audiences would expect animation, so several charming cartoon sequences were included. "I saw the cartoon characters as figments of a small boy's imagination, and I think they were justified," said Walt in later years.
But the thrust of the story remains Jeremiah's life on the farm, its hardships and challenges as well as its triumphs and joys, all under the guidance of Granny Kincaid and the kindly blacksmith, Uncle Hiram (Burl Ives).
Of the film, Walt said: "So Dear was especially close to me. Why, that's the life my brother and I grew up with as kids out in Missouri."
In 1945, as story development began, Walt wrote a letter about growing up on his father's farm in Missouri. "The days I spent on the farm in Marceline inculcated in me the true spirit of Missouri, which means a mixture of 'mulishness,' tolerance, independence and a sense of regard for the rights of every man of good will…I learned what it meant to shift for myself, to take advantage of opportunity and the thing which every American kid must learn—to take the hard knocks with the good breaks."
So Dear to My Heart was one of Walt's most cherished and personal films. With live-action direction by Harold Schuster (one of Walt's favorites), cartoon story by Marc Davis, Ken Anderson, and Bill Peet, and animation art treatment by John Hench, Mary Blair, and Dick Kelsey, it's a warm and wonderful remembrance of a bygone time. Its songs "Stick-to-it-ivity" and "It's Whatcha Do with Whatcha Got" perfectly describe Walt's own philosophy—and lessons we might all take to heart.
–Paula Sigman Lowery
Consulting Disney historian, author, and former archivist for The Walt Disney Company.
Image sources (in order of appearance):
So Dear to My Heart

(1949) one sheet poster; collection of The Walt Disney Family Museum, gift of Dean Barickman; © Disney

Luana Patten, Walt Disney, and Bobby Driscoll in cabin set from So Dear To My Heart (1949); courtesy of the Walt Disney Archives Photo Library; © Disney

So Dear to My Heart

(1949) one sheet poster; collection of The Walt Disney Family Museum, gift of Dean Barickman; © Disney