While exploring the story of Walt Disney through the museum's galleries, visitors can pick up on many themes that recur throughout his lifetime. One of the most prominent of these themes is Walt's patriotism. In honor of Independence Day, we'll take a look at this particular theme and how it influenced the Disney films and attractions we love today.
Walt's patriotism began at a young age, when he began to admire President Abraham Lincoln. When Walt was in the fifth grade, he decided to pay tribute to his hero on Lincoln's birthday. According to Bob Thomas' Walt Disney: An American Original, Walt "convert[ed] his father's derby into a stovepipe hat with cardboard and shoe polish, borrow[ed] his father's church-deacon coat with swallowtail, add[ed] crepe hair to his chin and a wart to his cheek." Dressed in this costume, Walt recited the Gettysburg Address for his class. The principal was so impressed by Walt's performance that he asked Walt to recite the speech for all of the classes, which became an annual ritual that continued until Walt graduated. 
More than 50 years later, Walt was able to bring his childhood hero to life for the 1964-1965 World's Fair in New York. Walt had planned an attraction for Disneyland called Hall of Presidents, which would include figures using Audio-Animatronics® technology to depict all the United States' presidents. After a tour of The Walt Disney Studios and an impressive presentation about Hall of Presidents, the president of the World's Fair negotiated with the State of Illinois to sponsor an exhibit that would feature the Abraham Lincoln figure.
After the exhibition's overwhelming popularity at the Fair, Walt Disney had his Imagineers construct an even more sophisticated figure. Prominently featured in the Opera House in Disneyland's Town Square, Great Moments with Mr. Lincoln debuted on July 18, 1965 as part of Disneyland's Tencennial celebration. Although this was a time when attractions required A through E tickets, Walt felt so strongly about this new presentation that a complimentary ticket was included with each Park admission. Each ticket read,  "So young people may have a better knowledge of the man who played such an important part in American history . . . Walt Disney invites you to be his guest to spend a few . . . Great Moments with Mr. Lincoln."  Today, an updated attraction, featuring state-of-the-art Audio-Animatronics technology, continues to move and inspire guests—a legacy of Walt's admiration for our nation's sixteenth president. 
Another example in our galleries of Walt's patriotism concerns World War I, which occurred when Walt was 16 years old. After 
his brother Roy joined the Navy, Walt too wanted to serve
. Visualizations of Walt's feelings can be seen in Walt's cartoons 
the cartoons he drew for his
 high school magazine, 
The Voice
. By late summer of 1918, Walt was still too young to join the war effort and became more impatient as the war continued to develop. He expressed to his parents, as written in Bob Thomas' excellent biography 
Walt Disney: An American Original
, "I don't want my grandchildren asking me, 'Why weren't you in the war? Were you a slacker?'" During that summer, Walt and his friend Russell Maas decided to cross the border to try enlisting in the Canadian Army, which accepted younger recruits. However, Walt and his friend didn't get past their houses before their mothers found out.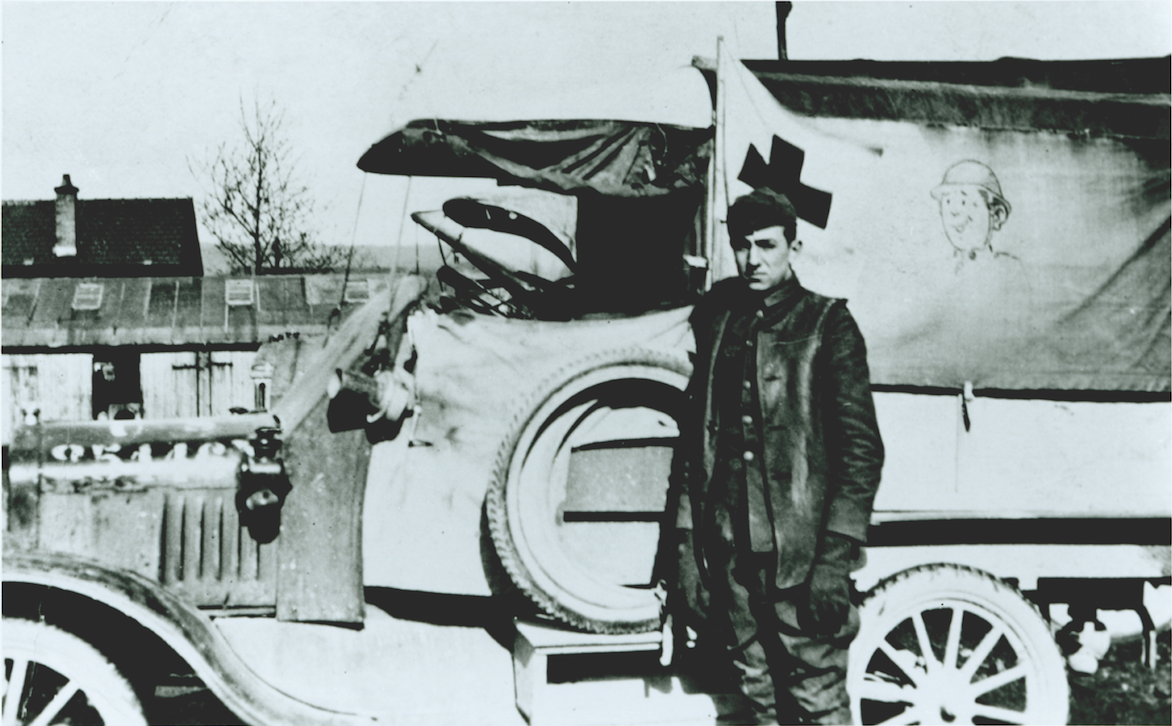 Following this setback, Walt and Russell found out about a volunteer group that took younger recruits called the American Ambulance Corps, which was part of the Red Cross. Upon application, Walt and Russell learned that the minimum age requirement was 17. Although they were still 16, they both falsified their ages on the application. Their plan worked until they applied for a passport, which required parental signatures. Walt's father Elias refused to sign the passport application, declaring that it was like "signing a death warrant [for] his son." Walt's mother, Flora, argued that she would rather sign the application and know where her son was than have him run off. Flora signed the passport application and forged her husband's name. As soon as his mother left, Walt altered his birthdate from 1901 to 1900, which made him eligible to go.
Arriving in France following the signing of the armistice, Walt passed some of the idle hours by cartooning. Along with drawing for magazines, Walt also drew posters for the canteen, caricatures for the soldiers to send home, painted emblems on officers' jackets, and also decorated the canvas top of his ambulance.  
After returning home, Walt was inspired to become an artist. He got a job as an artist at the Pesmen-Rubin Commercial Art Studio, which can be considered the beginning of Walt's professional artistic career. From this point forward, Walt's career endeavors were focused on animation, which eventually led to the establishment of his own studio, producing the work we still admire and enjoy today.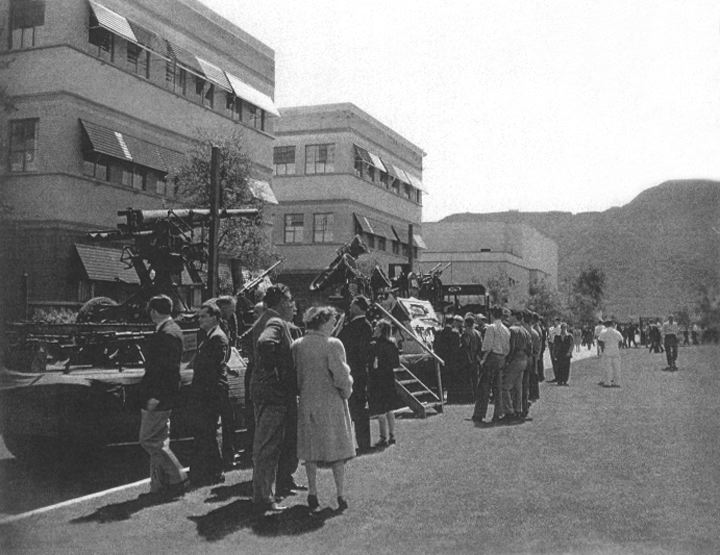 The last example of Walt's patriotism we'll look at is his studio's involvement during World War II. In March 1941, prior tothe United States' entry into the war, Walt wanted to prove that the Studios could play a wartime role. So, he brought in an engineer to help his animators make training films that were eventually in use by the U.S. armed forces. On December 7, 1941, Pearl Harbor was bombed, and America found itself at war. On the same day, Walt received a phone call at home letting him know that the United States Army was moving onto the studio lot.
Throughout the war, The Walt Disney Studios contributed in a variety of ways without earning a profit. Completing all work at cost was part of its contribution to the war effort. Disney designed more than 1,400 insignia for military units, at an average cost of $25 each. As reported in Walt Disney: An American Original, Walt said "Those kids grew up on Mickey Mouse, I owed it to 'em." In addition to creating insignia, Walt received calls from the Navy, the Army, the Department of Agriculture, and other government agencies to create training films and public service announcement. In the end, the studios created more than 30 of these films for the war effort.
With the large volume of government requests, the lack of demand for cartoon features, and with one-third of Disney artists drafted, Walt and Roy were forced reconsider the direction of the company. At this time, the Studios cut back on all features except Bambi (1942). Preparations for Alice In Wonderland (1951) and Peter Pan (1953) were halted and animation was stopped on an adaptation of The Wind in the Willows. During the war, production at the studio increased from an average of 3,000 feet of completed film per year to 300,000. The studio was operating six days a week, plus two nights of overtime. 
Walt was worried that the Studios could not continue the output needed with a depleted staff. So, he suggested to the Navy and Army officers attached to the studios to invite the draft-board members to visit, to show that much more than making Mickey Mouse cartoons was being done. Upon their arrival, the draft-board members needed to be cleared by Army and Navy intelligence, as well as the FBI. In addition, certain areas were off-limits to them due to top-security work.  After these realizations, the draft-board members determined that Walt Disney's war work was so crucial that they sent drafted employees back to the Studios in uniform to resume their work. 
In the spirit of Walt's extraordinary example of patriotism, The Walt Disney Family Museum offers free admission year round to all active and retired military, spouses, and dependents with valid IDs. In partnership with Blue Star—a collaboration that celebrates active and retired military—museum admission is free for all active military plus five guests now through Labor Day. Happy Independence Day!
Chrysann Zongus
Guest Operations Manager