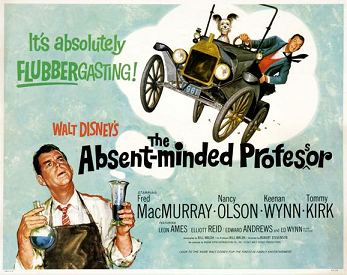 Throughout August, Walt Disney's 1962 live-action comedy The Absent-Minded Professor, starring Fred MacMurray, will be screened in the Museum's state-of-the-art digital theatre at 1:00pm and 4:00pm daily, except Tuesdays, and Saturday August 13. Guest blogger and friend of The Walt Disney Family Museum Jim Korkis contributes this profile of the Golden Globe-nominated star of the film.
"I will say the seven pictures I made at the Disney Studio were the pleasantest times I've had in the picture business—and I've been around quite a while," smiled actor Fred MacMurray in the ABC Wide World of Entertainment special from 1973, Walt Disney: A Golden Anniversary Salute. 
It is always intriguing to me that someone could be highly successful in their area of expertise, and well known throughout the world, and yet a decade or more later can be completely unknown to a new generation.
MacMurray built a successful film career as the ultimate "Mr. Nice Guy" in a series of films in the 1930s and 1940s. Yet, he was also riveting and critically lauded for his bad guy performances in films such as Double Indemnity (1944) and The Apartment (1960). MacMurray was so popular and heroic, in an "average man" kind of way, that artist C.C. Beck claimed that he had used the actor as the model for his comic book superhero Captain Marvel. 
By the 1950s, MacMurray's box office appeal had lessened, and he appeared in a lot of low budget Westerns. His career revived with his appearances in several popular Disney live-action films beginning in 1959, which led to a successful television series, My Three Sons, which ended in 1972.
MacMurray's first Disney film was The Shaggy Dog (1959). The advertising campaign claimed that it was "A new kind of horror movie…Horribly Funny!" It turned out to be the highest-grossing film of the year.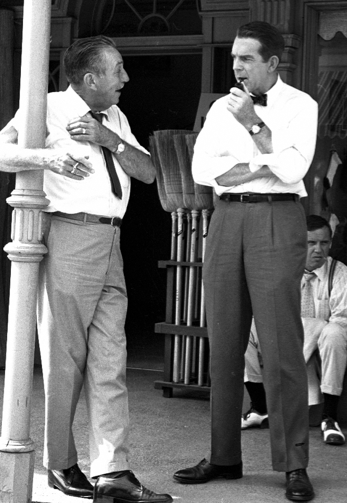 The film was the first live-action comedy made by the Disney Studios and, to save costs and help hide the primitive special effects, it was made in black and white. Although the character MacMurray plays is said to be a postman, he is never once shown working. Apparently, he was made a postman to help explain his dislike for dogs, which adds to the humor when his oldest son—thanks to an ancient curse—transforms into a sheepdog in a twist on the teenage werewolf idea.
Kevin "Moochie" Corcoran, who played MacMurray's youngest son in the film, remembered that, "I think Walt saw himself in Fred to a great extent, and Walt saw something about Fred that again was a bigger version of every man. He was one of the most underestimated actors of all time."
Songwriter Richard Sherman agreed, "Actually Walt did identify with Fred, and especially the characters he played, like the absent-minded professor. That was exactly what Walt did."
"The first picture I made at Walt's studio was The Shaggy Dog. This was I guess about 10 years ago or maybe a little longer than that," said MacMurray in that television special. "I remember, during the shooting of The Shaggy Dog, Walt came on the set one day and said, 'You know, Fred, I kinda like what you are doing in the picture and I've got another idea for another picture after this one if you'd be available.' I said, 'Oh, I'll be available!' Then I said, 'What is it about, Walt?' And he said, 'Well, it's just an idea. I got. I was just over at the World's Fair in Brussels. There was a Doctor Julius Miller who was giving a demonstration on atomic and nuclear energy.' He said, 'He does it in such an amusing way I think that maybe we can do a character for you patterned after Dr. Miller and make some kind of a picture out of it. We'll see.' So I went home that night and said to my wife, 'You know, Walt is talking about another picture for me. I hope it comes out. I mean, I hope it comes true but I mean it probably won't. It was just something he was talking about.' But that is the way Walt worked.
"This is the way he did things," MacMurray added. "The next day on the set, Bill Walsh, the writer, came out and said, 'Well, I've got an assignment to do a picture for you.' I asked, 'What's that?' And he said, 'The one Walt was telling you about the professor.' And that all turned out to be The Absent-Minded Professor, which was very successful. It kind of shows you the way things came out of Walt's head. Amazing."
So in 1961, MacMurray starred as Ned Brainerd in The Absent-Minded Professor, and repeated that role in Son of Flubber (1963) In between, he starred in Bon Voyage! (1962). The last two films he did while Walt was alive were Follow Me, Boys! (1966) and The Happiest Millionaire (1967).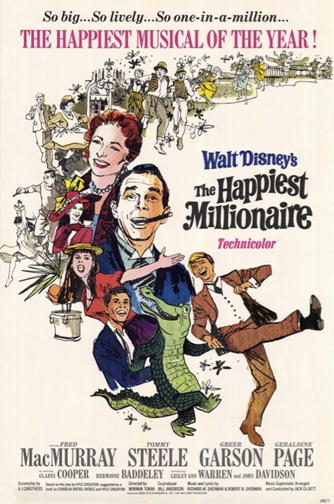 His new Disney image did bring its conflicts, though. MacMurray recalled, "When our twin girls were 5 or 6, I took them to Disneyland. While they were on the merry-go-round, a woman came up to me and said, 'Oh, Mr. MacMurray, I've enjoyed your movies through the years. I saw The Apartment [in which MacMurray played a philandering boss] last night. How could you? You spoiled the Disney image!' And with that she hit me over the head with her purse and stormed away." 
​After The Happiest Millionaire, MacMurray disappeared from films for a few years, but returned one last time to Disney comedy in Charley and the Angel in 1973. After a pair of made-for-television movies, MacMurray made a final theatrical feature, Irwin Allen's killer bee disaster film The Swarm in 1978, before officially retiring.
Fred MacMurray died at the age of 83 in November of 1991, of pneumonia as a result of chronic lymphocytic leukemia. He was one of Hollywood's wealthiest citizens, thanks to savvy investment deals, a renowned sense of thrift, and simple cost cutting—doing simple things such as bringing his own brown bag lunch to work. To the end, the actor remained fond of and impressed with Walt Disney.
"You know, in talking to Walt, I remember I was quoted once when somebody had asked me: 'What about Walt?' And I said you could be talking to him, and it was like he wasn't listening to you," MacMurray said. "And then I went on to say that, about a month or so later, he'd come up and say, 'Remember that time you said so and so?' He knew everything you said, but he had a million other things about the park and the thing in Florida and all this to think about, but he'd remember everything you said to him."
JIM KORKIS is an internationally-respected Disney Historian who has written hundreds of article and done hundreds of presentations on all things Disney for more than thirty years. He is the author of the acclaimed new book The Vault of Walt. His extensive expertise and knowledge, particularly in previously-unexplored areas of Disney history, has been utilized by many other researchers as well as The Walt Disney Company.
THE VAULT OF WALT is a highly-praised, recently-published book, featuring more than 450 pages of previously untold stories about Walt Disney, the Disney theme parks, the Disney films, as well as many out-of-the-ordinary and forgotten stories of Disney history. The Vault of Walt is both a valuable supplement to any Disney fan's personal library and an entertaining introduction to the many worlds of Walt. It features a foreword by Diane Disney Miller, who praises the writing as "honest, and well written…so authentic, so true to my dad's spirit, so unprejudiced and non-judgmental that as I read it I could see the twinkle in dad's eye, hear his laugh."
All images above © Disney