"We call it the Blue Bayou Lagoon," Walt would tell Disneyland Ambassador Julie Reihm in a 1965 episode of "Walt Disney's Wonderful World of Color.". Standing by a model of the soon-to-be-completed New Orleans Square, Walt pointed across a massive show building behind the Louisianan creation and continued, "People are going to get on a boat here, ride through the lagoon, and then as they come around here we're going to take them down a waterfall, and take them back into the past into the days of pirates…"
First known by the title Blue Bayou Lagoon, what came to be Pirates of the Caribbean was Walt's crowning achievement in full-dimensional storytelling. Comprising all the lessons of animation, live-action, and theme park construction, Pirates was unlike anything the world had ever seen, and would be the last major attraction to receive Walt's guidance. Though the visionary died just three months before its opening in March 1967, he had in essence seen the swash-buckling journey through to completion.
"And now, you bilge rats! Do I hear six? Who makes it six?" bellows the well-clad pirate captain often known as the auctioneer. The buccaneers across the river are not dissuaded, continuing to demand: "We wants the redhead!" Within this masterly composed scene, a collaboration between many of WED Enterprise's best Imagineers including Claude Coats, X. Atencio, Marc and Alice Davis, and Blaine Gibson among others, guests can experience a special sense of connection with Walt.
Because Pirates was so large and complex, the auction scene was the only one to be fully mocked-up by the Imagineers with working figures and dialogue for Walt to experience at the WED facilities in Glendale. Sitting on a dolly on wheels, he was gently pushed by the Imagineers through the setting over what one could imagine was many repeated trips, each taking the time estimated for an actual boat trip through the scene. Walt made his observations and provided final notes to his team in anticipation of the ride's installation at Disneyland. As he looked over this now-iconic scene, Walt must have clearly understood the magic his Imagineers had brought to life, and knew the show would work.  Shortly before his passing, Walt toured the still-in-progress Pirates building at Disneyland. As Marc Davis recalled, "…the water channel was walkable, all the way through. Walt, myself, and a half dozen other guys did a walk-thru of the ride. There wasn't much scenery there, just some frameworks here and there. You could tell where you were, and Walt's reaction was very favorable."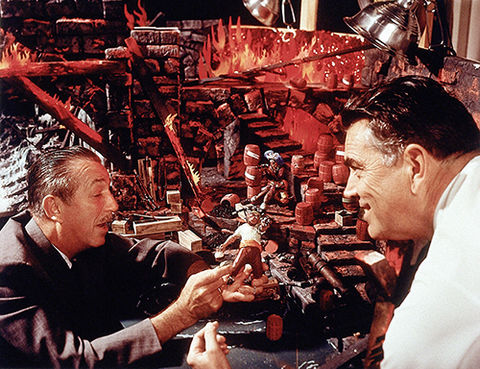 Walt had fostered a creative environment for the WED team that was unique to its moment in Disney history. He often referred to the unit as his "sandbox," and his hand-picked group took Walt's ambitions in new and different directions. Pirates of the Caribbean was, in some ways, the sum-total of what these artists had learned under his leadership. As former animation artist and master writer at WED, X. Atencio, would later comment about the time of Pirates' creation, "[…] all these little things, little opportunities that were offered [at WED], again reminded me so much of the early days at the studio, the Hyperion days."
Exciting advertisements in local papers across California and elsewhere stirred up anticipation for the new attraction. Billed as "Disneyland's Most Exciting New Adventure," Pirates was hailed for its action-packed story and immersive environment, "[…] an Audio-Animatronics® adventure that only Disneyland could bring to you." Walt's story-based approach to creating attractions for Disneyland fostered a sense of excitement for a new ride that was akin to the opening of a new feature film. Pirates of the Caribbean was as much an "event" as Mary Poppinshad been or The Jungle Book would be later that year in 1967.
"Anyone for Yo-ho-ho?" LIFE Magazine would declare in their multi-page spread from September of 1967. Pirates was being well-regarded as something different and groundbreaking, "the costliest and most technologically sophisticated amusement park ride ever built." The absence of Walt was still rather conspicuous, as LIFE would reassure its readers, "Walt Disney died some weeks before the pirate attraction opened last spring… But he was lovingly acquainted with all 119 [Audio-Animatronics figures] in its mechanized cast."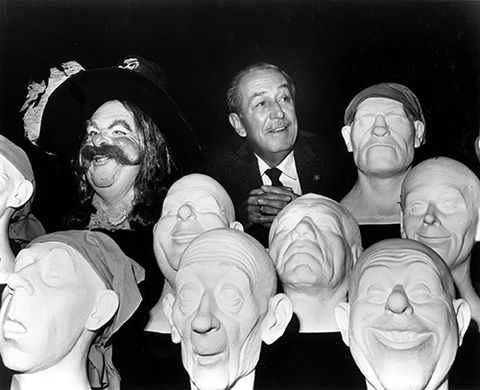 This seeming epic in the fullest dimensions had taken Audio-Animatronics technology to a level perhaps originally unimagined by most, except for Walt of course. The singing tiki birds in Adventureland, the stoical Abraham Lincoln at the 1964/65 New York World's Fair, even the ferocious dinosaurs of the Primeval World diorama seem in hindsight but a precursor to the encapsulation of Walt's pirate adventure. It has been innovative stories like Pirates of the Caribbean that have carried Disneyland into the cultural lexicon, affirmed in the now infamous quote from Steven Speilberg's Jurassic Park (1993), "If the Pirates of Caribbean breaks down, the pirates don't eat the tourists."
Pirates of the Caribbean was the jewel in Walt's theme park crown, and though sadly he was never able to see it fully realized at Disneyland, its triumphant arrival was a fitting affirmation of Walt's genius, and a first mark on his posthumous legacy that we still experience today. The Walt Disney Family Museum celebrates this legacy, now half a century on since the debut of the "wildest crew that ever sacked the Spanish Main." Guests at the museum can see the pirates taking their place amidst the fantastical model of Walt's Magic Kingdom, a true work of "imagineering" that celebrates his original vision for the park.
Lucas O. Seastrom is a writer, filmmaker, and contracting historian for The Walt Disney Family Museum.