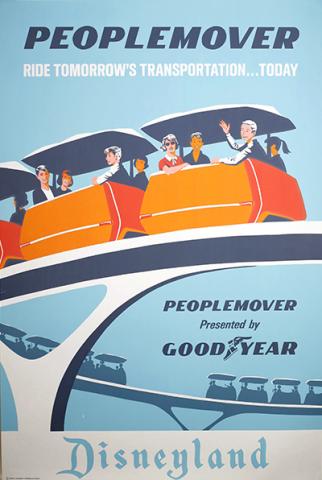 Origins: Ford Magic Skyway
Following the success of his attractions at Disneyland, Walt Disney developed four attractions for the 1964-65 New York World's Fair: Great Moments with Mr. Lincoln, Progressland, "it's a small world," and Ford Magic Skyway. The first three listed were so successful that Walt decided to take them back to Disneyland in California as theme park attractions. Ford Magic Skyway has a more complex story. After the Fair ended, Walt brought the Magic Skyway's dinosaur sequence to Disneyland as the Primeval World Diorama seen on the Santa Fe and Disneyland Railroad. Visitors rode in genuine but motorless Ford automobiles, including the new-to-the-market Ford Mustang. The vehicles that moved through scenes of dinosaurs, cavemen, and a futuristic cityscape. They were propelled by Disney's new WEDway system, so named because it was inspired by Walt and developed by WED (Walter Elias Disney) Enterprises, the precursor to today's Imagineering.
Walt was interested in both transportation systems (beginning with his love of trains) and innovation. In an interview for The "E" Ticket magazine, Imagineer John Hench recalled Walt's admiration for efforts in American industries and research labs. About a year before the World's Fair, Hench and Walt were visiting a Ford steel plant in Detroit, Michigan. Watching how Ford moved steel around the plant on a track of rollers, as it was turned from an ingot into a roll of sheet metal, Walt wondered aloud about using "that type of conveyor" for people to ride on. Hench noted, "That was the beginning of WEDway…using a wheel in the track itself, instead of a roller against a platen. [Walt] saw flexibility of how that ingot was turned around, carted back and forth, and he could hardly wait to get back and talk to Roger Broggie about it. Roger said: 'Sure…we'll just put a platen on the bottom of the vehicle.' "
In this system, Walt helped implement rotating wheels spaced evenly along a track that propelled the vehicles forward and through the various scenes. Roger Broggie—along with Bob Gurr, two of Walt's Imagineers responsible for many of the vehicles used at Disneyland—were instrumental in bringing this system to life. Since the automobiles were genuine, Walt ensured that this attraction would also serve to introduce many people to the Ford Mustang. The success of this ride system excited Walt, who in 1964 was considering an elevated transit system to serve both his planned city of EPCOT as well as the New Tomorrowland makeover that was in development. It premiered on July 2, 1967, as part of Disneyland's New Tomorrowland in the WEDway PeopleMover. Bob Gurr recalled that Walt himself nicknamed the elevated transit system "PeopleMover," and the temporary name stuck!
Design
The design for the PeopleMover was based on the same propulsion system as the one used for the Ford Magic Skyway. The Disneyland version did not feature Ford vehicles, as Ford chose not sponsor it, viewing the transit-system as a potential replacement for automobiles. Instead, the new PeopleMover system was sponsored by Goodyear and used Goodyear tires for the rotating wheels. It featured 62 trains total, colored blue, red, yellow, and green, all with white roofs. There were two rows per car, facing each other, with each row accommodating up to two riders. The attraction had a runtime of about 16 minutes, with a top speed of seven miles per hour. The vehicles themselves had no moving parts or motors, and did not stop for guests to board or exit. Rather, guests boarded/de-boarded via a moving walkway, entering and exiting the vehicles as they passed through the station. The efficiency of such a system allowed over 4,000 riders per hour. This approach to boarding an attraction was one of the first of its kind.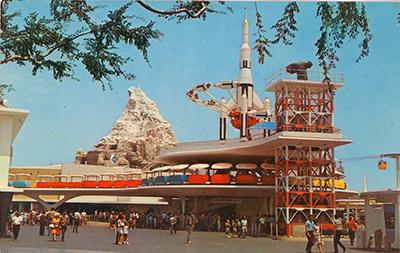 Opening
Although Walt helped plan the PeopleMover, he unfortunately didn't live to see its opening. However, his dream of showcasing different public transit systems shined in this attraction. The PeopleMover track wound through many of Walt's creations, including Adventure Thru Inner Space, Carousel of Progress, Circle-Vision, and even a gift shop. In 1977, it was extended to travel through Space Mountain,  another of Walt's attractions he didn't live to see. The vehicles at one point ran alongside the Monorail station, offering a side-by-side view of another of his transit visions, the "highway in the sky." The track was also laid out for views over other attractions, including Autopia, Submarine Voyage, and the Skyway to Fantasyland. Passengers even got an eye-level view of the Mary Blair murals that lined the corridor between the buildings that housed the Circle-Vision and Adventure Thru Inner Space attractions. In short, Walt's PeopleMover offered a visual three-quarter-mile tour of Tomorrowland riding on a "glideway" of 517 tires. The loading station was located on the second level of Tomorrowland's central structure, underneath the Rocket Jets. In the days of individually-ticketed attractions, Walt's PeopleMover required a "D-ticket" to ride. His innovative attraction became a classic. 
Legacy
Although the PeopleMover was Walt Disney's response to an outdated Tomorrowland, it eventually came to be considered too tame over time. As a result, the attraction closed in 1995 and was replaced by the faster-paced yet shorter-lived Rocket Rods in 1998. Walt had planned for both the PeopleMover and Monorail systems to be installed as part of his Experimental Prototype Community of Tomorrow (EPCOT). In this futuristic city, each system would demonstrate their usefulness in being applied as a method of transportation in various communities. Their appeal lay in being built above the ground and out of the way of traffic, pedestrians, and structures. Sadly, Walt Disney passed away before EPCOT was built, and his plans for the experimental city never became a reality. However, a flexible linear induction WEDway PeopleMover attraction was installed in Tomorrowland at Walt Disney World in 1975, and is still in operation today. In 1981, a similarly updated Disney WEDway Peoplemover was installed at the Houston Intercontinental Airport. In this sense, Walt Disney's vision for public transportation lives on. Even today, his attraction has a higher passenger capacity than many other attractions, and affords guests a quiet, comfortable way to see the sights.
Shawn Carrera
Education Associate at The Walt Disney Family Museum