Mary Blair. To many, the words that come to mind when we think of her are whimsy, color, flair, style, beauty, artist, and genius. Many know the legendary Mary Blair from her work on such Disney classics as Cinderella (1950), Alice in Wonderland (1951), and Peter Pan (1953), and her influence on one of the most iconic attractions of all time, "it's a small world." But in addition to her long resume working for Walt Disney himself, Blair had yet another trick up her sleeve: the ability to design fanciful tile murals.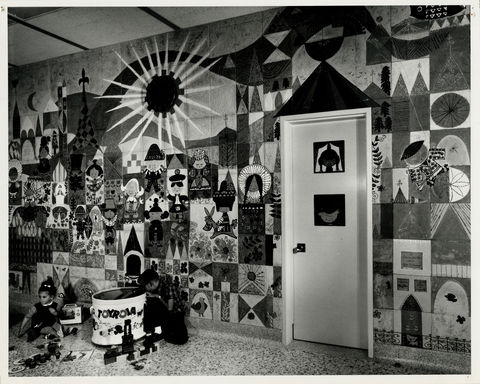 Many Disney fans have visited Walt Disney World Resort in Florida and taken a trip on the Monorail through Disney's Contemporary Resort. As passengers glide into the lobby of the hotel, one can't help but notice the gargantuan mural in the Grand Canyon Concourse towering over them, and—with a little searching—they can discover the team who created the work of art and their fearless lead designer, Mary Blair.
However, there's another ceramic mural created by Mary Blair that many might not be aware of—designed for the children's wing of the Stein Eye Institute at UCLA. Taking up 220 square feet, the mural was designed to incorporate the entrance door to the examination room to help children feel like they are being transported to a magical land. It would "welcome children from all over the world and make them feel a little more at ease. A bit more at home." Opening in 1966, the Stein Eye Institute helped pursue its namesake's dream of creating a place that focused on helping patients with eye disorders and conducting research to find treatments and cures for such ailments. Walt Disney was a close friend of Dr. Jules Stein and his wife Doris Stein and, deciding that a monetary donation would be an insufficient gift, he gifted a work of art for the Institute inspired by one of his most beloved Disneyland attractions, "it's a small world." Walt knew the best artist for the job was Blair.
Early in her career, after attending the prestigious Chouinard Art Institute, Blair worked as a watercolor artist. In 1940, she took a position as a color stylist at The Walt Disney Studios but quickly found that it was not challenging her artistically. Mary Blair quit, but when her husband, Disney artist Lee Blair, was invited on Walt's tour of South America as a part of the government's Good Neighbor Policy —a project of Franklin Delano Roosevelt's administration to represent American values and goodwill in opposition to the fascist wave thought to be spreading—she asked Walt if she could participate. Knowing what a brilliant artist she was, Walt agreed. It was during the "El Grupo" South American tour that Mary Blair developed her voice as an artist: her use of nonconventional color pairing, dramatic and whimsical moods in her concepts, and the "small world"-inspired style that she has become identified with. This style, recognized as the mid-century modern aesthetic, is also prevalent in the tile mural at the Stein Eye Institute.
Walt presented the Steins with two final designs, and the Steins picked the design that happened to be Walt's choice as well. The beginning of the design phase is always drawing concepts or "doodle sketches," and as Blair says, "Drawing is the artist's fundamental tool." The collection of the Walt Disney Family Foundation includes Blair's concept rendering and a tile sample for the mural, profiled in a 2011 WDFM blog. After the overall design was chosen, existing color and lighting had to be taken into consideration as they would influence the end product's color and look. Blair, working alongside CalArts students and other professionals, worked tirelessly to get the final ceramic mural just right in color and clarity. Upon arriving and seeing the finished product, Walt and the Steins were like "kids at Christmas in front of a toy store window."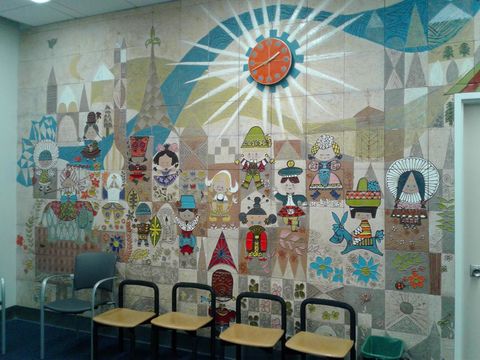 Blair would go on to design the mural in the Grand Canyon Concourse at Disney's Contemporary Resort in Walt Disney World Resort and the entrance murals into Tomorrowland at Disneyland Park. Although Walt passed before these other murals were opened to the public, he was well aware of the artistry, passion, and love that went into their creation.
The Stein Eye Institute closed for renovation for a few years, but every possible bit of love and care went into preserving the mural tile by tile during the work. In 2017, it reopened its doors, reintroducing Walt Disney and Mary Blair's mural to the public. Outside the waiting room it lives in, the mural now has a video monitor explaining the story of the little mural that could.
–Eric Glawe, contributing writer
Image sources (in order of appearance):
Walt Disney at WED Enterprises model shop with Jules and Doris Stein, Mary Blair, and unidentified woman at mural presentation for UCLA Stein Eye Institute; collections of the Walt Disney Archives Photo Library and The Walt Disney Family Museum; © Disney

Photograph of UCLA Stein Eye Institute mural; collection of The Walt Disney Family Museum

UCLA Stein Eye Institute mural; photo by Eric Glawe