This summer marks the 75th anniversary of Walt Disney and his hand-picked team's Southern California departure for their "goodwill tour" of South America. The U.S. government was hoping Walt's presence would help to quell budding Nazi sympathy, while Walt was eager to gather material for future films. By Walt being Walt, he managed to do both.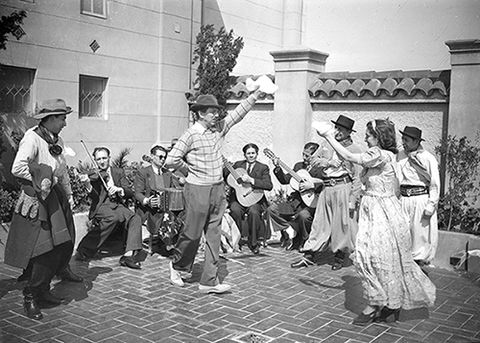 In 1940, a newly-formed government post known as the Coordinator of Inter-American Affairs (CIAA) began asking prominent members of Hollywood to visit various countries in Latin America and/or infuse Latin American themes into their films, as part of the Good Neighbor Program. The intent was, as Nazi influence began to creep its way into South America, to generate goodwill between the Americas. Most of the goodwill attempts had fallen flat, however, some going so poorly that they actually produced the opposite result. By spring of 1941, South America had already had its fill of U.S. ambassadors' half-hearted attempts at garnering favor.
The U.S. government then called upon Walt Disney.
At first Walt spurned the notion, citing he wasn't good at just shaking hands. When it was suggested that he instead focus on research and content for films, he changed his position. It was a difficult time for Walt, with WWII all but cutting off film profits from the European market, and the painfully bitter animators' strike casting a shadow over everything he had built. The government promised to underwrite the trip, which added further incentive for the Studios. The contract was signed in early August, but Walt had already selected who he would bring with him by late July.
The 18 members who made up the Disney group consisted of 15 studio employees, two employees' wives (one of them Walt's), and, of course, Walt himself. They didn't all travel together, however; when Walt's flight landed in Rio de Janeiro on August 17, 1941, his party was the last to arrive, and the goodwill tour was officially underway.
Due to a mix-up and subsequent hotel shortage, the Disney group had to split up. Walt, his wife Lillian, and four others stayed at the Copacabana Palace Hotel, while the rest of the group stayed at the Hotel Glória. Legend has it, it was at the Hotel Glória where the group came up with their nickname. When Walt's party would call over there, the bellhop would call out for the team, "Disney! El Grupo Disney!" From then on, the whole Disney party would affectionately be known as, "El Grupo."
Work on gathering material for films began almost immediately. "I set up a shop," Walt recalled. "Never went near the embassy. Didn't go around the usual haunts of the goodwill people. I went right in." While performing research, it didn't take long for the team to discover just how large a part of local culture the Brazilian Parrot was. Several of the artists began focusing on studying the bird, by way of local zoos and museums. Creating a character based on the "papagaio" was an obvious yet wise decision: José Carioca would become Donald Duck's co-star.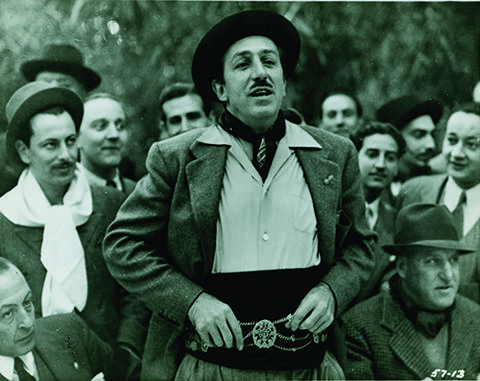 Another key piece of material that came from Brazil actually presented itself before the tour's official start. The day before Walt arrived in Rio, his plane landed in Belém, Brazil for refueling. According to story man (and Walt's brother-in-law) Bill Cottrell, hundreds of school kids were there to greet Walt. "They might not have known who the president of their own country was," Cottrell said, "but they all knew Walt Disney." That evening while the group had dinner in their hotel, they were entertained by a small (and apparently not very good) band. Amongst the poorly-delivered renditions, however, one tune managed to intrigue Walt. That tune was "Aquarela do Brasil," by Brazilian composer Ary Barroso. It stuck with Walt, and it wasn't long before he got to hear it again. According to Barroso's daughter, Barrosa personally performed the song for Walt in Rio. "That is the music I want," Walt declared.
El Grupo's next destination was Argentina. While in Buenos Aires, a group of local artists visited the Disney party at their base of operations, the Alvear Palace Hotel. Under the direction of Professor Andrés Chazarreta, an authority on music and dances of the Argentine, the troupe performed authentic Argentine folk dances. Walt and El Grupo loved it, noting it combined both instruction and entertainment. One of the dancers, Miguel "Tachuela" Gramajo, performed a solo during a dance called the Malambo. Decades later, Gramajo still remembered that day well, particularly Walt's demeanor. "Disney got very excited during the Malambo," he recalled. "He liked it. I was very fond of that guy. This caught my attention, because he could not understand us, and we could not understand him, but I could tell he was very happy."
After Buenos Aires, El Grupo split up into four smaller groups, each one setting off to explore a new location within South America. In addition to other regions of Argentina, other destinations included Bolivia and Peru. More material was gathered, and by September 29 the majority of El Grupo reunited in Santiago, Chile. On October 4, they boarded the T.E.S. Santa Clara and began the long voyage home.  
The trip had been arduous in many ways for Walt. While in Argentina, he received word from his brother Roy that the terms of the animators' strike had been settled, and not particularly in the Studios' favor. Roy also had to break the news via telegram that their father, Elias Disney, had passed away. Walt knew he had to fulfill his commitments in South America, so he pressed on. While everyone in the group had to endure the grind of frequent traveling, Walt also was singled out to take part in demonstrated festivities at nearly every turn. Walt met with government officials, dignitaries, presidents, radio personalities, artists, filmmakers, reporters, and more. He was greeted by thousands of children, had countless cameras and microphones pointed at him, and signed hundreds and hundreds of autographs. But he never wavered. Walt's undeniable charm and childlike demeanor did exactly what the U.S. government had hoped it would. The people loved Walt, and El Grupo's visit was an undeniable boon for the CIAA's Good Neighbor Program.
The films that resulted from the goodwill tour, Saludos Amigos (1942) and The Three Caballeros (1944) were well-received by critics and audiences alike. Walt and El Grupo had done it. And as for whether or not they ended up needing the government's money, Walt commented on that in a later interview: "It was one of those things that they thought Disney needed the subsidy," he recalled, "but you know, fortunately that little thing went out and it did a heck of a business, and the United States government didn't have to put up one nickel."
You'll find more about the adventures of Walt and El Grupo in South of the Border with Disney by J.B. Kaufman (published by the Walt Disney Family Foundation Press and Disney Editions, 2009) and available from our museum store.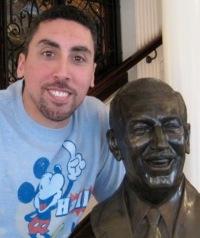 Keith Gluck is a contributing writer for The Walt Disney Family Museum and also runs thedisneyproject.com, a Disney fan site.