This month, The Walt Disney Family Museum celebrates Walt Disney's brilliant and timeless 1942 animated feature, Bambi. In this column, we revisit the observations of renowned author, teacher, and Academy Award®-winning animator, John Canemaker, from his 1996 book, Before the Animation Begins: The Art and Lives of Disney Inspirational Sketch Artists, in which he discussed the career of Tyrus Wong.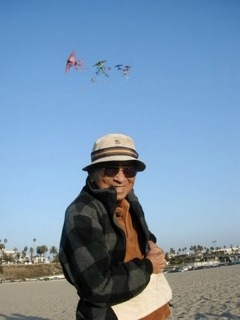 The conditions must be just right: a bright sun to banish all traces of fog, a wind blowing between eight and ten miles an hour, and a generous stretch of beach without trees or telephone poles. When those conditions are met on certain golden afternoons at certain Santa Monica or Venice oceanfronts, Tyrus Wong launches his amazing visions: a 124-foot centipede with more than 150 segments, a flock of swallows with 40-inch wingspans, giant butterflies, white doves and black swallows, and even a gaggle of angels swoop and glide, dart and hover in the California sky.
Wong's brilliantly-colored phantoms are kites—large, complex aerodynamic constructions he has designed, built with string, paint, paper and ripstop nylon, and flown since 1978. For the…artist, it is less a hobby than a continuation of his indomitable creative spirit. "I got painted out," he said of his disinterest in the traditional painting arts after a long and varied artistic career as a watercolorist, muralist, lithographer, Warner Bros. film production illustrator (1942-1968), greeting card designer, and Disney inspirational sketch artist (1938-1941). Now, using the sky as his canvas, Wong continues to make art that comes alive when in motion, much as he did when he drew set designs and storyboards for John Wayne, Joan Crawford, and Paul Newman movies, or concepts for Disney's Bambi. 
Although Wong considers his work on Bambi to have been "a minor, very small part" of his life, his impact on the film was very large indeed. "He set the color schemes along with the appearance of the forest in painting after painting, hundreds of them, depicting Bambi's world in an unforgettable way," acknowledged Ollie Johnston and Frank Tomas in their book on the making of the cartoon feature. "Here at last was the beauty of [Felix] Salten's writing, created not in script or with character development, but in paintings that captured the poetic feeling that had eluded us for so long…The remarkable paintings of Ty Wong not only inspired the other visual artists, but created a standard that was met by musicians and special effects, too."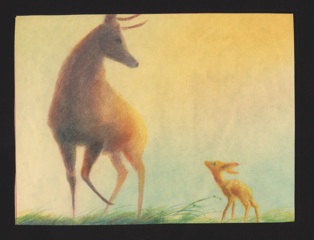 "The influence Ty had on this film made the film!" concurs Marc Davis, whose subtly expressive animal designs for Bambi were also a major aesthetic breakthrough for the animators. Wong's art was a mixture of occidental and oriental influences, combining the broad brush, spontaneous California Watercolor style with the contemplative balance of composition, limitation of details, and restraint of traditional Chinese painting. "The Chinese," wrote E.H. Gombrich, "consider it childish to look for details in pictures and then to compare them to the real world. They want, rather, to find in them the visible traces of the artist's enthusiasm."
Today, Tyrus Wong prefers to design and build colorful balsa wood and nylon birds, butterflies, and angels, and to send them sailing heavenward. But only when the wind is just right.
Excerpted from the book Before the Animation Begins: The Art and Lives of Disney Inspirational Sketch Artists by John Canemaker. © 1990 The Walt Disney Company. Reprinted by permission of Disney Editions.
Images above: 1) Ty Wong flying kites in 2006. © Joe Campana. Used with permission. 2) © Disney.
John Canemaker has won an Academy Award®, an Emmy®, and a Peabody Award for his animation, and is an internationally-renowned animation historian and teacher. Canemaker is also a noted author who has written nine books on animation, as well as numerous essays, articles and monographs for The New York Times and The Wall Street Journal, among other publications.
He began teaching at New York University's Tisch School of the Arts in 1980, and was one of the founders of the animation program. Canemaker is a full tenured professor, who became the program's executive director in 1988, and served as Acting Chair of the NYU Undergraduate Film and Television Department in 2001-2002.
===
Legendary Disney artist Tyrus Wong had a gift for evoking incredible feeling in his art with simple, gestural composition. Walt saw that Tyrus was able to produce exquisite artwork that did not necessarily look like the forest—but rather, felt like the forest. Walt Disney's vision for Bambi and use of Tyrus's work still influences films today. Join us on Saturday, June 11 at 3:00PM as we hear from Charles Solomon, Ralph Eggleston, and Paul Felix about how the art of Bambi forever shaped animation and continues to influence many of our favorite films.
Walt Disney's Bambi is screening every day in June at 1:00pm and 4:00pm (except Tuesdays, and June 11 & 25) in the state-of-the-art digital theatre at The Walt Disney Family Museum. Tickets are available at the Reception and Member Service Desk at the Museum, or online at www.waltdisney.org.