Our guest blogger, Jonas Rivera—an Academy Award-winning producer at PIXAR—shares his thoughts on the original film about twin sisters who were separated at birth, meet for the first time, swap places, and seek to reunite their parents.
The Hayley Mills Parent Trap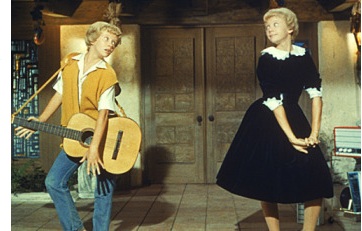 The very first VHS video that my family purchased for our new top-loading VCR was The Haley Mills Parent Trap. My sister and I couldn't wait to see it. So in the summer of 1984 we watched it. And watched it. And watched it. We watched The Parent Trap so many times that we pretty much had the entire movie memorized. I can still remember my sister walking down the hall reciting the dialogue and singing "Let's Get Together!"
To me, The Parent Trap is the quintessential Disney live action movie. From the beautiful animated opening title sequence, created by Xavier Atencio, Bill Justice and T. Hee, to the final shot, it has an almost indescribable 1961 soundstage glow to it and it stands as one of the most perfectly cast films of all time. Although I've always wished they could have somehow snuck Kevin Corcoran into it!
The Family Charm of the Hayley Mills Parent Trap
There is a certain charm and grace to the film that is hard for me to put my finger on. Like many of the great Disney live action films of ts time, it's comfortable and harming. In a sense, it's a movie about coming home and the Art Direction supports that in a very welcoming way. I always wished I could live in Brian Keith's (Mitch Evers) Monterey house. I've heard that to this day, the Disney Archive receives requests for plans of the home's interior design. It just feels like a Disney movie should feel. However, I've always thought of it as a bold Disney movie as well because the film is about a family in turmoil. If Susan and Sharon fail in their goal to bring their parents back together it means that their family unit will remain lost. These are very sophisticated and emotional stakes which seem pretty heavy for a Disney movie. But that's what makes it great. Preserving the family unit is something that everyone can relate to and I suspect it's why the film is so important to so many people.
The Real Life Impact of The Parent Trap
I've heard that Lucie Arnaz and Desi Arnaz Jr. repeatedly asked their Mom to run prints of the film at home in the hopes it would inspire Lucy and Desi Sr. to reunite. I don't know if there's a better example of a "real world" anecdote that speaks to how effective the film was.
The Parent Trap is still relevant today. It has spawned multiple sequels, TV specials and of course a modern re-make. The original, however, is the true jewel. It captures Hayley Mills at her finest and in my mind is David Swift's best work as a Director.
So now I have two daughters of my own and even though they are not twins, and know each other very well, I am looking forward to sharing The Parent Trap with them. I'm especially excited that they won't have to watch it on my old top loading VCR. They will get to watch the movie on the big screen at The Walt Disney Family Museum. Hope to see you there.