For over a decade, Diane Disney Miller, Walt's daughter, considered how best to memorialize her father's life story. Many people in her life suggested she write a book, but Diane finally decided that a museum would be the most fitting way to tell her father's story. She felt that an interactive, innovative space—as opposed to a book—seemed more appropriate for her father, who was both an entertainer and an innovator.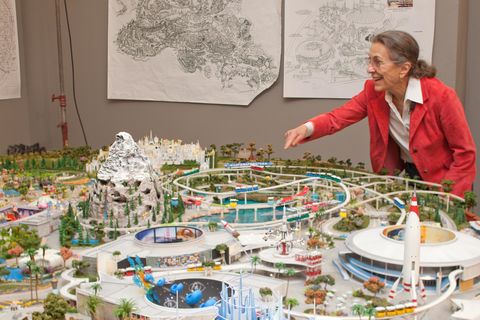 Though the museum has welcomed visitors since October 1, 2009, one of the questions we're asked most frequently by guests remains: "Why is the museum here?" Why San Francisco and not one of the cities one thinks of when hearing the name "Disney," like Burbank, Anaheim, or even Orlando?
Often, visitors wonder if Walt had a personal connection to San Francisco. Though he did visit a few times, and though there are threads of Walt's story that intersect with the Bay Area, The Walt Disney Family Museum isn't here because of Walt—it's here, primarily, because of his daughter, Diane Disney Miller, the museum's co-founder. She and her husband Ron Miller moved to the San Francisco Bay Area in the mid-1980s. They even founded Silverado Winery, just north of Napa, on land Lillian Disney, Walt's wife, had purchased.
For over a decade, Diane considered how best to memorialize her father's life story. Many people in her life suggested she write a book, but Diane finally decided that a museum would be the most fitting way to tell her father's story. She felt that an interactive, innovative space—as opposed to a book—seemed more appropriate for her father, who was both an entertainer and an innovator. 
The truth is so important to me.
The Walt Disney Family Foundation, which was established in 1995, helmed the museum project. Initially, the Foundation—under the guidance of both Walter Elias Disney Miller, President of the Foundation and grandson of Walt, along with his mother, Diane, envisioned the museum as a small office where Walt's awards, memorabilia, and story would be showcased. In Walter's mind, the Foundation could continue to conduct its business in an atmosphere that celebrated Walt—both his family and his career. Much like Walt, the co-founders' ideas grew, and they soon realized the "office museum" was impractical. After all, they wanted to invite the world in, and how could groups of schoolchildren or droves of visitors all comfortably visit a small office?
Not only did the Foundation want to accommodate more visitors, but those who make up the Foundation also wanted to dispel the common misconceptions and misunderstandings that had cropped up around Walt's life and work. Though Walter felt that most people remembered his grandfather with "a big warm smile," there were still those inevitable questions: Is he really frozen? Did he draw all of those characters himself? And so on.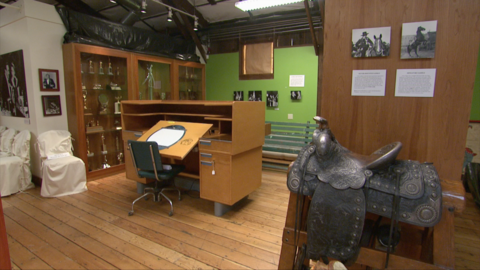 In addition to dispelling the rumors surrounding Walt's life, the family wanted the public to know Walt as a person, not just as the face of a brand. In 1998, the family produced a biographical CD-ROM, followed by a virtual version of The Walt Disney Family Museum at the site waltdisney.org, which was published in 1999, thanks, in part, to The Walt Disney Company. The family also tried to reach more people with the release of a documentary film, Walt: The Man Behind the Myth (2001). Despite all of these wonderful projects, the family still felt they could do more. In 2001, the Foundation rented a warehouse on Gorgas Avenue here in the Presidio to store artifacts relating to Walt's life, and set it up much like a small, by-appointment-only gallery. But as the Foundation's collection of art and artifacts grew, so did the scope of the museum project. "The art is beautiful, but it's more important to get the words," Diane said of the collection. "The truth is so important to me. Not an exaggeration or a beautification of [Dad's] life." And in order to showcase that truth, the family needed a larger site for the museum.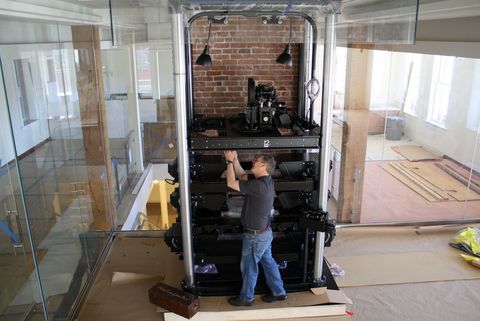 The family considered a number of options, but Diane soon heard that the Presidio—which had officially closed as an Army base some years earlier and was in the process of being rehabilitated by the National Parks Service and the Presidio Trust—was looking to lease out some of its historic buildings. Part of the Golden Gate National Recreation Area, the Presidio is the world's largest national park situated in an urban setting; full of natural beauty, easily accessible by public transit, and known for preserving the past, the Presidio became the obvious choice for the construction of the museum. 
In 2007, that construction began on this former barracks building, here on Montgomery Street. After much retrofitting and remodeling—which included cleverly constructing two levels of content around the historic multiplane camera and transforming an outdoor courtyard into an enclosed gallery with iconic views of the Golden Gate Bridge—The Walt Disney Family Museum opened its doors to the public on October 1, 2009. In 2013, the museum applied to become its own nonprofit institution, separate from the Foundation, and acquired 501(c)(3) nonprofit status in 2014. During this transition, Diane, unfortunately, passed away. In her honor, the special exhibitions venue was renamed the Diane Disney Miller Exhibition Hall in 2014.
Perhaps the most unique aspect of Diane's vision for the museum was her desire to bring her father's story to life—not just his professional legacy, but his humanity as well. Though Diane is no longer with us, her vision is an indelible part of The Walt Disney Family Museum's fabric, and certainly helped shape our first decade.
 We've welcomed over 1.7 million visitors. 
As we celebrate our 10th Anniversary, we are thrilled to say that we've welcomed over 1.7 million visitors into our galleries, classrooms, and theater. We have also had the honor of meeting many kind people who champion Walt's legacy—not just visitors, but our generous volunteers, too. Over the past decade, our pool of volunteers has contributed a total of nearly 40,000 hours of service. Just as Walter and Diane envisioned, the museum has also become a center for teaching children of all ages about history, animation, art, engineering, and filmmaking. In 2010, 282 students were served by the museum, whereas 10,502 students were served in the year 2017 alone.
In order to focus more thoroughly on the various chapters, people, and films that filled Walt's life, the museum decided to dedicate a larger space for rotating special exhibitions. The aforementioned Diane Disney Miller Special Exhibition Hall—a former gymnasium—showcased its first large-scale special exhibition in 2012 with Snow White and the Seven Dwarfs: The Creation of a Classic. Since then, the work of other notable artists, including Mary Blair, Tyrus Wong, Salvador Dali, and Eyvind Earle, has been displayed.
The museum now hosts temporary exhibitions in the galleries below the main lobby as well. Although these exhibitions are smaller in size, they have featured the works of many larger-than-life Disney animators, such as Marc Davis, Mel Shaw, Andreas Deja, and Glen Keane. In addition, the museum has hosted numerous talks, workshops, Q&A sessions, and film screenings, featuring artists and animators (Floyd Norman, Glen Keane), filmmakers (Brad Bird, Pete Docter), performers (Dave Goelz, the Muppeteer behind Gonzo), and Imagineers (Alice Davis, Marty Sklar, Bob Gurr), among many others who either worked directly with Walt, or who were inspired by him.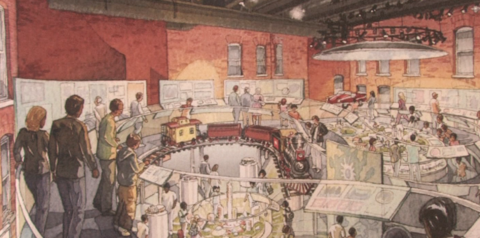 As a nonprofit, our museum wouldn't have been able to achieve such success over the last ten years without the generous contributions of our members, donors, and corporate sponsors. Without these wonderful champions, we wouldn't be able to host as many speakers, classes, and exhibitions as we do. Not only that, but our members and donors help us give back to the community, as well. For example, we've hosted Family Access Days for several years now, during which the museum opens early to families of children with disabilities so that they may explore a more accessible, quieter environment. Additionally, for students who are unable to visit the museum in person, the museum has begun offering virtual tours, which help to spread Walt's inspirational story to youth who live outside of the Bay Area. Other educational initiatives, such as The Big Draw and the Teen Animation Festival International (or TAFI), have allowed our team to provide guidance to aspiring artists and animators from all over the world.
 This dedication to education and accessibility for everyone started back in 2012 with Diane: while visiting Barney's, a department store in downtown San Francisco, Diane saw an exhibition featuring artworks inspired by Mickey Mouse from artists at Creative Growth, which, as many of our visitors know, is an organization that serves artists with developmental, mental, and physical disabilities and provides them not only with the resources to make art, but with the platform to share their art as well. Diane purchased several of the Mickey-inspired artworks, and, in the spring of 2016, the museum hosted an exhibition inspired by Diane's desire to showcase art made by artists from underserved and/or under-represented communities. Each year since, the museum has partnered with various Bay Area organizations—from Creative Growth to Larkin Street—in order to mount impactful exhibitions. While hands-on learning (both in our classrooms and out in the community) has always been integral to the museum's mission, these exhibitions have taken our mission further by offering artists a platform for self-expression, growth, and connection.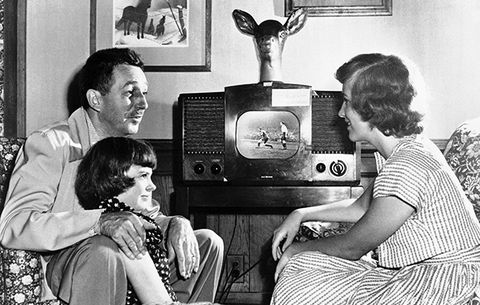 Walt once said, "In order to make good in your chosen task, it's important to have someone you want to do it for. The greatest moments in life are not concerned with selfish achievements but rather with the things we do for the people we love." In many ways, the museum's construction, by the Disney Miller family, as well as its mission, which serves us all, reiterates Walt's point. The Walt Disney Family Museum reaches beyond simply preserving and sharing Walt's legacy—it pushes it forward.