Steve Martin is one of the most diversified performers in the entertainment industry today—actor, comedian, author, playwright, producer, musician—he has been successful as a writer of and performer in some of the most popular movies of recent film history. In November 2005, Martin was presented the prestigious Mark Twain Prize for American Humor; two years later he received the Kennedy Center Honors, an annual award "recognizing the lifelong accomplishments and extraordinary talents of our nations' most-prestigious artists." 
Martin's career began at age 10, when he got a job selling guidebooks at the newly-opened Disneyland. He later worked in the Fantasyland Magic Shop, where he began to develop his own magic and comedy acts. His youthful inspiration was provided by Wally Boag, who passed away on Friday at the age of 90.

In my mapping of the Disney territory, two places captivated me. One was Merlin's Magic Shop, just inside the Fantasyland castle gate, where a young and funny magician named Jim Barlow sold and demonstrated magic tricks. The other was Pepsi-Cola's Golden Horseshoe Revue in Frontierland, where Wally Boag, the first comedian I ever saw in person, plied a hilarious trade of gags and offbeat skills such as gun twirling and balloon animals, and brought the house down when he turned his wig around backward. He wowed every audience every time.
The theater, built with Disneyland's dedication to craftsmanship, had a horseshoe-shaped interior adorned with lush gay-nineties deco. Oak tables and chairs crowded the saloon's main floor, and a spectacular mirrored bar with a gleaming foot rail ran along one side. Polished brass lamps with real flames gave off an orangey glow, and on the stage hung a plush golden curtain tied back with a thickly woven cord. A balcony lined with steers' horns looped around the interior, and customers dangled their arms and heads over the railing during the show. Four theater boxes stood on either side of the stage, where VIPs would be seated ceremoniously behind a velvet rope. Young girls in low-cut dance hall dresses served paper cups brimming with Pepsi that seemed to have an exceptionally stinging carbonated fizz, and the three-piece band made the theater jump with liveliness. In the summer the powerful air-conditioning made it a welcome icebox
The admission price, always free to everyone, made me a regular. Here I had my first lessons in performing, though I never was on the stage. I absorbed Wally Boag's timing, saying his next line in my head ("When they operated on Father, they opened Mother's male"), and took the audience's response as though it were mine. I studied where the big laughs were, learned how Wally got the small ones, and saw tiny nuances that kept the thing alive between lines. Wally shone in these performances, and in my first shows, I tried to emulate his amiable casualness. My fantasy was that one day Wally would be sick with the flu, and a desperate stage manager would come out and ask the audience if there was an adolescent boy who could possibly fill in.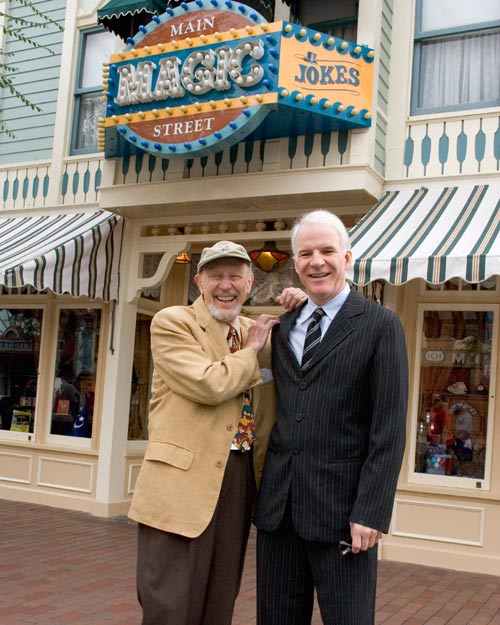 Wally presented Steve Martin with his Disney Legends Award at Disneyland in 2005. © Disney
Excerpted from Born Standing Up: A Comic's Life by Steve Martin. © 2007 by 40 Share Productions, Inc. All rights reserved. Reprinted with permission.