Our Movie of the Month for November is actually a collection of chapters from the beloved Mickey Mouse Club serial, "The Adventures of Spin and Marty," showing daily at 1:00 & 4:00pm (except Tuesdays, and November 11,12,19, and 24). Disney Historian, Author, and Friend of the Museum Jim Fanning wrote this story about "Spin and Marty" exclusively for Storyboard.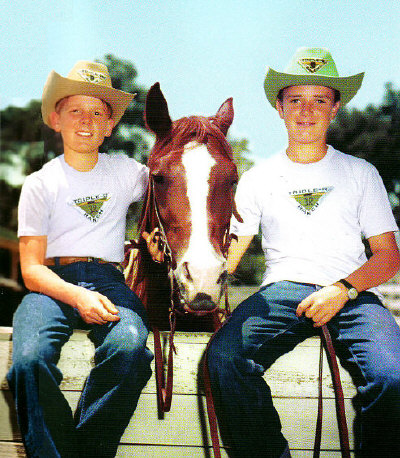 When TV Guide published an issue celebrating the October 3, 1955 debut of Walt Disney's The Mickey Mouse Club, the cover featured Mickey and Jiminy Cricket…and two young cowboys wearing the sign of the Triple-R Ranch.  That fresh-faced television Western "The Adventures of Spin and Marty" was the most popular component of Walt's multi-faceted new show. In using, as he put it, "the story technique we all knew and loved as kids—the continued story, or as it was known then, the serial," Walt Disney was back in the storytelling saddle again, with a well-told tale of two very different dudes who find a way to finish first together. So saddle up boys (and girls) and saddle up well…and listen to the story that I have to tell. Yippee yay, yippee yi, yippee yo!"
 "It's a mistake," Walt Disney once said, "not to give people a chance to learn to depend on themselves while they are young."  With that philosophy, it only follows Walt would be attracted to the colorful, chaotic (of the carefully controlled—in other words, safe—sort) setting of a dude ranch for a TV serial starring kids. A horse lover from way back—Walt had nineteen ponies in his stable at the height of his polo passion in the 1930s—Disney knew that the ropin' and ridin' backdrop of "The Adventures of Spin and Marty" would appeal to the kids (and many adults) who would be watching The Mickey Mouse Club.  And as a self-professed country boy who in reality spent the majority of his life in the city, it made sense that Walt would regard a rustic place where boys could turn into cowboys as the perfect place for any kid to visit for a life-changing summer experience.
Thus "The Adventures of Spin and Marty" rode into view on the early television scene. Any member of the Mickey Mouse Club audience, whether a city mouse or a country mouse, could enter this rural world of horse play through the magic of Disney's TV show. Spin Evans himself, Tim Considine, has observed, "It was this fantasy land that was for kids, to go to a dude ranch and have your own horse, to be away from your parents.  To be on your own and have adventures, and I think that's what made our part of the show so popular."
Another element that made the trailblazing TV serial the most popular part of The Mickey Mouse Club: the titular young wranglers themselves "Meet Spin Evans, the most popular fellow at the Triple-R," was the way the serial's introductory narration described the self-confident buckaroo. Martin Markham III was characterized as "a rich spoiled kid who arrived at the Triple-R with a limousine, a chauffeur and Perkins, an English butler." The original book—written by one of Walt's favorite screenwriters (Treasure Island, Darby O'Gill and the Little People) Lawrence Edward Watkin—was entitled Marty Markham, and as the title indicates, focused on the spoiled kid. The Disney adaptation, however, broadened the story to double the character dynamic. Tim Considine was originally cast as Marty, but the young actor balked, preferring to play "cool guy" Spin. Tim's charisma was so evident that the Spin role was expanded, and Marty Markham was transformed into "The Adventures of Spin and Marty."
Though he had produced live-action adventures with boy heroes such as Treasure Island, Walt Disney had never before created anything with two diametrically opposed leads.  Athletic and fashion forward, (Considine's flattop would inspire a fad among tweens who wanted to look as cool as Spin), Tim was Walt's embodiment of the affable boy next door. David Stollery was a skilled actor whose talents enabled him to convincingly convey the changes that occur in the insecure Marty's personality. Marty was obviously stuck-up, but David's sensitive performance revealed the nice guy underneath.  Regular guy Spin's darker side is uncovered when he encounters Marty, scorning the snooty newcomer as much for his weakness and seemingly "sissy" nature as for the rich boy's attitude.  The alchemy of their Triple-R encounter changes both boys for the better: Marty gains self-confidence; Spin discovers compassion.
Fast friends at last, Spin and Marty finished first in the hearts of Mouseketeers everywhere. In addition to reuniting for two sequels to the original serial, Spin and Marty were riding high on records, books and coloring books. Additionally, the Triple R ranchers had many more new escapades in comic books. In these colorful publications, all gussied up with specially shot photo covers of Tim and David, the young dudes were cowboy Hardy Boys (which Walt also brought to The Mickey Mouse Club with Tim Considine as Frank Hardy), solving mysteries and tangling with rustlers in a series of excellent Western adventures. Boasting such stories as "Ambush in Getaway Gulch" and "The Hermit of Thunder Lake" and drawn by such comic-book masters as Dan Spiegle and Richard Moore, Spin and Marty continued kicking up the four-color dust with all-new stories through 1960, outlasting the TV serials by three years. 
For a supposedly simplistic horse opera ostensibly created for children, "The Adventures of Spin and Marty" presented one of Walt's most complex character relationships. The great showman's own interest in this spur-and-saddle saga was not lost on the stars of Spin and Marty. "Mr. Disney, every once in a while would show up [on the set at the Golden Oak Ranch set]," remembered Tim Considine. "He was around but there was never a big deal made about it.  Mr. Disney would just be there in the background. We were just as big a fans as anybody else."  Sometimes, added David Stollery, "we wouldn't have even noticed he was near the set or watched a particular shot, and somebody would say afterwards, "Mr. Disney was here."  "There was never any entourage or anything Hollywood about Mr. Disney at least in our experience," continued Tim.  "He was just a kind of a quiet presence. No surprise the nice guys who played Spin and Marty recognized in Walt Disney another nice guy, one who definitely finished first.
An author, historian, editor and researcher, Jim Fanning specializes in Disney. In a career dedicated to celebrating and exploring the work and life of Walt Disney, as well as his collaborators and those who carry on his legacy, Jim has recounted the history of many areas of the wide world of Disney. Co-editor and staff writer of Sketches, the Official Magazine of the Walt Disney Collectors Society and a contributor toDisney twenty-three Magazine and the D23 website, Jim has written books, articles, comics and a variety of other works, in addition to officially commissioned projects for many departments of The Walt Disney Company, as well as lending his expertise to many Disney licensees, including Enesco, Technicolor, Dixie, NBC, and Mattel. He also wrote many episodes of the groundbreaking documentary TV series,Disney Family Album, and has contributed writing and research to The Walt Disney Family Museum. Jim's philosophy is historical accuracy, dedication to uncovering new and little-known behind-the scenes stories, and lively and engaging storytelling that illuminates authentic Disney "magic."
On Saturday November 12 at 3:00pm in our Museum Theatre, meet Tim Considine and David Stollery, stars of the "Spin and Marty" serial onThe Mickey Mouse Club in the special program The Adventures of Spin and Marty with Don Peri, Tim Considine, and David Stollery. Hosted by Disney historian and author Don Peri, they will discuss their adventures in front of and behind the cameras at the Triple R Ranch, stories about their careers before and after the show, and their reminiscences of working with Walt Disney. Tickets are available at the Reception and Member Service Desk at the Museum, or online by clicking here.
Images above: 1) Tim Considine (right) ceded the role of Marty to David Stollery (left). © Disney. 2) © Disney.