The first ever Walt Disney Family Museum Sing-Along will take place in the Theater on Sunday, October 2 from 7pm-9:30pm, with a Supercalifragilisticexpialidocious collection of songs for everyone to enjoy. A souvenir sing-along booklet and a prize drawing complete this extra special event. Tickets for the Sunday Night Sing-Along are $15 for non members and $10 for members. For an additional cost, you may pre-order a special box dinner to enjoy before the event. Tickets and information are available at the Reception and Member Service Desk at our museum, or order tickets online by clicking here.
A new audience-participation craze hit America in 2000 when the Academy Award®-winning film The Sound of Music packed theaters and concert halls with a version that had attendees wearing costumes and singing along with their favorite songs. Since then, many musical films have been given the sing-along treatment, including Walt Disney's masterpiece, Mary Poppins.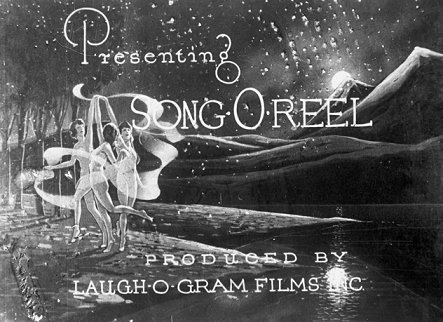 But sing-alongs in theaters are really nothing new. Back in the 19th century and early 20th centuries, vaudeville performers invited audiences to sing along with them as corresponding lyrics were projected from lantern slides. Once motion pictures arrived, "silent" movie theaters were no such thing, as organists played popular songs and audiences sang along.
In early 1923, Walt Disney and his Kansas City company, Laugh-O-grams, took the idea of the sing-along to the next level. He directed and produced a live-action film, called a "Song-O-Reel," to accompany the performance of a popular tune by Joe Sanders, "Martha: Just a Plain Old-Fashioned Name."
Walt hoped that this first Song-O-Reel would be the start of a new and successful series, but Martha ended after a short run at Kansas City's Isis Theatre, and Laugh-O-grams went into bankruptcy. No prints of Martha exist today; all that remains to tell the story of the lone Song-O-Reel are, according to historians Russell Merritt and J.B. Kaufman, "a handful of stills, a title card by Ub Iwerks, and eyewitness accounts."
Martha's time in the spotlight may have been brief, but it left a significant legacy in the relationship between Walt and the Isis Theatre organist who provided the live musical accompaniment. Walt and musician Carl Stalling would become good friends and collaborators. Walt may have stopped off to see Stalling on his way home from New York after losing the rights to Oswald the Lucky Rabbit in 1928, and when it came time to provide the fully-synchronized soundtrack to Steamboat Willie, it was Carl Stalling who arranged the music.
Walt urged Stalling to come to California, and as musical director for The Walt Disney Studio, Stalling arranged and composed music for Mickey Mouse shorts and Silly Symphonies. For the 1929 short, Mickey's Follies, Stalling wrote the music and co-wrote the lyrics for "Minnie's Yoo Hoo," a whimsical song Mickey sings about his sweetheart, Minnie. Stalling's co-lyricist? Walt Disney!
"Minnie's Yoo Hoo" was hugely popular, and was published as sheet music. It quickly became the overall musical theme of all of the Mickey Mouse cartoons. In 1929 Walt authorized the formation of the first "Mickey Mouse Club," a program sponsored by theaters in which boys and girls would attend special Saturday matinee screenings of specially selected feature films, serials, and—what else?—Disney cartoons.
According to Disney's general manager of the Mickey Mouse Clubs, Harry Woodin, Disney's intent in establishing the Mickey Mouse Club was not only to encourage young people to regularly attend the movies, but also to foster "inspirational, patriotic, and character-building activities… and aid children in learning good citizenship, which in turn fosters goodwill among parents." Local businesses and associations supported and sponsored the clubs, and the program at each theater included reciting the club's creed ("…I will be truthful and honorable and strive always to make myself a better and more useful citizen….In short, I will be a good American"), the club's pledge ("Mickey Mice do not SWEAR—SMOKE—CHEAT or LIE"), and singing a verse of the patriotic song, "America."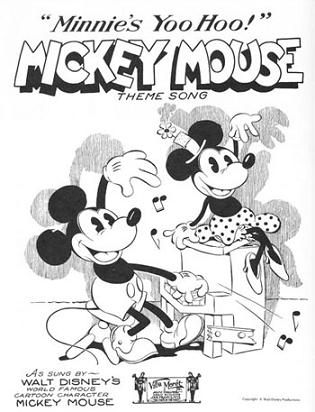 To close out the club meeting portion of the program and just before the feature film began, theatres screened a special version of "Minnie's Yoo Hoo" complete with lyrics. During the 1930s over a million members in the U.S. and abroad sang the Walt Disney-Carl Stalling collaboration along with Mickey.
Walt Disney himself may not have been a musician, but as composer Richard M. Sherman notes, he had a musician's innate understanding of the importance of music and song. He knew how it could be used to convey story, emotion, and even the hopes and dreams of his characters. The songs from his films charm us, entertain us; they often express our own unspoken desires. It's truly easy to sing along with Walt.
Paula Sigman Lowery is an historian, author, and former archivist for The Walt Disney Company. She was one of the founders of Disney Character Voices, and founding director of the Walt Disney Collectors Society. She was part of the core team that developed the story and content for The Walt Disney Family Museum, where she continues to serve as a Consulting Historian.