As we count down to our new major exhibition, Snow White and the Seven Dwarfs: The Creation of a Classic, we're taking a closer look at each of the seven dwarfs. In celebration of the 75th anniversary of this Dinsey classic, author and historian J.B. Kaufman's new book The Fairest One of All explores the making of Walt's first feature-length animated film, including an examination of each individual dwarf. Click through for a short excerpt from this book—which is available now online and in our Museum Store—all about... GRUMPY!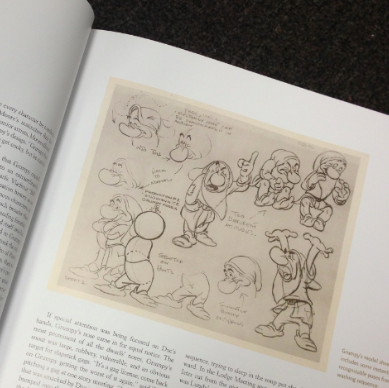 Of all the dwarfs, Grumpy was arguably the strongest personality, "the easiest character to get a hold of," as Dave Hand noted at one meeting. While other dwarfs went through long periods of character development, Grumpy sprang to life virtually fully formed. One of Walt's earliest handwritten notes in mid-1934 read: "One skeptical & pessimistic dwarf always predicting trouble." The name "Grumpy" appeared by August 1934, and by October, various outlines were describing him as "Typical Dyspeptic and Grouch—Pessimist, Woman-hater—the last to Make Friends with Snow White" and a "hold-out . . . crabby about everything until Snow White recovers from poison comb, then he weakens, but reverts to type again until her poison apple sequence, when he is as sorry as the rest." In other words, essentially the same character that would appear in the finished film three years later.
More than one of these early descriptions made reference to a character from a 1932 Silly Symphony, Santa's Workshop. In that holiday-themed short, one of the "gnomes" who help Santa Claus at his North Pole workshop is a wizened little secretary. As Santa sits reading the letters sent to him by children, the sour-faced secretary leafs through an enormous book to see whether the boy or girl in question has been good. one boy requests a long list of gifts, and the secretary objects in a croaking voice: "But Billy Brown, for seven years / Hasn't washed behind his ears!" This little misanthrope proved to be an ideal model for Grumpy, and even spok with the voice of the same actor who could provide Grumpy's voice: Pinto Colvig. Nominally a member of the story department, the irrepressible Colvig had already put his stamp on the DIsney shorts witha  variety of other talents, including his voice. By the time of Snow White, he was best known as the oice of Goofy, but had also spoken for other characters, including the Practical Pig in Three Little Pigs. His crotchety, irritable voices for Santa's seretary and Practical Pig were not far from the voice he would provide for Grumpy. . . . 
To find out more about Grumpy and the other six dwarfs, pick up The Fairest One of All at our Museum Store or online by clicking here. Snow White and the Seven Dwarfs: The Creation of a Classic will be on view from November 15, 2012 to April 14, 2013, the exhibition celebrates Walt Disney's vision and the artistry of his dedicated staff, illustrating how they shaped and defined an entirely new American art form through their creation of this groundbreaking film. For more information and details about our first major exhibition, please visit waltdisney.org/snow-white.