We have hit the final days of counting down to our new major exhibition, Snow White and the Seven Dwarfs: The Creation of a Classic. With seven days left before the show opens on Thursday, November 15, we'd like to take a closer look at each of the seven dwarfs. In celebration of the 75th anniversary of this Dinsey classic, author and historian J.B. Kaufman's new book The Fairest One of All explores the making of Walt's first feature-length animated film, including an examination of each individual dwarf. Below is a short excerpt from this book—which is available now online and in our Museum Store—which kicks off our Seven Dwarf Days with the "leader" of the pac... Doc!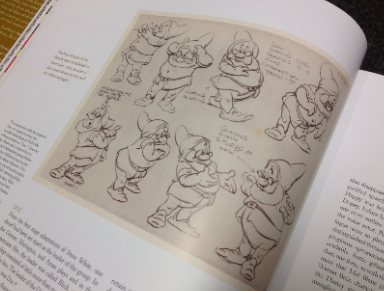 From the first stage adaptations of Snow White, one dwarf had been set apart as the leader of the group. In the Görner, Merrington, and Ames plays and in the Paramount film, the leader was called Blick, and his leadership consisted of little more than marching at the head of the line. The leader of the Disney dwarfs, by his own volition, was Doc. 
The Disney character we know as Doc is really a compositve of several different traits. One of the earliest story documents, in mid-1934, had suggested a dwarf called Doc who actually was a doctor. This idea persisted for several months: Doc eamined Snow White when she was poisoned by the Witch, and in one outline "Doc's stethoscope tangles up with beard" as the dwarfs tried to revive her. At this point, nothing was said about his being the leader, although he was describe as "The wise man of the family, fatherly type, practical and understanding." But by mid-October 1934 a change had taken place. The character called Doc had assumed leadership, as well as the basic personality he would retain in the film: "The Leader and Spokesman of the dwarfs—Pompous, Wordy, Great Dignity—Feels His Superiority. But Is More or Less of a Windbag." In other words, he had lost his medical authority but inherited some of Biggo-Ego's pomposity—hopefully without the latter's unpleasant extremes...
Doc and Happy were the two heaviest dwarfs but were distinguished from each other by posture. "[Doc] is the pompous guy," said Fred Moore. "Even though he is big, he has to maintain his shape—sort of chesty—in order to distinguish him from Happy who is also large and fat. Happy is fatter and lets his weight slip and fall down, while Doc is holding his weight up with a pompous attitude." Bill Tytla summed up Doc's manner as "sort of a French Provincial Mayor's attitude." Walt's analysis went to find points of the character's personality: "Doc is upset by the least little thing, the least little annoyance. [When interrupted] he doesn't know where he was, and somebody has to help him out... He can't remeber things very long. He has this habit of getting mixed up, only when he is upset or when heis angered or when he meets Snow White. When he meets Snow White, he is like a fellow meeting a girl—gets awfully flustered—sort of an inferiority complex." . . .
To find out more about Doc and the other six dwarfs, pick up The Fairest One of All at our Museum Store or online by clicking here. Snow White and the Seven Dwarfs: The Creation of a Classic will be on view from November 15, 2012 to April 14, 2013, the exhibition celebrates Walt Disney's vision and the artistry of his dedicated staff, illustrating how they shaped and defined an entirely new American art form through their creation of this groundbreaking film. For more information and details about our first major exhibition, please visit waltdisney.org/snow-white.